Remembering Prominent Pittsburghers Who Passed Away in 2018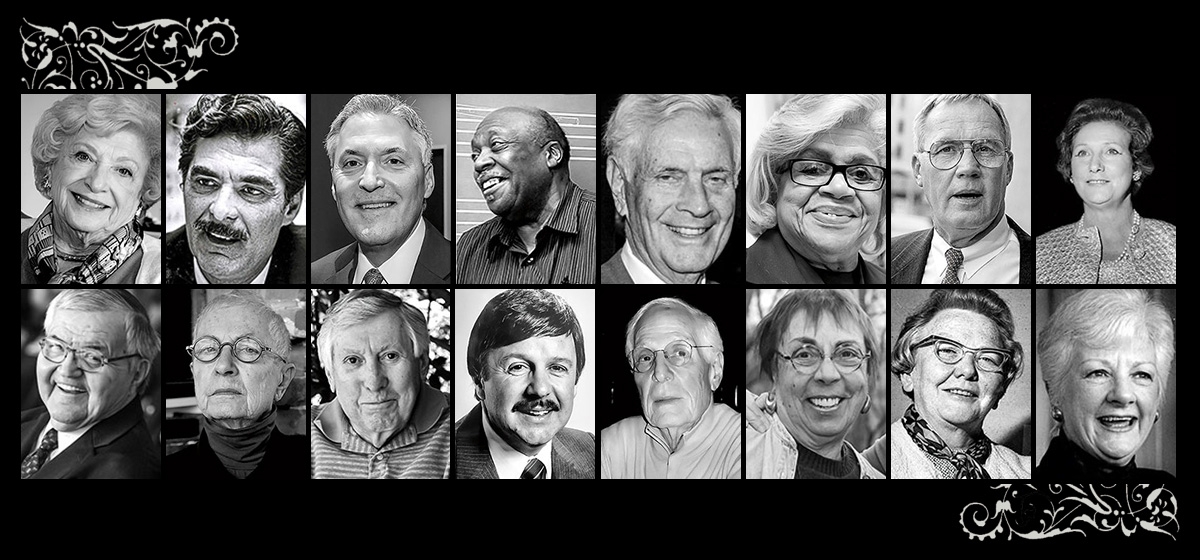 December 27, 2018
From Adam Lynch to Barbara Luderowski, we've said goodbye to many influential Pittsburghers this year. Remember those who have passed away and their impact on the region—and the world—in this compilation of our Last Chapter department.

Nadine Bognar, 87: The co-owner of Bognar and Company, a supplier of coke and coal for the steel industry, she became chairman and CEO in 1992 after her husband's death. While her business acumen contributed to the company's continued success, it was her philanthropic efforts and support of a wide range of arts organizations that built her reputation in Pittsburgh as among the region's most generous women.
Lena Franklin, 89: She was an indefatigable worker to help people of all kinds in Braddock find jobs. For more than 40 years during the worst of the Mon Valley's decline, she worked at the Braddock Employment and Training Center interviewing job candidates and then finding employment matches for them. Known as a warm woman with a determined, can-do attitude, she was dedicated to her family and church and was an active member of the NAACP and the Western Pa. Black Political Assembly.
Ronald Freeman, 81: Freeman was the most brilliant police detective in Pittsburgh over the last 30 years at least, using drive, guile and intelligence to find and place together the mosaic pieces of the situation that led to an arrest. And he was an innovator of policing methods, creating advances in retrieving DNA from spent shell casings. When he was in charge, the city solved homicides at a rate that led the nation for similar sized cities. He treated everyone, even suspected murderers, as human beings, and that increased his ability to get confessions.
Kenny Ross, 91: From a single Chevrolet dealership on the North side in 1953, he built the Kenny Ross Automotive Group with 10 locations that became one of the region's largest car dealers. His ads were known for the use of "Aunt Penny," a white-haired character who was not his aunt but who told viewers, "Tell them Aunt Penny sent you." Ross also was a co-founder in 1965 of the Pittsburgh chapter of Big Brothers Big Sisters, which echoed circumstances of his youth in Philadelphia in which he was a "little brother," who received decisive help.
Donald Goldstein, 86: Goldstein was an Air Force veteran and University of Pittsburgh professor who took his deceased former mentor's notes about the attack on Pearl Harbor and turned them into the best seller "At Dawn Slept." He was the author of 28 books, but the Pearl Harbor account was the most successful; his mentor, Gordon Prange, had been General Douglas MacArthur's personal historian and had interviewed the Japanese involved with the attack. Prange asked Goldstein to take over.
Kenton McElhattan, 95: After years with a mining machinery supplier, McElhattan purchased the company's industrial safety division and created Industrial Scientific, a manufacturer of gas detection equipment that was run by himself, his son and his grandson, until the company was sold last summer. A World War II Air Force veteran, he was married to his wife for 71 years, and they had 14 great grandchildren.
Michael Malone, 65: Malone was a longtime insurance broker, family man and civic volunteer. Great with people, he worked for many years at Fidelity Insurance Agency and later at Henderson Brothers. He was devoted to the YMCA of Greater Pittsburgh, whose board he chaired. He had also served on the boards of Gateway Rehabilitation and Gateway to the Arts.
Nathan Davis, 81: Davis was director of jazz studies at the University of Pittsburgh and a pioneer in bringing jazz education into the mainstream. A tenor and soprano saxophone player, his 44-year tenure at Pitt included creating the Pittsburgh Jazz Seminar, the Sonny Rollins International Jazz Archive, the International Academy of Jazz Hall of Fame and the Pitt Jazz Ensemble.
Charles L. Klausing, 92: Klausing was a western Pennsylvania football coaching legend, winning an unmatched six consecutive WPIAL championships. At Braddock High School, he inherited a losing program and turned it around, earning a 53-0-1 record during his six seasons, setting a national high school record. An unparalleled student of the game, he also built personal relationships with players and their parents, and that mutual loyalty resulted in extra effort. Klausing went on to coach at Rutgers, WVU, West Point and Pitt and was head coach at IUP and Carnegie Mellon, where he was very successful. He ended his career as football coach at the Kiski School.
Jerry Donatelli, 80: Donatelli took a small social services office in Sharpsburg and over decades built it into one of the largest social services agencies in Allegheny County—the Northern Area Multi-Service Center. The $12 million agency helps people across the northern suburbs, running the ACCESS transportation service for people with disabilities, Meals on Wheels, and various refugee and home care programs for people with mental illness or retardation. Donatelli devoted his life to the work, leading the agency for 39 years, until he retired at the age of 70.
Adam Lynch, 89: Lynch was a leading presence in Pittsburgh television news for nearly 40 years, starting as a KDKA weatherman in 1956 and serving as reporter and anchor at all three network affiliates. He was a serious newsman with a commanding baritone voice and a warm personality. Of him, a colleague once quipped: "There goes the oldest cub reporter in Pittsburgh." And it was true in the sense that Lynch kept an almost childlike wonder about the world his whole life.
Drue Heinz, 103: A patron of the arts and especially literature, she was co-founder of Ecco Press and longtime publisher of The Paris Review. The widow of H.J. "Jack" Heinz II—the grandson of the founder of the H.J. Heinz Company—she created and endowed the prestigious Drue Heinz Prize for Literature for short stories through the University of Pittsburgh. The stature of the prize has been such that the first judge was Pulitzer Prize winner Robert Penn Warren. An avid reader with a keen intellect, she served on the boards of numerous arts organizations, including the Metropolitan Museum of Art and the American Academy in Rome.
Sylvia Sachs, 96: Short in stature but a dynamo of determination and energy, she was the longtime book editor of The Pittsburgh Press and a leading national figure in that field. She started and ran the Press and Post-Gazette Book and Author dinner for more than 27 years, bringing well-known authors to Pittsburgh, taking care of all of the details and putting Pittsburgh on the map as a place for the best authors in the world to stop. She also was a founder of the Osher Lifelong Learning Institute at Carnegie Mellon University.
Angus McEachran, 78: McEachran was the former editor of The Pittsburgh Press, who built the Scripps Howard paper into one of the nation's best regional newspapers—winning two Pulitzer Prizes. A bull of a man in stature and temperament, he came to Pittsburgh in 1982, building a journalistic powerhouse that met its demise when the Sophie Masloff administration allowed striking Teamsters to prevent delivery, effectively killing the paper. The Post-Gazette then purchased the Press, becoming Pittsburgh's dominant paper. And McEachran returned to his native Memphis, Tennessee, where he finished his career as editor of the Commercial Appeal.
Sister Jane Scully, 100: Sister Jane Scully was a local and national education leader, serving as president of Carlow University for 17 years and being appointed by President Richard Nixon to the National Commission for the Financing of Postsecondary Education. She was also a groundbreaking community leader in Pittsburgh, the first woman to serve on the board of directors for the Port Authority of Allegheny County, and also the first woman on the Gulf Oil board of directors. She chaired the Economic Development Commission of Pittsburgh and was very involved in numerous other Pittsburgh nonprofits.
Bruno Sammartino, 82: Sammartino rose from near starvation in Italy during World War II to become the World Wide Wrestling Federation heavyweight champion. Immigrating to South Oakland at 15, he and his brother got beaten up regularly by neighborhood kids, so he joined the Young Men's Hebrew Association where he began to build the physique that paved his way to wrestling fame. He became a fan favorite, selling out Madison Square Garden more than any other celebrity and holding the title for eight years. Despite that, he was known as a humble, nice, and thoughtful man.
Ruth Mitchell Montgomery, 101: Five years after she and her husband moved to Pittsburgh for a job with the University of Pittsburgh in 1956, Montgomery started the effort to create the Pittsburgh Chamber Music Society (now Chamber Music Pittsburgh), attracting the philanthropic support to make the dream a reality. For many years she ran the fledgling organization as a volunteer, organizing its records and preparing it for the successful future she envisioned.
Richard L. "Dick" Macino, 83: Macino was a gregarious man whose friendly personality and willingness to lend a hand to any number of initiatives always seemed to make life a little better for those with whom he came in contact. He spent 30 years with The Pittsburgh Press and Post-Gazette as public service director, overseeing efforts to raise millions in donations to Children's Hospital through the Press Old News Boys Fund and directing the Western Pennsylvania Spelling Bee from 1967 to 1998, among many other initiatives.
Albert Vento, 89: The longtime East Liberty pizza shop proprietor reached fame in 1972 when he and a friend created what became Franco's Italian Army, an attempt to rally fan support by attaching themselves to Steelers running back Franco Harris and by bringing sausage, wine and cheese into football games—home or away—dressed in army helmets and waving Italian flags. The shtick worked and the Army—whose most famous member was Frank Sinatra—captured the limelight just as the Steelers began their ascent, beginning with the Immaculate Reception.
Dr. Neil Capretto, 62: Dr. Capretto was a psychiatrist who was mentored by Dr. Abraham Twerski, the founder of Gateway Rehabilitation Institute. Capretto spent 30 years at Gateway, becoming its medical director and a major national force in the treatment of addiction and in the vanguard of the opioid epidemic. He was known for his determination and kindness in helping countless people with addiction problems.
Mihai "Mike" Marcu, 81: Born in Bucharest, Romania, his family escaped that country when Marcu was 2, and after living in various places in Europe, he reached the United States at age 17 and began pursuing his dream of becoming an architect. Marcu ultimately became president and CEO of Ingham, Kaffka and Marcu (later IKM), and during his tenure the firm and its team of 50 designed such local landmarks as the Hillman Cancer Center, the ice rink and fountain at PPG Place and the McGowan Institute and was involved in the conversion of the Allegheny County Jail to Family Courts as well as renovations and additions to the Phipps Conservatory.
Barbara Widdoes, 89: Babs Widdoes was a leading Pittsburgh arts advocate, and a driving force behind the creation of the Three Rivers Arts Festival. She co-chaired the initial years of the Festival and was its executive director from 1971-78, building the concept into a successful Pittsburgh event. She served on numerous boards including the Pittsburgh Playhouse, Pittsburgh Public Theater and the Women's Committee of the Carnegie Museum of Art, which launched the Three Rivers Arts Festival.
Barbara Luderowski, 88: The founder of Pittsburgh's famed Mattress Factory, Luderowski brought a vision, a can-do spirit and an artistic unorthodoxy to Pittsburgh that helped transform the Mexican War Streets as well as the Pittsburgh arts scene. She turned a run-down industrial building into the Mattress Factory, one of the jewels of Pittsburgh's art scene, a place where the nascent field of installation art gained a major toehold as it became one of the country's most vibrant art forms of the last 40 years, using three-dimensionality and often light to usher in a new kind of art. With her short-cropped silver hair, glasses and typically black attire, she cut a singular figure in Pittsburgh and succeeded in her initial goal to create an intellectual community of people who would gather to do artwork.
Eunice Mercedes Latshaw Ross, 94: Blazing a trail for women in the field of law wasn't easy for Ross. She became an Allegheny County Court of Common Pleas judge in 1972, when few women held such positions. She was an expert in probate law whose opinions were considered masterful. But when she reported that soon-to-be impeached state Supreme Court Justice Rolf Larsen tried to improperly influence a case in her court, it didn't sit well with many colleagues and Ross was transferred from Orphan's Court, an assignment they knew she loved. Steadfast in her dedication to the law, she prevailed to become a state Commonwealth Court senior judge and an icon to women who followed in her footsteps.
Jane Culp Vandermade, 92: She left tiny Schellsburg, Bedford County in the 1940s to attend Carnegie Tech as a theater major interested in costume and began a journey that took her to New York, Paris, Milan and the executive ranks of the Joseph Horne Co., which no woman had previously risen to. Her stock rose with the success of the annual fashion galas she staged, which became must-attend events ushering in the fall fashion season. Always impeccably dressed, driven and determined, she was named fashion director in 1960 and in 1975 became the first woman to be named vice president.
Walter Limbach, 94: He grew up on Pittsburgh's North Side, the son of avowed socialists, and built his grandfather's small local company into a national mechanical contractor. He became president of what is now Limbach Holdings Inc. in 1958. As an executive, he wasn't concerned about the privileges that came with the position. He declined a private parking spot, for example, preferring to take the bus to work. But he knew how to grow the company, which today is the 10th largest mechanical contractor in U.S. with branches across the U.S. and major projects to its credit ranging from Pittsburgh's PPG Place to Atlanta's Hartsfield Airport.
Chuck Brinkman, 83: He introduced the Beatles to a screaming, hysterical audience at the Civic Arena in 1964, the Fab Four's only Pittsburgh appearance. Through the 1960s, Brinkman was one of the most recognizable voices of pop music as a disc jockey at KQV AM, the most popular Top-40 station in the city. He was a mainstay there from 1960-1972, before leaving for Texas and, eventually, an oldies station in Greenville that he owned a piece of.
Robert E. Colville, 83: He grew up in Manchester on the city's North Side, was the first in his family to graduate from high school and spent his life in Pittsburgh as a high school teacher, city police officer, chief of police, Allegheny County district attorney, and judge on the county Court Common Pleas and state Superior Court. As DA, Colville made prosecutor a full-time position, stabilizing the office. He promoted even-handed justice for minorities, preferred to treat rather than jail drug users, and had a reputation for ferreting out corruption and understanding the power of the offices he held and the need to use it responsibly.
Richard B. Fisher, 95: He had gift for selling. Fisher was 28 and selling used cars in East Liberty in 1951 when he decided to apply his talents to mutual funds. Many Americans hadn't been introduced to money management and investment firms at the time. But Fisher saw promise in the growing confidence in the U.S. economy following a depression and world war. Four years later, he, John F. Donahue and Thomas J. Donnelly took the plunge and started a company, Federated Investors. They never looked back. Traveling door-to-door at first, Fisher educated a client base on investment strategies, risks and rewards and built an enduring brand. Today, the company has assets of nearly $380 billion, 108 funds, 1,800 employees worldwide, and 8,500 clients who trust it to manage their money, including corporations, foundations, government agencies and insurance companies.
Wyndle L. Watson, 86: When he was appointed outdoors editor of the Pittsburgh Press in 1979, Watson's challenge was to cut his own style in the long shadow of his predecessor, nationally recognized outdoors writer Roger Latham, who had died in a fall from a Swiss mountain ledge. He succeeded, spinning descriptive tales of his worldwide adventures as hunter and fisherman with the ethic of a conservationist for the readers of The Press and Pittsburgh Post-Gazette until retiring in 1997.
Albert Lexie, 76: The Monessen shoeshine man called the young patients of UPMC Children's Hospital of Pittsburgh "my kids." Born in a housing project, he built a wooden shoeshine box in eighth grade shop class, his last year of formal schooling, and began shining shoes at local businesses. Lexie would rise at 5:50 AM on Tuesdays and Thursdays and ride the bus to Children's, where he shined the shoes of staff and visitors for three decades, earning more than $202,000 in tips and donating every penny to the hospital that healed his kids.
Barbara Russell, 85: Laughter was Russell's calling card as half of the Pittsburgh comedy team, Brockett and Barbara with the late Don Brockett. The actress, a popular presence on city stages for six decades, was also a less-than-funny, flesh-eating zombie in George Romero's seminal horror film, Night of the Living Dead. But for children nationwide, she was a familiar face on Mister Roger's Neighborhood, playing herself, giving voice to several characters and, in the series' first episode, portraying Mrs. Russellite, collector of lampshades.
Mary Alice Gorman, 74: A love for mysteries led Gorman and her husband, Richard Goldman, to open Mystery Lover's Bookshop in Oakmont. Small retail bookselling is a tough business. But she was up to it. She'd sold cosmetics door-to-door, an "Avon lady" at age 14; taught high-school English, and was a breast cancer survivor. She was an advocate for justice as the executive director of the ACLU Pittsburgh Chapter and the Allegheny County Center for Victim's Against Rape, helping expand victim services with the fines imposed on offenders. Her bookstore survived and became a place for writers, local and otherwise, to meet readers, promote their work and find inspiration.
Tito Capobianco, 87: The Pittsburgh Opera owes much to Capobianco, who as general director of the Pittsburgh Opera from 1983-2000, raised its budget from less the $1 million to $5 million, added an endowment, created a training program for young singers, oversaw the move from Heinz Hall to the more spacious stage of Benedum Center, and brought Luciano Pavarotti and other world renowned talent to Pittsburgh. He was known as a man of the theater, tempestuous at times, but dedicated to heightening the experience of the audience to the great dramas he brought to them.