Remembering Prominent Pittsburghers Who Passed Away in 2017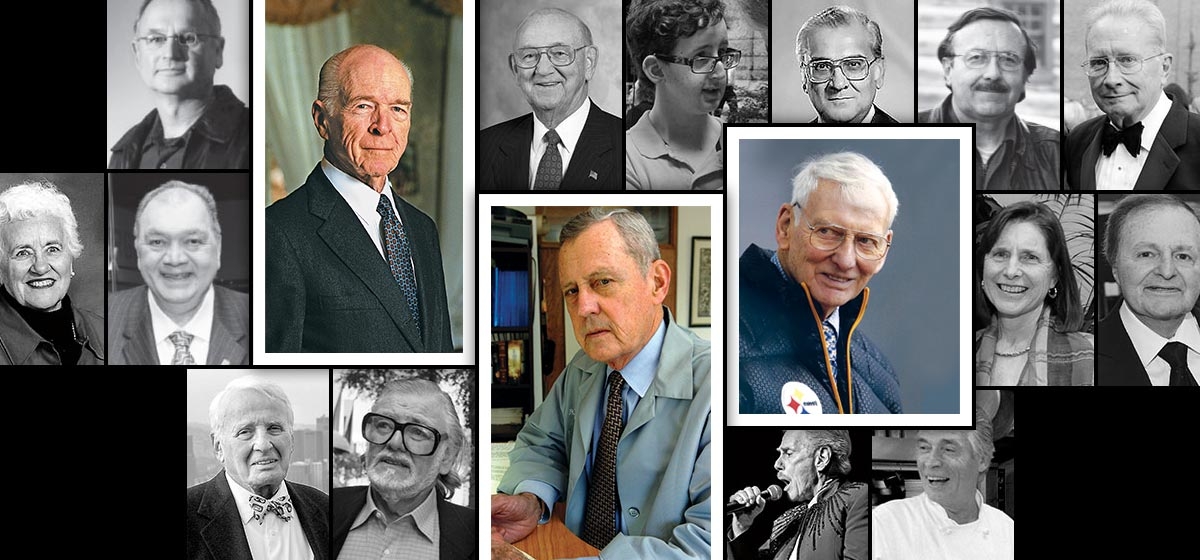 December 20, 2017
From Henry Hillman to Dr. Thomas Starzl, we've said goodbye to many influential Pittsburghers this year. Remember those who have passed away and their impact on the region—and the world—in this compilation of our Last Chapter department.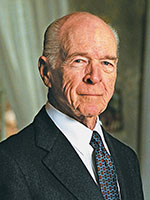 Henry Hillman, 98
Henry Hillman had a keen interest in the future and an unusual ability to see into it. In the 1970s, his was the voice that warned Pittsburgh leaders of industrial changes that would cripple the city if it didn't diversify its industrial base. He removed money from the smokestack industries he inherited and invested it in businesses of the future, becoming a founding investor in venture capital pioneer Kleiner, Perkins, Caulfield & Byers—the seminal investor in the Silicon Valley; he also was an early investor in leveraged buyout firm Kohlberg Kravis Roberts & Co. The moves made him a billionaire, and with that money he has seeded improvements to Pittsburgh that touch virtually every aspect of the city. The breadth of his philanthropy extends from higher profile projects such as the Hillman Library, the ice skating rink at PPG Place, and the Hillman Cancer Center to hundreds of community-based humanitarian, education and economic development initiatives. He was the notoriously private and reserved half of the most dynamic husband and wife team in remembered Pittsburgh history. While his late wife Elsie publicly championed a wide range of efforts, Henry was behind the scenes, making it all possible with an extraordinary combination of intellect, foresight, wit and commitment to Pittsburgh. He loved projects like Traffic21, which he funded at Carnegie Mellon University to create an intelligent transportation system that would both improve Pittsburgh transportation and hopefully create a new industry here. With his Henry L. Hillman Foundation, he takes his place among the handful of Pittsburgh's greatest industrialists and philanthropists.
---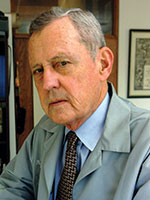 Dr. Thomas Starzl, 90
Starzl performed the world's first liver transplant surgery and ultimately made that operation and other kinds of transplantation almost routine. His early ambition was to make a mark, either by curing cancer or transplanting a human liver. Thinking he was too late for cancer, he chose transplantation. And in 1967, after five years of failed attempts at kidney transplants, he succeeded at a more difficult task, the first liver transplant. Though an expert surgeon, Starzl's legacy came in the development of antirejection drug cocktails that allowed patients not to reject livers and ultimately other organs. He hated doing what he was best at—operating— because of a crippling sense of responsibility for the lives in his hands. But he did it because his beloved mother, who died when he was 21, wanted him to become a surgeon. He came from a newspaper family, and in another irony, Starzl's work provided the grist for a Pulitzer Prize for The Pittsburgh Press for investigating the worldwide organ transplant boom. Starzl will occupy the highest position in Pittsburgh's medical history—shared only with polio conqueror Dr. Jonas Salk—for saving human lives around the world.
---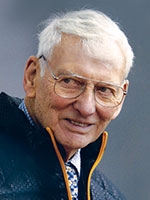 Dan Rooney, 84
In his late 70s, Rooney became U.S. Ambassador to Ireland, but his main accomplishment was building the institution that's synonymous with Pittsburgh the world over—The Pittsburgh Steelers. His larger-than-life father, Art Rooney, founded the team, but Dan, the oldest son, transformed the longtime losers into the dynastic franchise with the most Super Bowl victories. Since he took over in the late 1960s and for most of the next four decades, he led with a steady hand that created the conditions for the team's unparalleled success, all during the complex era when television transformed football with big money and instant replays, dethroning baseball as America's favorite sport. And while other franchises often were led by flashy, attention-grabbing owners, Rooney's quiet and principled decency made the Steelers the gold standard for pro sports ownership. He helped settle bitter player strikes. He championed the hiring of minority coaches, which led to "The Rooney Rule," requiring teams to interview a minority candidate when filling head coach jobs. Like his father, he had a common touch and eschewed pretension. Those qualities and his understated dignity shaped the brand that has become Pittsburgh's most famous modern export to the world.
---
Chuck Pauli, 73
Pauli was the former CEO and president of Pittsburgh specialty coatings company Kop-Coat. He was vice president and general manager of the Koppers Coating Division when British company Beazer PLC took over Koppers in the late 1980s. Pauli led a management buyout of the Coatings Division, which created Kop-Coat, and he later merged that company into RPM International. He was an avid collector of art and antiques and an animal lover.
---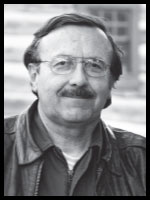 John Ruch, 77
A former UPI reporter and later manager of public information for PPG, Ruch's biggest contribution to western Pennsylvania was his work for the preservation of Historic Harmony. He led the group, which operates the Harmony Museum and preserves and interprets the history of the Butler County town for 29 of the last 34 years. When one of the Harmony Society's early buildings was going to be demolished in the early 1980s, Ruch got involved, then was chosen as the society's president. He has been the group's leading light ever since.
---
Jim Delligatti, 98
Delligatti created the most famous sandwich in American history—the Big Mac. The Uniontown native opened an early McDonald's franchise on McKnight Road in 1957 and tried to get the parent company to bite on his idea for a new sandwich several times before they finally said yes. The sandwich's first name was "The Aristocrat." Delligatti owned as many as 48 McDonald's franchises, and his family still has 21 in the region. Delligatti also is credited with the idea of serving breakfast at McDonald's.
---
Jack Goldsmith, 89
Goldsmith was the co-founder of MARC & Co., the advertising agency that became Marc USA. The letters stand for Marketing Advertising Research Consultants, which underscores Goldsmith's conviction that advertising agencies had to become business consulting partners in order for them and their clients to succeed. One of his first clients was Pittsburgh McDonald's franchisee Jim Delligatti, who created the Big Mac. MARC & Co. became Pittsburgh's biggest agency.
---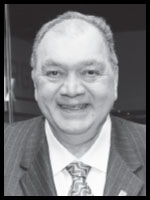 Jim Abraham, 65
A founder of the law firm Doepken, Keevican and Weiss, Abraham was a gregarious, community-minded man who met his wife, Francine, when he gave her his seat on the bus. A husky former football player, Abraham was a stalwart contributor and leading board member for many regional nonprofits, including the Western Pennsylvania Conservancy, New Hazlett Theater, Planned Parenthood of Western Pennsylvania, Pittsburgh Community Television and WQED Multimedia.
---
Charles S. Armitage, 83
Along with his wife, Fran, Armitage founded Uncle Charley's Sausage Company and built the Vandergrift concern into a business with 40 employees and $12 million in sales. An excellent salesman, he was selling spices to restaurants that made sausage when he began to take note and consider making it himself. He started the company in 1988 and built the manufacturing process from scratch. He sold sausage under the motto "It Just Tastes Better."
---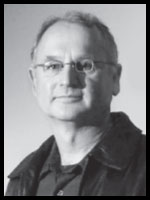 Ronald Desmett, 68
A nationally known glass artist, Desmett co-founded the Pittsburgh Glass Center, along with his wife and studio partner Kathleen Mulcahy. The Clearfield County native, who had a Masters of Fine Arts from Carnegie Mellon University, was known as both an extremely creative and a very nice person. The Glass Center, which opened in 2001, helps glass artists at all skill levels with classes, studio space and exhibition opportunities.
---
John Towle, 52
Towle nearly always had a book in his hand, and as a college student, he started working at Jay's Bookstall in Oakland just to be among the books. He later managed Bookworks in Fox Chapel Plaza before opening his own store, the Aspinwall Bookshop, which closed in 2010. He was a quiet, intense man who was, after a question or two, able to choose the perfect book for his customers from among his shop's many books, all of which he'd read.
---
Wilbur Steger, 87
Will Steger was the creator and driving force behind Consad Research, a consulting firm that tackled practical and prospective problems from the streets of Pittsburgh to the White House. After working as an analyst at Rand, Steger left and cofounded Consad, which he ran for more than 50 years. The brilliant and tireless Steger attracted a team of intellects that numbered as many as 40, and they investigated public policy issues that spanned the gamut of human endeavor.
---
Anthony Sunseri, 86
Sunseri was a leading figure in Pittsburgh's Strip District, building the Pennsylvania Macaroni Company into one of the city's best-known retail outlets. Leaving school to work in the store after his father died, "Tony Macaroni" spent his career in the Strip. His life was the store, his family and his customers, and after he sold his share, he later helped his sons with their Italian food operation, Jimmy and Nino Sunseri Co.
---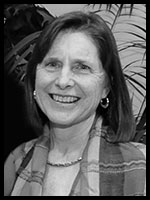 Paula Sculley, 71
A woman of great accomplishment, Mrs. Sculley had a master's in education from Harvard, taught high school English and spoke five languages. While her husband David was working as CEO of H.J. Heinz USA, she left her mark on Pittsburgh in nature and conservation. She was president of the Garden Club of Allegheny County and co-founded several organizations and events including: Botany in Action, which sponsors scientific travels of graduate students in ethnobiology; Pizzazz, an annual shopping event over several days that became the Garden Club's main fundraiser; and the Fern Hollow Nature Center in Sewickley Heights.
---
Thomas Livingston, 88
Livingston was long considered to be Pittsburgh's leading criminal defense attorney. He was known for his eloquence, particularly in his grand closings in which he often softpedaled the facts and instead summoned the greatness of the American justice system and its protection of the innocent. He ran for mayor of Pittsburgh in 1973.
---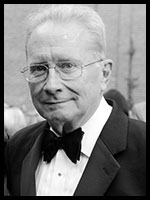 James Wilkinson, 72
Jim Wilkinson was a successful businessman and lawyer who became a leading force in the city's arts, especially the Pittsburgh Symphony Orchestra. After the Navy and a stint in the Nixon White House, he joined U.S. Steel as a financial analyst, negotiating scores of union contracts. He later chaired Buchanan Ingersoll's health law practice. After helping settle a musicians strike in 1976 for the PSO, Wilkinson helped negotiate every PSO contract, and later stepped in as the Orchestra's CEO in 2011. He also chaired the Andy Warhol Museum's collections committee, served on the Carnegie Museums board and was executive director of the Society of Contemporary Craft.
---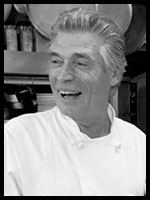 Luigi "Gino" Croce, 84
Italian immigrant Gino Croce was one of Pittsburgh's leading and most colorful chefs in the late 20th century, gaining his reputation at the Park Schenley, then Pittsburgh's leading restaurant. He served as lead chef at major charitable galas across the city and at President Ronald Reagan's first inauguration. His later restaurants included Franco's, Lucca, Gino's, the St. Clair Country Club and Bocconcino.
---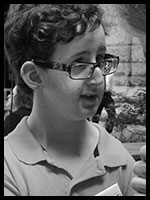 Ryan Cenk, 22
Not expected to live beyond the age of 2 because of complications from a brain tumor, Ryan battled challenges his whole life, becoming a joyful advocate for people with disabilities. Asked shortly before he died whether he felt he'd been dealt an unfair hand, he said, "Here's what I think. I was not expected to live until I was 2, and I lived another 20 years, and they were grand and joyous years, and almost every day was full of fun and great people. What complaint can I have about that?… Whatever God's plan is will be good for me."
---
Frank Cahouet, 85
Cahouet rescued Mellon Bank from the brink of failure in the 1980s and restored the fabled Pittsburgh institution to strength. The first outsider to lead the bank when he arrived in 1987, he inherited bad loans and excessive expenses that led to a loss of nearly $1 billion that year. Cahouet aggressively cut expenses, including nearly 3,000 layoffs. His purchases of The Boston Co. and Dreyfus Corp. ultimately repositioned Mellon to become one of the country's most profitable financial companies. After his 1998 retirement, he expanded his Pittsburgh community efforts, serving on the boards of Carnegie Mellon University, the University of Pittsburgh, the Pittsburgh Regional Alliance and many others.
---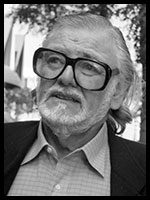 George Romero, 77
With 1968's "Night of the Living Dead," which he co-wrote, directed and filmed in Pittsburgh, Romero created a worldwide legacy—the zombie movie—that became so massive that he could never escape its gravity. The ultimate low-budget cult classic, it made him a cult figure, bringing acclaim and a string of similar movies for the next 49 years. The native New Yorker graduated from Carnegie Mellon University and spent most of his working life in Pittsburgh.
---
Dr. Herbert L. Needleman, 89
Dr. Needleman was a pediatrician and psychiatrist who pioneered research into the effects of lead on children. Though he often came under attack from industry groups, his groundbreaking work at the University of Pittsburgh showed that even low levels of lead exposure led to lower IQs among exposed children and hastened the removal of lead from a variety of products including paints and gasoline.
---
Paul Maher, 91
He was the 10th archabbot of the St. Vincent Archabbey, the oldest Benedictine Monastery in the U.S. and largest in the Western Hemisphere. He completed secondary school at Saint Vincent Preparatory School in 1943, was a tail gunner on a B-24 bomber in the Army Air Corps during World War II, flying 21 missions over Germany and Austria. He returned to St. Vincent College, where he graduated in 1950, and later earned a Ph.D. in philosophy before returning to teach at St. Vincent, ultimately becoming its chancellor.
---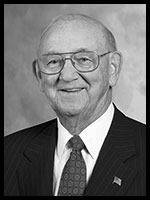 John F. "Jack" Donahue, 92
A man of devout Catholic faith, Jack Donahue made two remarkable contributions to Pittsburgh. The more obvious is Federated Investors, which he founded with Central Catholic classmates Richard Fisher and the late Thomas Donnelly. The firm created money market funds, offered investors new alternatives and became a financial giant, managing more than $360 billion and employing nearly 1,500 people, mainly in Pittsburgh. The less obvious is the family he and his wife of 70 years, Rhodora, nurtured—13 children, 84 grandchildren, and 109 great-grandchildren— to make widespread contributions to their community. And in that regard, the Donahue clan has played a leading role in supporting a wide range of causes in the region.
---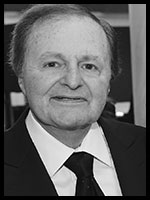 Marshall Katz, 77
The heir of Papercraft Corp., Katz was a benefactor of the arts in Pittsburgh, and a world-renowned collector of Palissy ware. His father, Joseph Katz, started the company that made gift wrap and a variety of consumer products, and Marshall ran the company in the 1980s before retiring and focusing on the arts. He was a board member of the Pittsburgh Cultural Trust, Carnegie Museum of Art, Pittsburgh Symphony, Andy Warhol Museum and Pittsburgh Opera, and, with his sister Andrea McCutcheon, donated $1 million to create Downtown's Agnes Katz Plaza, named for their mother and noted for its eyeball benches. His 19th century Palissy ceramics collection is among the world's best, and he was a world authority on it, authoring three books.
---
Donald Robinson, 91
A man of broad talents and accomplishments, Robinson used his experience in the family's retail tobacco and candy business to become president of White Cross Stores, which later merged with Revco. Beyond business success, he was a man who loved photography and community service. He travelled to every continent and 60 countries, blending his love of taking pictures with helping international charities around the globe. His photography is internationally renowned and his community work included numerous civic and arts boards in Pittsburgh but especially support of a wide array of Jewish organizations.
---
Herb Burger, 87
A leading Pittsburgh advertising executive, Burger led the PR effort that created the 1980s slogan, "Pittsburgh: The city with a smile on its face" while president of Creamer Inc. After the firm was sold, Burger started the St. George Group. He was the first chairman of the Pittsburgh Downtown Partnership, and was an inveterate Pittsburgh booster.
---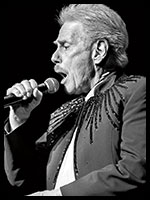 Jimmy Beaumont, 76
The front man for the Pittsburgh group The Skyliners, Beaumont was immortalized for writing the music for and singing the vocals on the timeless 1959 classic, "Since I don't have you." With that song, the Skyliners became the first white group to top the R&B charts, and Beaumont, a humble, friendly man from Pittsburgh's Knoxville section, had a song he would sing to appreciative audiences for the rest of his life.
---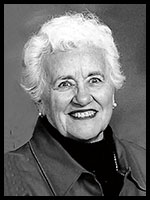 Mildred "Millie" Fincke, 90
She wanted to become a nurse since she was a little girl in Etna, and she became a national leader in the field, serving first as head nurse in the Allegheny General Hospital emergency room on the way to becoming vice president of nursing. The nurse practitioner program she created became a national model, and she was the driving force for creating the hospital's LifeFlight rescue service, the first in the northeastern U.S.
---
William Lowry, 80
After engineering the merger of Blue Cross of Western Pennsylvania and Pennsylvania Blue Shield, Lowry became CEO of the resulting new company, Highmark. He was a champion of hiring people with disabilities and was active in many organizations including the Juvenile Diabetes Foundation, Carlow College and Catholic Charities.
---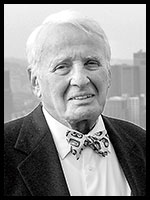 Robert Frankel, 89
Frankel was a successful businessman and leading Pittsburgh arts patron. Smart, dignified and friendly, he was vice chairman of Hilb, Rogal and Hamilton, which had purchased the Frankel family's longtime regional insurance business. As board president of City Theatre, he led an unprecedented capital campaign that allowed the struggling nonprofit to find and establish its permanent South Side home. And as chairman of the Three Rivers Arts Festival, he pulled the organization into the black. He also served on boards of the Carnegie Museum of Art, Pittsburgh Center for the Arts and Pennsylvania Council on the Arts.
---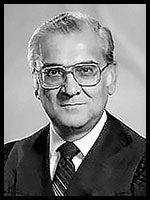 Nicholas Papadakos, 92
Papadakos was a McKeesport solicitor who rose to serve 11 years on the Pennsylvania Supreme Court. His 1983 Common Pleas Court decision to essentially effect a moratorium on home foreclosures of the recently unemployed at the height of steel's collapse paved the way for his election to the state's high court. As an Army sergeant in World War II he received four Bronze Stars.
---
Peter Dozzi, 87
The son of immigrants and the first of his family to graduate from college, Dozzi founded Jendoco Construction in the basement of his father's home 60 years ago. It became one of Pittsburgh's leading firms, having constructed scores of signature buildings in the region including Winchester Thurston, Pitt's School of Law, the Water Works, South Side Works, Carnegie Museum's Dinosaur Hall, and the Duquesne University Power Center.
---
John Troan, 99
As a young reporter, he changed his name from Troanovitch because editors kept misspelling it. He rose to become editor of The Pittsburgh Press from 1967 to 1983, the city's powerful afternoon paper that closed in 1992. Troan's career, however, was best known for the biggest story he ever covered, the development of the polio vaccine by Dr. Jonas Salk at the University of Pittsburgh.