Remaking Learning
How a movement to create a new kind of learning came to be in Pittsburgh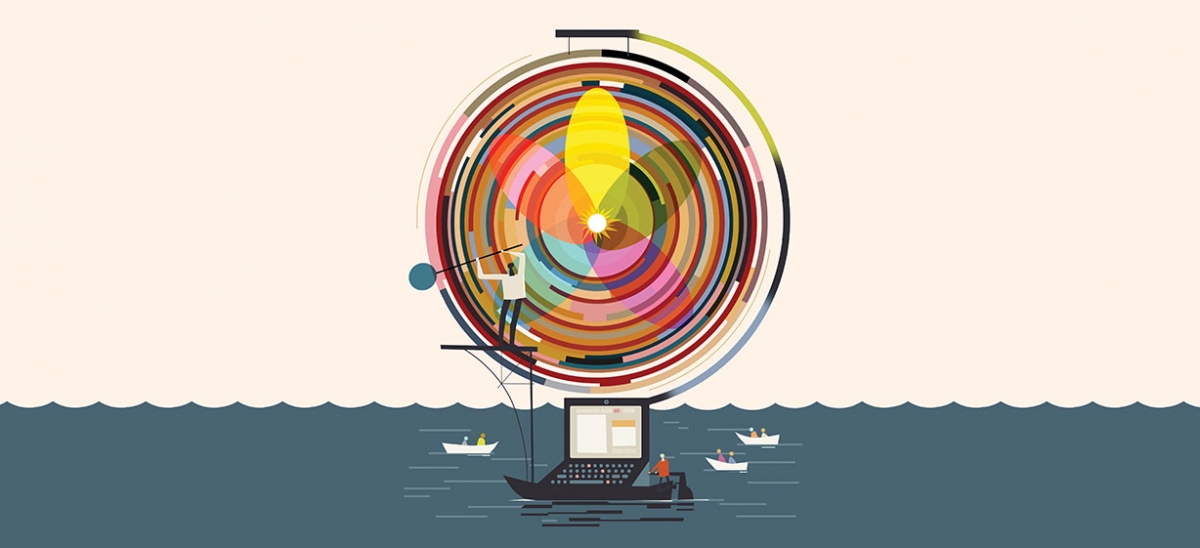 May 21, 2016
In retrospect, the gong makes a lot of sense.
It was 2009, and a packed crowd huddled in the basement theater of the Children's Museum of Pittsburgh, watching and laughing as one by one, teachers, technologists, parents, gamers and roboticists took to the stage to give their pitch. They had three minutes each to describe what field they worked in, explain their role in it, and spell out their vision for the future of learning.

Then, when their time was up: gong.
The instrument, on loan to us from the symphony, was louder than loud. It was declarative. It was seismic. It was, I later realized, the perfect metaphor for the course we'd unknowingly charted—a course that would one day touch the lives of tens of thousands of local students, putting the Pittsburgh region at the forefront of a teaching and learning revolution. It was a course that would lead us to form the Remake Learning Network, a coalition of more than 250 organizations shaping the future of education, in and out of school, pre-K through higher education. The eventual result of thousands of leaders and innovators working on behalf of kids, the Network started small: a few teachers and techies having breakfast at Pamela's; a few more gathered for coffee in Lawrenceville; a few more joining here and there until we found ourselves at the Children's Museum, trying to connect with each other over the bangs of a borrowed gong.
We'd come together because the world was changing in extraordinary, sometimes baffling ways. In order to thrive in a technology-driven tomorrow, our young people urgently need entirely new tools, skill sets and modes of thinking—resources and capabilities that no one sector can provide on its own. Education needs a sea change.
And with every echoing strike of the gong, we announced our intention to start one.
* * *
Let's imagine a student. We'll call her Jessica. She's 8 years old and comes from a lower-middle-class family in Pittsburgh's East End, where she attends a public school and plays Minecraft on the weekends. It's possible, given the projects and programs sparked by Remake Learning, that Jessica's entire student career could be influenced by the Network's convergence of technology, education, research and philanthropy.
For example, let's say she went to elementary school at Pittsburgh Faison in Homewood, where preschool teachers use an iPad app called Message From Me to bolster engagement among students, families and teachers. The app allows students like Jessica to take pictures, record voice messages and send them home during the school day as an electronic package. Developed by Carnegie Mellon University's Community Robotics, Engineering and Technology Empowerment (CREATE) Lab and the Pennsylvania Association for the Education of Young Children (PAEYC), Message From Me enables young children—many of whom have difficulty remembering or articulating the things they do in the classroom—to better communicate their learning with adults back home.
The Remake Learning Network's "spirit of connectedness" catalyzed the partnership and made the app what it is today, said Sue Polojac, co-director of quality initiatives at PAEYC and one of Message From Me's original developers. "[The Network] provided the table for us to sit down and talk about how to take projects like [the app] to the next level," she said. She recalls a meeting in which a tearful mother described Message From Me's impact: "Her husband worked a lot and didn't have a lot of interaction with their son," said Polojac. "But the first time the father received a message via Message From Me, he couldn't wait to come home and ask their child about what he'd learned in school. It became a regular thing. Their son's grades improved, and they grew closer as a family."
This outcome—the leveraging of technology to foster both love and learning—is what sparked the idea for Remake Learning nearly a decade ago. In 2006, soon after joining the Grable Foundation as executive director, I began hearing a near-universal refrain among teachers, parents, youth workers and advocates. Again and again, they said different versions of the same thing: "I'm not connecting with kids the way I used to."
I didn't think much of it at first. After all, every generation huffs and puffs about kids-these-days once in a while. But I felt the frustration from every demographic: teachers brand new and seasoned, parents young and old, advocates who'd seen it all. It seemed that, almost overnight, the things we'd always done in classrooms, museums and libraries stopped working like they used to. It was as if something seismic had happened among kids—a fundamental shift in the way they process information, form their identities and make sense of the world around them.
In fact, something major had happened. I didn't know it then, but researchers around the country and right here in Pittsburgh had begun to understand something about today's kids—namely, that they're growing up in a world vastly different than most of us might suspect. Their ability to access information is both infinite and instantaneous. Many have access to tools that, until now, were largely reserved for professionals. They have near-total control over their online platforms and identities, which have a potentially global reach. Gone are the days in which a student's audience consists solely of classmates, teachers and parents; refrigerator doors are no longer sufficient for showcasing student work.
Let's give our Jessica a homework assignment. Imagine that it's her task this week to research, write and film a short documentary. She'll start by researching her topic online, accessing limitless data from her couch. Then she'll write the script in a cloud-based word processor, allowing her to make edits anytime, anywhere. Give her an iPhone and a laptop and she'll stitch her shots into coherent stories. And when she's finished, she'll upload her work to YouTube for total strangers to watch, "like," critique, remix, mock, steal and share. For students like Jessica, creativity and learning have increasingly moved beyond the traditional classroom, with enormous implications for education as we know it.
Clearly, this shift warrants a response—a rethinking of how educators, families, administrators, counselors, librarians and others can best support the region's students. What does it take to connect with students like Jessica? What should learning look like in the 21st century? To whom can we look for answers?
Enter Pittsburgh's best-loved neighbor.
With his 1968 debut of "Mister Rogers' Neighborhood," Fred Rogers launched a gentle revolution by designing a program that took new technology called television and made it work for kids. Though today we remember the show mostly for Rogers' smile, his sweaters and the Neighborhood of Make-Believe, each episode was in fact grounded in principles gleaned from childhood-development science. Rogers sought the help of Pittsburgh's best researchers, educators and counselors to ensure that his program both furthered children's learning and better prepared them for the joy and heartbreak of the human experience. "What if you were offered an hour of television live every day?" he once asked. "Can you imagine what it's like to try to fill that up with something of value? I wanted to give the best I could."
In a sense, the Remake Learning Network sprung from a similar question. If, as adults and educators, it was our responsibility to fill children's time with something of value, then did we know what "value" really meant to 21st-century students? Given the context in which they grow up, are we giving them the best we can?
Lots of smart people were already asking this by the time I came along. Among them was Jessica Trybus, CEO of Simcoach Games and a faculty member at Carnegie Mellon University's Education Technology Center (ETC). Over coffee one morning, Trybus explained what she and her colleagues were up to at the ETC, a space for students to study interactive entertainment while acquiring collaboration, creativity and communication expertise.
"Do you see how this could impact education?" she asked. The more we talked, the more clearly we saw what Pittsburgh—a city reinventing itself as a research and innovation hub—really had. It had a growing tech sector. It had teachers, roboticists, entrepreneurs, artists, civic leaders and learning scientists, all of whom cared deeply about the region's future. It had a spirit of can-do optimism that the city hadn't seen in years.
But we also realized what it didn't have: someone or something to put together the parts. Connections between classrooms, universities, museums and nonprofits. Equitable access to resources. Spaces where teachers could talk with technologists; where students could learn from makers and gamers. Above all, Pittsburgh lacked a way to leverage its resources for the benefit of kids.
Hence the gatherings that followed: tiny summits that brought together Pittsburgh's top thinkers in education and the creative industries just to see what would happen. They grew quickly, from informal breakfast meetings, to the "Gong Show" remake at the Children's Museum, to a cross-sector network of organizations and leaders committed to advancing 21st-century teaching and learning. Ideas collided. Partnerships bloomed. Ed-tech startups joined forces with classroom teachers. Universities conspired with afterschool programs. Funders—including the Grable, Benedum, Hillman, Buhl and Pittsburgh Foundations—provided early support, while the Sprout Fund, the Allegheny Intermediate Unit and Carnegie Mellon University stepped in to provide leadership and help formalize the group's structure.
Over time, this organic knot of educators, scientists and nonprofit leaders became the Remake Learning Network. Today, we're striving to make all of Pittsburgh a campus—a place where the region's kids can discover, nurture and hone the curiosity and interests that make them tick.
* * *
Which brings us back to Jessica. Let's imagine that the messages she sent home from Faison revealed her developing knack for building things—something her family might not have otherwise noticed during the busy hours between dinner and bedtime. What next? How can they leverage the Network to further her talents and dreams?
Maybe they'll start at The Maker's Clubhouse, an afterschool program at Faison focused on STEAM (science, technology, engineering, art, math) learning for students in kindergarten through 5th grade. Stephanie Lewis, the Clubhouse's program manager, guides students through their latest engineering project. "We present them with a challenge or problem," she explained, "and students have to figure out a solution. They have to test it and refine it, learning engineering and design processes as they go."
After a few years, maybe Lewis refers Jessica to The Maker's Place—the Clubhouse's sister program for middle and high school students. Lewis's daughter Amya, a 6th-grader at Environmental Charter School, attends the program to learn everything from web coding to fashion design. Some days, she sews bows, bibs and dolls' clothing; on others, she makes videos on a computer program called Scratch. She also develops her business idea for Brain Busters, a peer-powered tutoring app for high school students at risk of dropping out. Amya and a team of others came up with the idea at The Maker's Place, and their pitch was recently featured in the WQED documentary "The Maker Movement." ("A lot of people dream of seeing themselves on TV," she said, "So I thought the whole thing was pretty nice.")
Let's say Amya's success inspires Jessica to seek out even more opportunities—maybe next she'll head to the Makeshop, a hands-on maker studio at the Children's Museum equipped with everything from laser cutters to 3D printers. There she'll find 11-year-old Brandon Wees discussing his latest project. "When I was 5 or 6," says the 5th-grader at Eden Hall Upper Elementary, "we were driving around at Christmastime and we stopped at one of those animated light shows where the lights go along with the music. I really wanted that for our house, but the commercial sets were too expensive. So I decided to build my own."
A few years later, with support from the Makeshop and a tiny computer called Raspberry Pi, Brandon did just that. He showcased his light show at Pittsburgh's Maker Faire alongside scientists, tech enthusiasts and tinkerers—an opportunity he called "the experience of a lifetime."
"The Makeshop gives him an outlet—someplace to go and ask questions, to talk with experts and other kids his age to problem-solve and refine his ideas," said Kristi Wees, Brandon's mother. "He's more creative. He's happier. It's turning him into an entrepreneur."
At another Makeshop table, Benji Himmel uses a soldering iron to put the finishing touches on his own project—a replica of a tool used on his favorite TV show. "It's a prop," explained the 7th grader at Community Day School. "My friend and I were watching 'Doctor Who,' and all of a sudden I knew: I wanted to make a sonic screwdriver." He pulled up a photo of the futuristic contraption on his smartphone. "I kind of want to be an electrical engineer," he said. "That's why I like the Makeshop. I get to work with circuits and electricity. We have a whole table for that kind of stuff."
Benji's mother Dana likes the Makeshop for another reason: "It's just incredible what's available to these kids," she said. "If Benji sticks with wanting to be an engineer, the type of thought process he's developing here will help him in that career. Or in any career, really—it'll help him in life. His way of thinking is expanding in ways that neither Benji nor I could even verbalize."
So let's say that Jessica, after spending some time at the Makeshop, learns not only to use the tools that can make her dreams a reality, but that thanks to Benji's sonic screwdriver, she discovers that maybe she wants to build things for the stage. She joins her school's theater program and starts working on sets. As her interests evolve, the Remake Learning Network stands ready to support her growth.
Maybe next she'll check out The Labs at East Liberty's Carnegie Library, a creative technology program that gives teens access to equipment, software and trained artist mentors. Aubree Peterson-Spanard, an 8th grader at the Obama Academy and a volunteer at The Labs, shows newcomers around. "It's pretty cool," she said. "You don't always know what you're going to do until you get here. One day we're learning Photoshop; the next we're on a field trip to the Andy Warhol Museum. Sometimes we learn coding; sometimes we use the different Microsoft programs or play Minecraft. The other day, the staff brought in authors who live in Pittsburgh to talk about their books. It actually made me think about becoming an author."
But Aubree's favorite project, she said, is building the annual haunted house. "We do it during the month of October. Last year, it was a combination of Alice in Wonderland and the Candyland board game. The staff showed us how to use saws to build the props and sets, and we made costumes for ourselves and did all the acting. I played the blue caterpillar from Alice in Wonderland. The whole thing was amazing."
Aubree's mother, Andrea Peterson, has equally high praise. "I've watched a little girl blossom into this person who wants to take more chances and be more creative," she says. "The diversity that The Labs fosters for children of all socioeconomic backgrounds is absolutely stellar. The staff helps these kids develop in a changing world. They're looking at the arts. They're looking at technology. They're looking at education. They're looking at community and global impact. I love it."
* * *
Hopefully, our Jessica will love it, too. Because while she may be imaginary, her path to success doesn't have to be. Whether her passion is making, design or another future-forward field, the Remake Learning Network is working to map the infinite potential that our region holds for her. Whatever Jessica's interests, the Network can connect her to a program that's here to help—and usually more than one.
And it's not just after-school programs. We're developing systematic approaches to 21st-century learning in classrooms and beyond, launching initiatives in STEM, STEAM, maker and technology-enhanced environments. Students in the Elizabeth Forward School District, for example, can access a video production studio, an audio recording booth and other high-tech tools that complement their classrooms. The district's Media Center boasts a stage, a place for gaming, and even a coffee bar—giving students both an immersive education experience and a taste of life after high school. And while high-tech tools and creative spaces are fun, they also get results: Elizabeth Forward has nearly eliminated its dropout rate, and student achievement has skyrocketed.
Of course, technology means nothing without teachers, mentors and other caring adults. The Remake Learning Network continues to provide cutting-edge professional development opportunities throughout the region, supporting educators in their quest to create tomorrow's scientists, engineers, artists and technologists. To date, more than a thousand teachers have trained at the Allegheny Intermediate Unit's transformED space, where they explore new teaching methods in sessions led by scientists, artists, makers, designers and even students. Dozens more have received conference stipends to attend the country's most innovative education and technology conferences, bringing new ideas back to our community that both enhance the region's classrooms and make our students more competitive on a national scale. With an increasing number of colleges accepting maker portfolios and nontraditional academic credentials as part of the application process, students like Jessica can graduate from high school better prepared for what's next.
Maybe that means college. Maybe it means something else. Either way, in an effort to discern their options, maybe Jessica and her family attended Remake Learning Days, a festival of more than 100 events that took place across the region from May 9 to May 15. Individual events came in all shapes and sizes, from a "FabSLAM" at the Carnegie Science Center in which 12 teams went head-to-head in a 3D-printing design challenge, to WQED's on-air town hall about innovative teaching and learning beamed direct to the region's living rooms. The idea was to spotlight the incredible programs available to our community's children, be they rich, poor, black, white, urban or rural. We want students, families and caregivers not only to understand the Network's services but to demand them.
Because let's say that Jessica isn't from the East End after all, but rather a low-income family living in Greene County. Or a single-parent household in Hazelwood. We don't believe that her zipcode or circumstance should determine whether she gets to become the next great stage designer, coder or learning scientist. The sad truth, however, is that it too often does.
That's why we're remaking learning. That's why we started this sea change. That's why we struck that gong in the first place and why we still strike it today—again and again, as loudly as we can, until every student and every family can hear it and join in.