Recreational Opportunities
Photo by daveynin / Flickr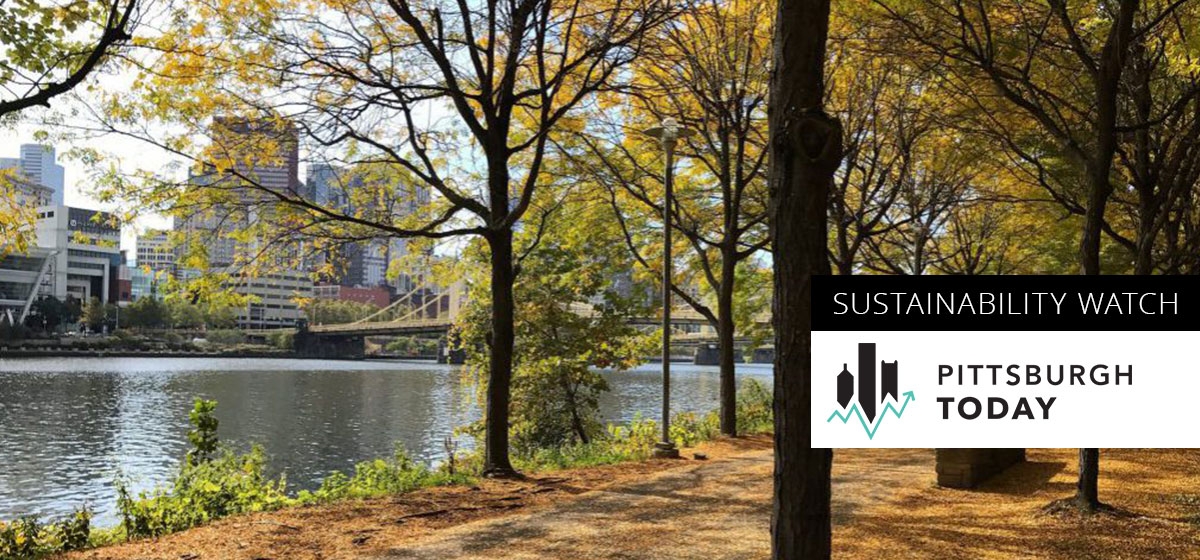 February 13, 2017
Southwestern Pennsylvanians think highly of the parks, trails and other recreational amenities in the region and survey data suggest most base their views on firsthand knowledge.

The accessibility and quality of outdoor recreational opportunities, whether found in parks and woods or on rivers and streams, are indicators of the quality of life available in the region. The better the quality of the recreational offerings, the more of a regional attraction they are.
More important, outdoor opportunities that encourage physical activity are important to public health. Physical exercise reduces rates of overweight children and adults, obesity and illnesses such as diabetes and heart disease – all of which are issues of concern in the region.
Highly rated
The findings of the Pittsburgh Regional Environment Survey offer a glimpse of how residents use and view the land and water recreational opportunities found in the Pittsburgh Metropolitan Statistical Area, which consists of Allegheny, Armstrong, Beaver, Butler, Fayette, Washington and Westmoreland counties.
About 3 in 4 residents rate the quality of parks, playgrounds and trails and other outdoor amenities as excellent, very good or good, according to the 2013 survey conducted by Pittsburgh Today and the University of Pittsburgh University Center for Social and Urban Research.
Only about six percent of residents describe the quality of parks, trails and other recreational amenities as poor.
Southwestern Pennsylvanians also tend to be protective of public recreational areas. More than 70 percent of Pittsburgh MSA residents, for example, oppose drilling for natural gas in state parks, wildlife and nature reserves and state game lands.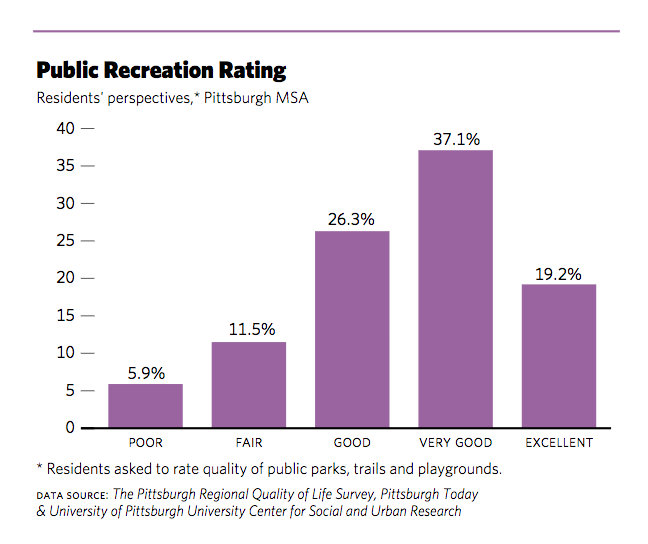 Popular
Parks, trails and other land-based amenities are widely used, the survey suggests. Nearly 63 percent of Pittsburgh MSA residents report using them at least six times a year. Only 12 percent say they never use them. Residents who get the most use out of recreational areas live in Allegheny County, where 40 percent of residents say they visit them at least 20 times a year.
Southwestern Pennsylvanians use the region's ample rivers, streams and lakes less often than land-based outdoor amenities. Only 37 percent of residents overall say they use water resources for recreation more than five times a year. Nearly one-third of residents don't use them at all.
This brief is a summary of a more detailed analysis published in the 2016 Sustainable Pittsburgh Southwestern Pennsylvania Sustainability Goals and Indicators Report.