Dramatic Movement
After 20 years, the Quantum Theatre is still seeking new ground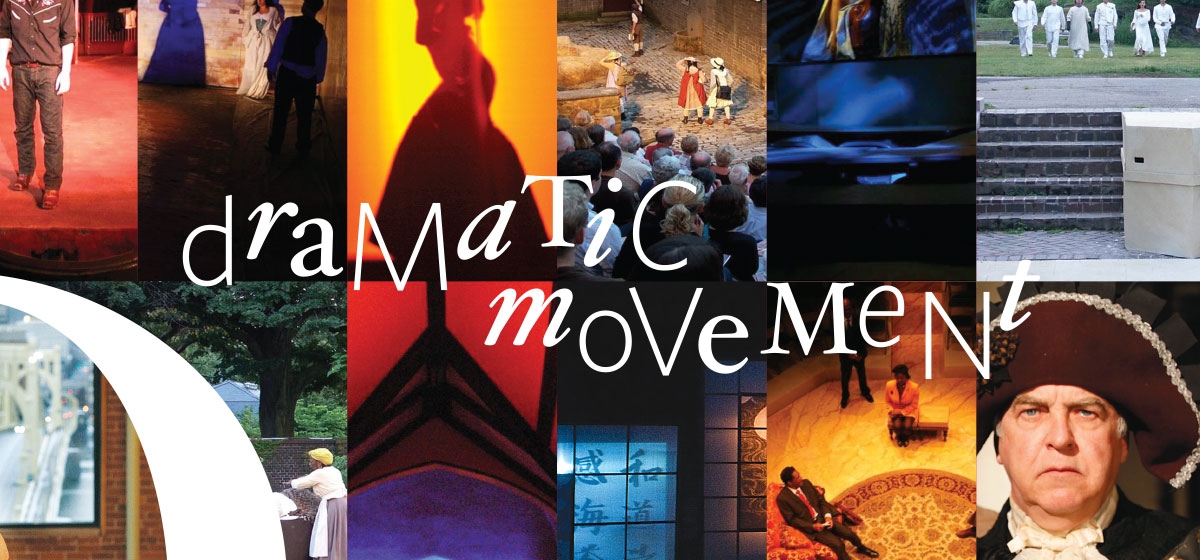 May 20, 2010
In an empty annex of the Strip District's typically post-industrial Gage Building, propped against a supporting beam on the hard factory floor, disparate objects sit like the sad leftovers from a garage sale. Karla Boos, founder and artistic director of Quantum Theatre, surveys the items with Jed Harris, veteran Pittsburgh written theater experimentalist and director of Quantum's spring production of Heiner Müller's "The Task."

The "artistic finds for the day," as Boos puts it, don't seem impressive: a burnt-out box spring and mattress; a rickety bar stool; some thick, old rope; one lonely modernist chair. But turning to stage manager Michelle Engleman, Boos and Harris are entirely pleased—almost entirely. "This plant might be too lively," says Harris, with Boos laughing in immediate agreement. "What we want is something dead or dying." Boos and Harris have known one another for almost 30 years, yet "The Task" marked their first work produced together. And as Quantum Theatre approaches its 20th anniversary season, it seems to have been an appropriate choice. Müller's surreally critical look at revolution—both political and artistic—proved a formative impact on Boos and Harris alike.
So while "The Task" looked back on Karla Boos' past, it did so with a critical eye rather than a pat on the back—just the way Quantum Theatre has imagined its place in the 20-year arc of the arts in Pittsburgh. When Boos moved to Pittsburgh in 1990, it was to a cultural landscape vastly different from the one we inhabit today. But returning from Los Angeles— she'd already done a brief early-'80s spell at the University of Pittsburgh—Boos knew that the relatively empty playing field of experimental art here wasn't a problem, but an opportunity.
"I couldn't get my hands around how I could start a company that would let me make work in Los Angeles. And I remembered the size of Pittsburgh, the friendliness and the approachability, and I thought, 'Yes! I can start a company there.' Plus, I could bring something that Pittsburgh didn't have. "There was less going on, and certainly less integration— visual artists, theater people, dance, each had their thing, and there was very little moving between or uniting those art forms. But I had come from a place where there was quite a bit of integration and where world cultures were surfacing in the arts. So I could say that I brought something different." Boos launched Quantum Theatre with a singular mission: to create theater art that experimented in whatever ways the piece deemed necessary.
Her first victim was the theater itself, which she sees as sometimes acting as a barrier to the actual artistic experience—the rhetorical actions of velvet seats, intermission cocktails and theater-district restaurants. Quantum became famous for approaching Pittsburgh's landscape as a blank canvas. The city's disused buildings, plentiful parks, museums, cemeteries—whatever aspect of the diverse urban geography of Pittsburgh that suited a performance became Quantum's theater. But as Boos is quick to point out, that is a symptom of her big-picture philosophy of Quantum's art-making-a philosophy that by no means stops at venue choices.
"We're asking the question, very actively, 'What makes a piece of theater meaningful today?' I want to make something that's very 'live,' " says Boos, "and 'live' is a moving target. As an audience member, what will move me tomorrow is not what moves me today. And for me, the relationship between making art and experiencing it [as in an audience] is really close. I want to have these experiences and make work that provides them for other people." Quantum has no genre—having produced traditional and contemporary plays, opera, dance-based pieces and more—and therefore, it has no troupe. From its inception, Boos has wanted Quantum to be about incorporating different kinds of artists and, in order to get at that "live" feeling, get them to work outside their shells.
One production in which Boos feels all those pieces came together was the 2003 production of the contemporary opera "Kafka's Chimp." With audience and artists alike in a cage—at, of course, the Pittsburgh Zoo—Boos felt that the assembled cast of roving conductor-less musicians and the singers from the English National Opera achieved her goal of creating something new by working outside their comfort zone. "Those things were completely foreign to those artists' world," says Boos. "That's what signals success to me—getting artists to come a little bit off of autopilot."
As Quantum enters its 20th year, Boos and managing director Rene Conrad have concocted a new way for the group to work outside its own comfort zone and in a manner to which the group's history makes it well suited. With Quantum's new neighborhood initiative, the group will focus on particular neighborhoods for extended periods of time, committing to multiple productions using spaces available in that neighborhood over one or two seasons. "We've tried to find ever more meaningful ways to work within a neighborhood," says Boos. "To connect with the neighborhood, to access its structures and key leaders and residents—because it would be weird if we're in a neighborhood for a two-month period and our audience doesn't, in some part, come from that neighborhood."
It's a move that makes perfect sense for an organization that can be seen as one of the pioneers of Pittsburgh's do-it-yourself artistic aesthetic—the philosophy that over the past 20 years has helped give rise to a seemingly bottomless well of small arts venues, neighborhood festivals and fringe cultural districts such as the Penn Avenue corridor. In the early 1990s, Boos and Quantum Theatre provided a model for seeing Pittsburgh as an unfinished artistic product; a place where financial and population shortcomings could be imagined as opportunities. It's been borne out in a cultural explosion worthy of a far larger city. The difference, as Boos herself says, "is exponential." But rather than seeing it as a finished job, after two decades, Karla Boos and Quantum Theatre want more than ever to keep pushing forward. "You can't say, 'I'm good at this, so I want to do it again,' " says Boos. "You have to want to do things you don't know how to do. If you're that kind of artist, it's fantastic. The result is going to be something that we haven't experienced before."
Next Leap for Quantum
This summer marks the launch of Quantum Theatre's 20th-anniversary season, bookended by a world premiere and a cross-disciplinary classic. To open the season, Karla Boos and Ottawa theater artist Peter Duschenes adapted Finnish novelist Arto Paasilinna's "The Howling Miller" for the stage, which Duschenes will also direct (opens July 29, 2010). Karla Boos: "The setting is mysterious Lapland; the Miller, larger-thanlife and with species in question. Perhaps this fable is a metaphor for a fierce little country in the 20th century's post-war years of deep forest shadows, with occasional flashes of brilliant light." "Maria de Buenos Aires" (opens March 24, 2011) is a tango operita by nuevo tango pioneer Astor Piazzolla. This production sees the return of Anres Cladera, the Uruguayan conductor behind Quantum's lauded "Candide." Boos calls "Maria," "an opera with folk forms as its musical point of departure, haunting spoken text, and wild tango. It's the story of an Argentinian prostitute and her doppelganger ghost, revealed in layers excavated beneath the surface of a 1930s city full of secrets."