Pittsburghers Walk the Red Carpet at "Lights! Glamour! Action!"
February 23, 2019
Photo courtesy of Pittsburgh Film Office.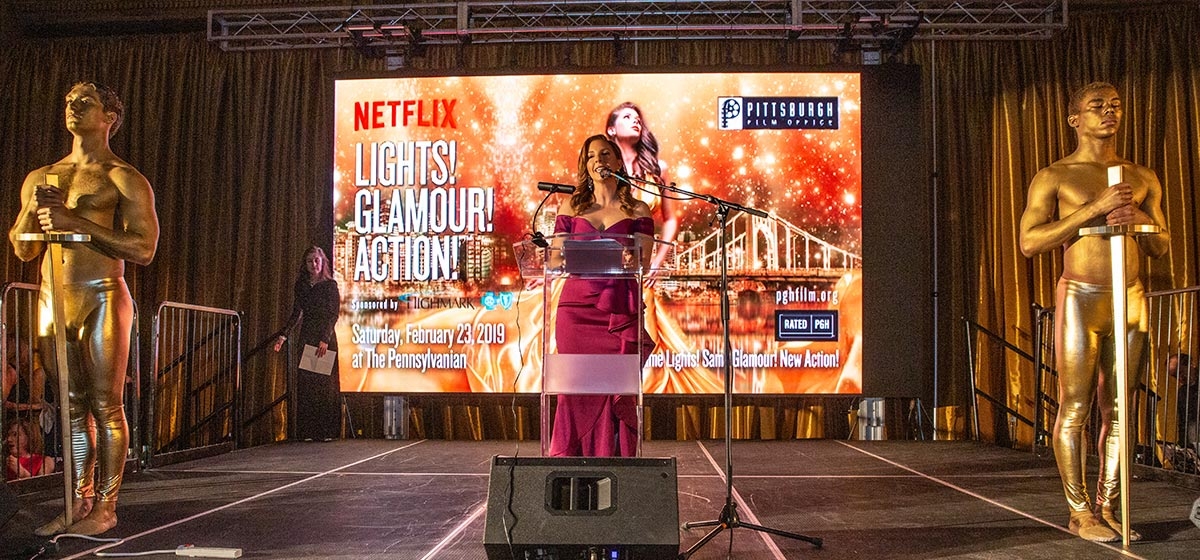 February 25, 2019
Party goers dressed to the nines walked the red carpet under The Pennsylvanian's iconic rotunda on Saturday, February 23 for "Lights! Glamour! Action!" benefitting the Pittsburgh Film Office.
---
---
Inside, 750 guests enjoyed a fabulous night of dinner, drinks and dancing. While the 2019 Oscars went without a host, Pittsburgh's biggest night in film was hosted by Michelle Wright and Ashley Dougherty from WTAE (ABC). Guests attending the VIP reception were treated to live entertainment from Beauty Slap and a performance created by Richard Parsakian.
"Lights! Glamour! Action! is a spectacular event that celebrates the film industry in southwestern Pennsylvania. The funds raised are crucial in continuing the successful operations of the Pittsburgh Film Office and supporting the film industry here locally. We are incredibly fortunate to have a growing portfolio of feature films and television shows that call Pittsburgh home." said Dawn Keezer, director of the Pittsburgh Film Office.
The event was chaired by Melissa Anderson, executive vice president of Highmark Health.
Participating restaurants included Eddie V's, A519 Chocolate, Blume Honey Water, Braddock's Rebellion, Molinaro Ristorante & Bar, Monterey Bay Fish Grotto, Pittsburgh Smokehouse, Parrot Bay Café, Pittsburgh Po' Boy, Sausalido and Parkhurst Catering.
Attendees included Lt. Governor John Fetterman and Second Lady of PA Gisele Fetterman, Allegheny County Executive Rich Fitzgerald and his wife Cathy, Allegheny County Treasurer John Weinstein, Senator Jay Costa and Roxanne Costa, and PFO Board Chairman Russ Streiner.
Since 1990, the PFO helped bring in more than $1 billion in economic impact to the Pittsburgh region from Hollywood productions, with most recent successes due in large part to the Pennsylvania Film Tax Credit program. For every $1 invested in PFO, the organization is able to generate approximately $218 in new spending or the southwestern Pennsylvania region.