Personal Investment
Building a better city: PSVP and Gwen's Girls
Photo by S. Rick Armstrong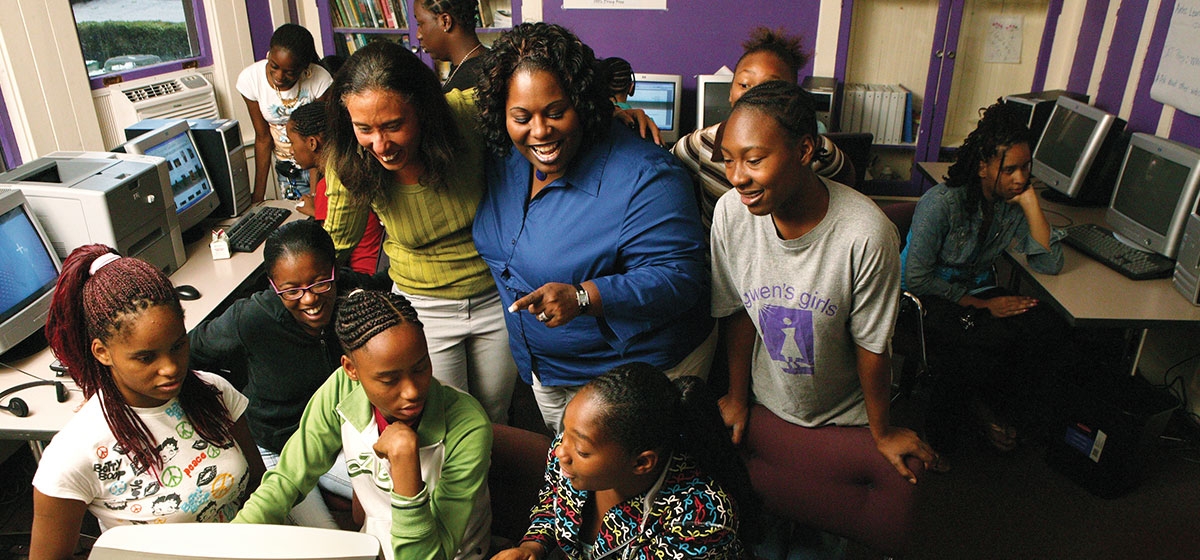 August 20, 2009
As a Pittsburgh police commander, Gwen Elliott knew the struggles of girls in the city's toughest neighborhoods. When she retired in 2002, she founded Gwen's Girls, a nonprofit that would look out for them. But from the beginning, Elliott knew it needed to grow.
That's where Pittsburgh Social Venture Partners came in. Operating on the idea that venture capitalist models can be applied to philanthropy, PSVP makes grants to local nonprofits serving at-risk youth. Members pledge $5,000 a year, along with their time and skills. PSVP member Karl Krieger, a retired manufacturing executive who has worked with Gwen's Girls for four years, has helped executive director Lynn Knezevich write annual reports, set policy and build a board of directors.
"We recognized that they were doing something unique," Krieger says, "but they were just getting started, so they needed some outside guidance."
With PSVP's help, however, Elliott and Knezevich built a stable foundation for Gwen's Girls, ensuring that it would continue to serve Pittsburgh's girls even after Elliott's death from cancer in May 2007.
Social Venture Partners originated in Seattle in 1997, when a group of business leaders wanted to bolster their philanthropy with time and expertise. John Denny, the former director of community relations for the Hillman Co., learned of this approach and thought it could work in Pittsburgh.
"You have to put the money where it's going to grow the organization," says Denny, now PSVP chairman. One of 25 Social Venture Partner affiliates in the U.S., Canada and Japan, the local group began with 18 partners in 2000 and now has 47. They work with organizations such as Phase 4 Learning Center, which helps students who have left school earn their diplomas, and Every Child, which works to keep children in stable families. The partners help grow the nonprofits just as they would a business start-up.
But PSVP's mission is also to help people become better philanthropists. "It's not just writing checks," Krieger explains, "it's getting your hands into an organization."
Partner Susan Kaminski left her executive position in Silicon Valley in 2001 to focus on family and philanthropic work. Her husband Greg, a Pittsburgh area native, had always wanted to return home, so the couple moved here with their three children. They looked for a way to get involved with nonprofits and quickly settled on PSVP.
"The whole concept of being able to use these skills we had learned in the business world appealed to us," Susan Kaminski says. "And for me it's been incredibly educational."
Magali Curiel would agree. A native of the Caribbean island of Curacao, she came to Pittsburgh in 1997 to attend Point Park University. By 1999, she had fallen in love with the city. After working her way up to become a senior marketing specialist at Thar Technologies, Curiel wanted to give something back. In 2007, she joined PSVP, attracted by its hand-on model. "I can apply what I've learned and share it with them." She's also recruiting friends to PSVP.
Nonprofits, Krieger notes, "don't have time to think about the mundane issues of how they are going to survive next year." But with PSVP's help, organizations such as Gwen's Girls will survive and continue to do good things for children around Pittsburgh.
Learn more at psvp.org.