Is it Really Better to Give than to Receive?
Here's what the science says
Illustration by Anita DuFalla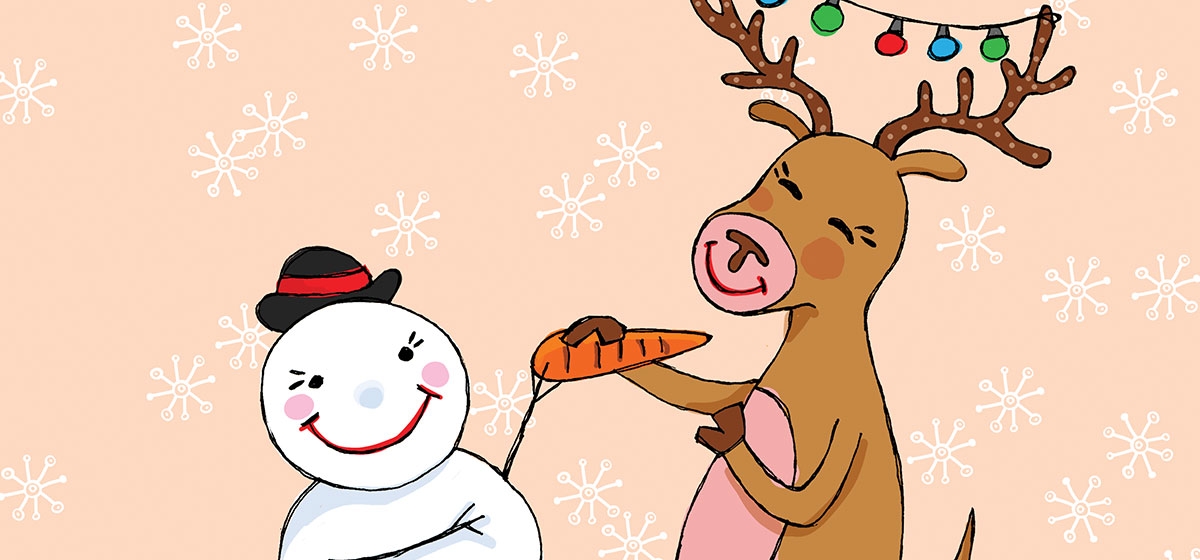 December 9, 2019
Dr. Gary Swanson has been the recipient of two gifts given in his honor: a goat donated to a family in Africa and trees planted along the streets of Detroit. As someone who likes goats and hails from Detroit, he appreciates the thoughtfulness behind these gifts. But, research shows it was the gift giver who likely received the most benefits.
"There is scientific data to show that when engaging in charitable acts for others, especially when you have no expectation of anything in return, people do feel pretty good about that," says Swanson, a child/adolescent and adult psychiatrist at Allegheny Health Network (AHN).
Wired to give
Research shows the act of giving offers a decrease in stress levels, decrease in depression and increase in a sense of happiness and purpose.
"Giving helps individuals feel more connected to one another and their community. This, in turn, elicits a sense of belongingness—something human beings are wired to strive for," explains psychologist Jennifer Beckjord, senior director of clinical services at UPMC Western Psychiatric Hospital.
When we give, we experience a rush of certain hormones such as oxytocin—the compassion hormone, and endorphins and dopamine—which foster a positive feeling in one's body that is similar to a "runner's high" and why this response has been coined the "helper's high."
"The act of giving, which importantly includes volunteerism, can also lead to a longer life," Beckjord adds.
Motivations don't matter
Giving boosts our mental and physical well-being, even if our good intentions aren't truly selfless.
"The idea of philanthropy, or giving, is related to the concept of altruism. There are some competing theories of altruism: Pseudo-altruism is driven by ego or giving with the expectation of receiving something in return (i.e., your name on a building). True altruism is giving without expectation of anything in return. But any kind of giving, regardless of these two differing motivations, does lead to some kind of reward, and regardless of whether the person expected it or not," notes Beckjord.
She adds, "The reward can be from an internal or external source, so the internal act of feeling positive about yourself and external praise from others or public recognition… All of these lead to both mental health and physical benefits."
Stress-free giving
With the holiday season upon us, our experts offer advice on how to make giving a meaningful, rather than stressful, experience.
Many of us are bombarded with worthwhile causes, not to mention "GoFundMe" type pleas from friends and family. "Social media has a wide reach and there are so many needs out there. To not be overwhelmed by it, we need to keep it simple and focus on donating to certain causes that have meaning to us and that create that sense of well-being and satisfaction," advises Beckjord.
As the father of nine children, Dr. Swanson is all too familiar with societal obligations to give during holidays and life's big events such as graduation. "People do feel good about giving and people do feel good about receiving," he says. "In many ways, giving is better but the flip side is, people get anxious about giving. They think, 'Am I giving the right gift?'" Swanson says. "I think people beat themselves up a lot about the perfect gift and that can be hard. Most of the time, receivers are just happy to know you were thinking about them."
The thought is what really counts
When you give, don't expect something in return. It's a way to show you care about someone—whether it's a family member or colleague. "You should give because you like someone and want to reflect that. Clearly things that don't help are expensive gifts that might make someone feel uncomfortable. It's more the meaning or thought behind the gift that counts… and represents something of you that deepens the relationship," Swanson says. A good example of this, he says, is an experiential gift such as buying someone tickets to a show or concert.
It can be a challenge to give to someone who has what they need or the means to buy it, so consider giving to a cause that they're passionate about and/or you're passionate about.
Swanson will long reap the rewards from the tree-planting gift given in his honor by his college buddy, who is from Detroit too and active in urban revitalization. "From my standpoint, it keeps me tied to Detroit and gives me pride in my hometown. And it's really cool that the gift reflects our mutually shared passion."
No thank-you note? Let it go.
"Older people drop a card in the mail but kids these days tend not to do that… They might text or say thanks in person… Older generations might think they're not grateful because of this. While part of me thinks a thank-you note would be great, on the other hand, no one uses the mail anymore." —Gary Swanson, a child/adolescent and adult psychiatrist at Allegheny Health Network
The impact of giving to nonprofits
Life'sWork of Western PA: Life'sWork's mission assisting individuals with disabilities and those facing other barriers to employment touched a generous soul residing 150 miles away. Looking for a way to honor her late husband, who was passionate about the self-esteem and independence that comes with a job, Barbara donated her husband's suits and ties, which, in turn, now help our clients strengthen their appearance, giving them added confidence in seeking employment.
The Children's Institute of Pittsburgh: Simple things bring joy. For B'man, a student at The Children's Institute of Pittsburgh, it's the sound of beeping cars that makes him smile. This joy sparked a local movement to "Beep for B'man"—soliciting honks from the driving public that spot B'man in his "corner office" in Fox Chapel Plaza. Groups and individuals have since donated to amazingkids.org/beepforbman in his honor.
ACHIEVA: Cecil and David Rosenthal, longtime recipients of ACHIEVA's supports, were victims during the tragedy at Pittsburgh's Tree of Life Synagogue. Donors from around the world gave over $150,000 to the Cecil and David Rosenthal Memorial Fund. Their former roommate will see a wish come true as the first fund recipient!
Western Pennsylvania School for Blind Children: Raymond Wojsynski generously donated the Hilda M. Willis Creative Arts Series to Western Pennsylvania School for Blind Children, bringing high quality, diverse performances to individuals with blindness and visual impairment. He said: "Seeing the smiling faces of the children who attend the musical performances has enriched my life. It brings me gratification knowing that my support has provided opportunities they might not otherwise have."
American Heart Association: I was attending an event when I collapsed, and my heart stopped beating from sudden cardiac arrest. I'm forever grateful to the two vigilant people who jumped in and started CPR. Their quick response was critical to saving my life! Giving to the American Heart Association is critical to researching techniques like hands-only CPR! —Heart attack survivor
Greater Pittsburgh Community Food Bank: Each year 26,000 donors support Greater Pittsburgh Community Food Bank. 6,000 volunteers contribute 48,000 hours of service to support the mission. "I can't do a whole lot to help people, but I can do this and I know that it helps many people." —Diana Robinson, Food Bank volunteer and donor
Make-A-Wish® Greater Pennsylvania and West Virginia: Rachael, who has cystic fibrosis, was 13 when she was granted her wish—but it didn't end there. Two decades later, Rachel reconnected with her wish-granting volunteer. "It's a really special bond that most people don't get to have," said Rachel. To this day, she calls her "my fairy godmother."
Junior Achievement of Western PA: "When I think of Junior Achievement, I think about inspiration and a chance for change. That's what they've given me. They provide guidance, support, and the confidence to achieve my goals. I can, and I will achieve." —Emonie Campbell, JA Alumna
Salvation Army: Beth's husband lost the family business after a stroke, filed bankruptcy, and she became his caretaker. Defeated, they turned to The Salvation Army's social services. More than food, they found compassion. Faith renewed, they began volunteering at the pantry. Giving back is "a reason to get up in the morning."
Literacy Pittsburgh: "When I finally got my GED diploma, my tutor said she was proud of me. That was the first time anyone ever said that to me." Ask any student what is most meaningful about Literacy Pittsburgh and they will say: the teachers and tutors really care.
The Children's Home of Pittsburgh & Lemieux Family Center: A volunteer recently came to play superheroes with a 4-year-old patient in our Pediatric Specialty Hospital. They had a blast together! But what's most amazing is the impact this small act had—an hour of play made this child's entire day.
Pressley Ridge: Due to the sensitivity of our services, volunteers don't typically interact with our clients, but they can still make a significant impact. Recently, a group cleaned, painted and decorated our family visitation space. Now, clients have a comfortable, friendly place to be together during a difficult time in their lives.