Pauli, Ruch, Delligatti, Goldsmith, Abraham, Armitage, Desmett, Towle
Noting the passing of prominent Pittsburghers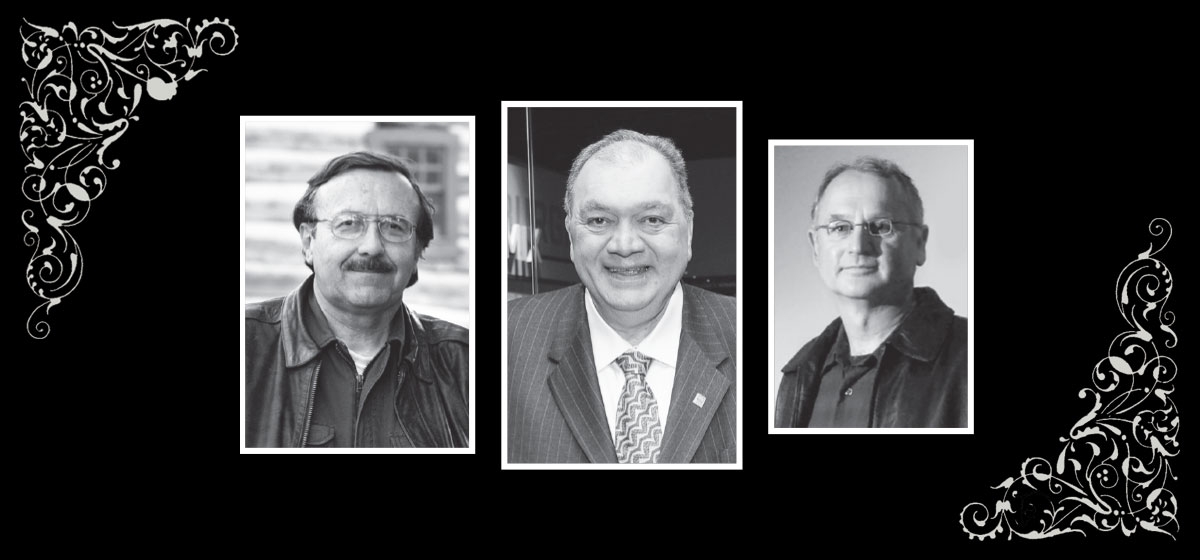 February 20, 2017
Chuck Pauli, 73: Pauli was the former CEO and president of Pittsburgh specialty coatings company Kop-Coat. He was vice president and general manager of the Koppers Coating Division when British company Beazer PLC took over Koppers in the late 1980s. Pauli led a management buyout of the Coatings Division, which created Kop-Coat, and he later merged that company into RPM International. He was an avid collector of art and antiques and an animal lover.

John Ruch, 77
A former UPI reporter and later manager of public information for PPG, Ruch's biggest contribution to western Pennsylvania was his work for the preservation of Historic Harmony. He led the group, which operates the Harmony Museum and preserves and interprets the history of the Butler County town for 29 of the last 34 years. When one of the Harmony Society's early buildings was going to be demolished in the early 1980s, Ruch got involved, then was chosen as the society's president. He has been the group's leading light ever since.
Jim Delligatti, 98
Delligatti created the most famous sandwich in American history—the Big Mac. The Uniontown native opened an early McDonald's franchise on McKnight Road in 1957 and tried to get the parent company to bite on his idea for a new sandwich several times before they finally said yes. The sandwich's first name was "The Aristocrat." Delligatti owned as many as 48 McDonald's franchises, and his family still has 21 in the region. Delligatti also is credited with the idea of serving breakfast at McDonald's.
Jack Goldsmith, 89
Goldsmith was the co-founder of MARC & Co., the advertising agency that became Marc USA. The letters stand for Marketing Advertising Research Consultants, which underscores Goldsmith's conviction that advertising agencies had to become business consulting partners in order for them and their clients to succeed. One of his first clients was Pittsburgh McDonald's franchisee Jim Delligatti, who created the Big Mac. MARC & Co. became Pittsburgh's biggest agency.
Jim Abraham, 65
A founder of the law firm Doepken, Keevican and Weiss, Abraham was a gregarious, community-minded man who met his wife, Francine, when he gave her his seat on the bus. A husky former football player, Abraham was a stalwart contributor and leading board member for many regional nonprofits, including the Western Pennsylvania Conservancy, New Hazlett Theater, Planned Parenthood of Western Pennsylvania, Pittsburgh Community Television and WQED Multimedia.
Charles S. Armitage, 83
Along with his wife, Fran, Armitage founded Uncle Charley's Sausage Company and built the Vandergrift concern into a business with 40 employees and $12 million in sales. An excellent salesman, he was selling spices to restaurants that made sausage when he began to take note and consider making it himself. He started the company in 1988 and built the manufacturing process from scratch. He sold sausage under the motto "It Just Tastes Better."
Ronald Desmett, 68
A nationally known glass artist, Desmett co-founded the Pittsburgh Glass Center, along with his wife and studio partner Kathleen Mulcahy. The Clearfield County native, who had a Masters of Fine Arts from Carnegie Mellon University, was known as both an extremely creative and a very nice person. The Glass Center, which opened in 2001, helps glass artists at all skill levels with classes, studio space and exhibition opportunities.
John Towle, 52
Towle nearly always had a book in his hand, and as a college student, he started working at Jay's Bookstall in Oakland just to be among the books. He later managed Bookworks in Fox Chapel Plaza before opening his own store, the Aspinwall Bookshop, which closed in 2010. He was a quiet, intense man who was, after a question or two, able to choose the perfect book for his customers from among his shop's many books, all of which he'd read.