Passing the Torch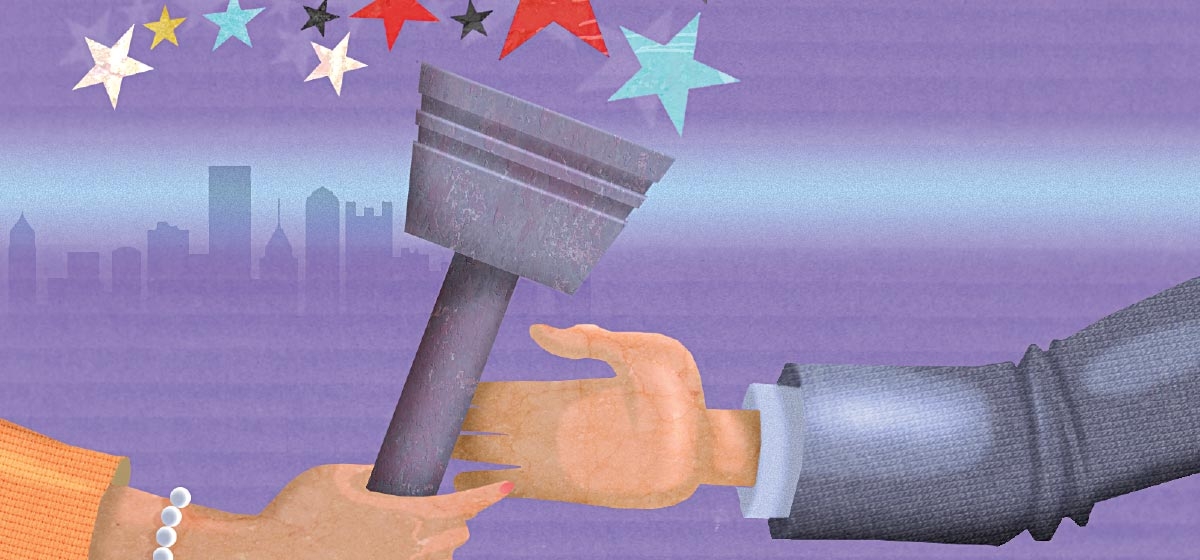 November 20, 2016
Earlier this fall, a group of about 250 civic and cultural leaders gathered to pay tribute to Teresa Heinz Kerry on the occasion of her handing over the chairmanship of The Heinz Endowments to her sons. From creating Riverlife, to championing causes from the environment to social equity to the Cultural District among many others, the mark that Mrs. Heinz Kerry has left on Pittsburgh is indelible.

As she took the stage, with her granddaughter running around nearby, she described her long relationship with the city she came to know as a newlywed who came to the U.S. from Mozambique. She learned to be an American through Pittsburgh and Pittsburghers—of all stations—and though she has lived away from the city for many years, she's remained one of the leading forces and advocates of the city's dramatic progress.
And now, her three sons will begin their alternating tenure at the helm of the Heinz Endowments, beginning with Andre, who has been working closely with Mayor Bill Peduto to raise the city's ambitions for a sustainable future.
When his first company went bankrupt in 1875 amid a national financial collapse, Henry John Heinz kept a ledger of "moral obligations"—the debts he owed. That morality would guide his future. His second company, the long-iconic H.J Heinz Company, was unusual not only in its tremendous business success but also in its groundbreaking institution of enlightened labor practices.
From that template, generations of the Heinz Family have led the company and Pittsburgh, creating institutions in the city too numerous to mention. And now the great-great-grandsons of Henry John Heinz—John, Andre and Chris—take their place helping to steer a great city into the future. Pittsburgh is fortunate, indeed, to have their efforts, and we wish them well.
Risking everything: The Carnegie Hero Fund Awards
Of all of Andrew Carnegie's farflung philanthropies, the Carnegie Hero Fund was his favorite. The awards and a financial grant have been bestowed for 112 years on civilians in the U.S. and Canada who have "risked their lives to an extraordinary degree while saving or attempting to save the lives of others."
One example of this year's 72 awardees is Michael Manley Sr. of Wilmington, Delaware. He died saving Andrew Short, 17, from drowning at Virginia Beach. While swimming in the Atlantic Ocean, Short was caught by a current that took him farther from shore and kept him from returning in the rough surf. From the beach, Manley, 43, swam out to Short, calming him and instructing him how to return to shore. Short followed his instructions and safely returned to the beach, where he collapsed. Manley, however, began to struggle. Firefighters and police attempted to rescue him, but conditions were too rough, and Manley's body later washed ashore.
Find descriptions for each of this year's awardees online at: carnegiehero.org/awardees.
A new SPARK: FedEx gives $5 million to Carnegie Science Center
The Carnegie Science Center's SPARK! Campaign to dramatically build its offerings to young people has received a huge boost with an eight-year $5 million gift from FedEx. For FedEx and Pittsburgh-based FedEx Ground, making the campaign's largest corporate contribution aims to encourage kids from diverse backgrounds to explore science, technology, engineering and math (STEM) fields—something that companies across the region will need in the coming years.
Already the region's most-visited museum with more than 500,000 annual visitors, the Science Center will more than double its educational space, including the expansion of its acclaimed STEM programs and the addition of a Science Pavilion, which will house the suite of FedEx STEM Learning 7Labs as well as a Special Exhibitions Gallery for large-scale changing exhibitions; a laser digital giant-screen theater; and outdoor learning spaces on the riverfront.