Skibo Castle: Andrew Carnegie's Extraordinary Estate
Photo courtesy of The Carnegie Club at Skibo Castle.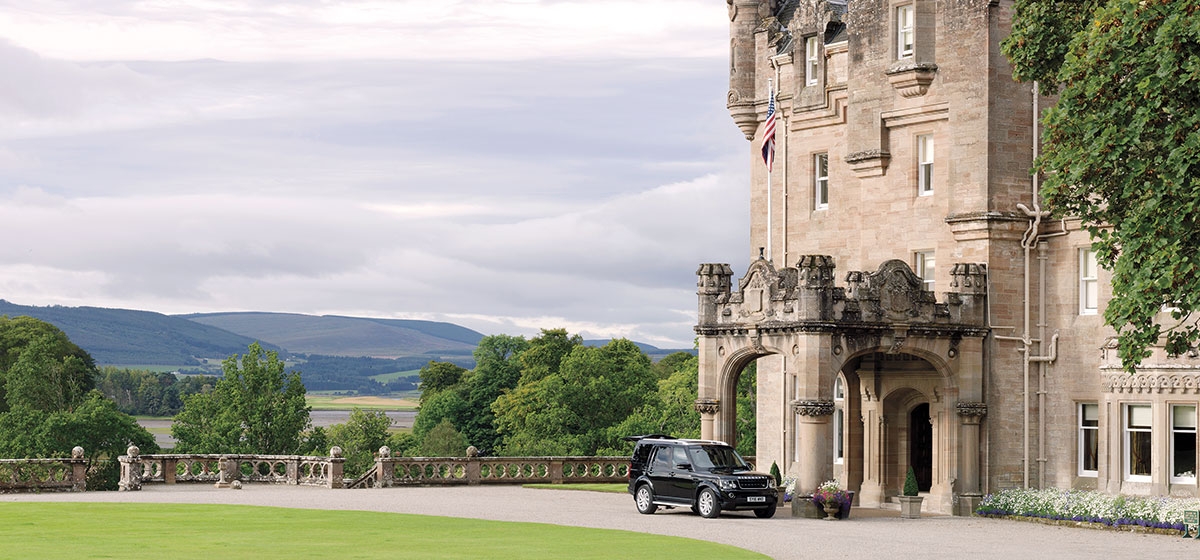 January 27, 2020
Turning into the long drive that leads to Skibo Castle, one can imagine what it was like for Andrew Carnegie to arrive at his Scottish home back in 1899.That was the year he purchased the estate, hoping his young daughter Margaret would grow to love his homeland. In this, the 100th anniversary of his death, Carnegie's legacy lives on in so many ways—he built more than 2,800 libraries and founded Carnegie Mellon University—but his most personal can be found in the estate that reverberates with his memory.
Surrounded by 8,000 verdant acres about an hour north of Inverness, the 12th century castle is impressively sturdy and largely unadorned on the outside in the Scottish Baronial manner. But step inside and the warmth, character and history flow like the Scotch that greets arriving guests in need of a nip to take off the chill.
The Edwardian furnishings from Carnegie's time have been retained but updated with all the comforts one would expect of the finest home, and it is a home environment rather than a hotel experience that Skibo Castle aims to create. That's because Skibo is a members-only private club, and a most prestigious one at that. To be a guest one must either be a member, or interested in becoming one, in which case a first visit to experience Skibo is required. Part of the reason is so the club's chairman, Peter Crome, can meet prospective members and decide whether they pass muster, though nothing is quite so overt.
Instead Crome, a tall and most distinguished gentleman, shares Skibo's history as he glides through the enormous entrance hall, pointing out the 1904 organ that is played during breakfast or the stained glass window on the landing of the massive oak staircase. It was commissioned by Carnegie, with images of his family as well as the castle's past in blazing color. Mounted stag and moose heads add to the relaxed country house atmosphere, as does a hall closet stocked with Wellies and Barbour jackets in every size.
The 21 rooms are large and luxurious, with plump chairs for reading Tattler, a jar of house-made shortbread cookies next to the Scotch decanter and at bedtime, a "hottie," or hot water bottle waiting beneath the sheets. Mine was a monkey I came to love as much as a bath in the deepest, longest, widest tub imaginable.
The day begins with the sounds of a bagpiper who circles the castle playing a wake-up call. Then it's down to breakfast, a hearty affair with a lavish spread of fruits, pastries, cereals and hot offerings that range from a "full Scottish" to eggs Benedict. No bill is presented, ever. All meals and drinks are included, reinforcing the feeling that you are a guest at an Edwardian house party and the host wants you to be pampered in every way.
That's especially true of the formal dinners held in Carnegie's dining room twice a week. Guests are ushered in to dine by a bagpiper and seated at the large table with place cards mixing things up so the conversation is convivial. The host is local Scotsman Alan Grant, an actor whose true gift turned out to be an abundance of charm. With his rakish grin and wicked wit, he makes each guest feel like an old friend as he converses on any and many subjects. After dinner, drinks are served in the drawing room, where a nightly sing-along around the piano further serves to unite the guests.
Skibo offers every amenity, but it's most famous for its links, an 18-hole championship golf course on the banks of the Dornoch Firth that is rated among the world's finest. There is also fishing, with a resident ghillie to take you out on the lakes. Or shooting, horseback riding, hiking, falconry, Segwaying and for the lazy, golf carting around. Carnegie's original swimming pool, with an aluminum bottom and a glass roof over its head, is not to be missed. Next to it is the new spa with massages and other treatments. For those who are more indoorsy, Carnegie's 4,500 volume library is available for perusing.
Superb food is a signature of Skibo, and much of it is served in the Clubhouse, a former stable that now boasts walls of windows that overlook the links and the firth. While the atmosphere is casual and the bar is a popular gathering spot, the food is elegantly presented by executive chef Craig Rowland, a Fellow of the Royal Academy of Culinary Arts. The emphasis is on farm-to-table, with much local fare in addition to what is grown in the Skibo gardens.
Significant renovations have been made since Margaret sold the castle in 1981. She spent summers there with her four children and grandchildren, and children are still welcome—evening babysitting is included in the daily rate so adults can dine alone. There are 12 lodges on the property for families or other groups, and even dogs can come along. A fleet of Range Rovers and Jaguars ferries guests wherever they would like to go, whether to the Clubhouse or nearby cities. But once you arrive at Skibo there is really no reason to stray. It offers an extraordinary experience, both a remarkable glimpse of the past and a luxurious present that would impress even Andrew Carnegie.
The Carnegie Club is currently accepting new members. Membership is £9,000 per year (or roughly $11,000) plus a joining fee of £30,000 (about $36,500) with an all-inclusive nightly rate that includes unlimited golf. A one-year trial membership is available for £12,000 (about $14,600). There are roughly 400 members, of which 40 percent are American and 40 percent British.