One Pitt, One Planet
The University of Pittsburgh's Year of Sustainability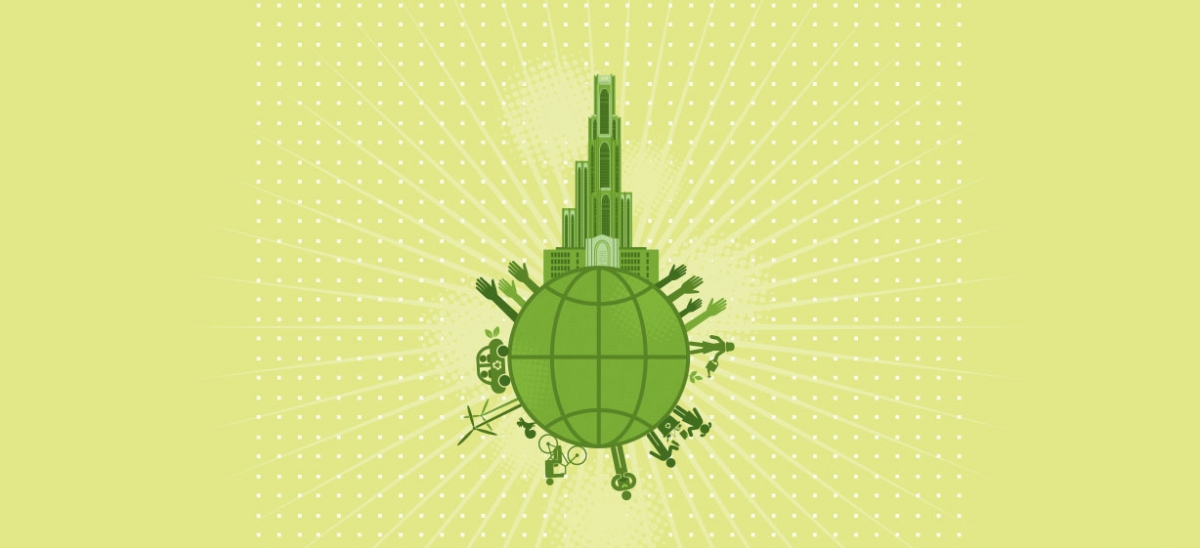 November 20, 2014
On a muggy September evening, a group of 30 University of Pittsburgh students harvested food on a green patch of land in Oakland surrounded by older brick buildings and urban hubbub. They picked tomatoes, green peppers, raspberries, kale, beets, turnips and grapes, filling large plastic bins in an effort to promote a sustainable future and feed local residents who live below the poverty line.
They were idealistic, enthusiastic and, most of all, driven to meet their weekly goal of 25-30 pounds of produce to donate to the Community Human Services' food pantry.
"I love the environmental scene at Pitt," said junior Eleanora Kaloyeropoulou, co-president of the student-run Plant to Plate organization that oversees the organic garden on Oakland Avenue, just off Forbes. "Everyone's very passionate, and we're seeing an increase of students helping us out because everyone is so into the sustainability issue."
Pitt is well on its way to becoming a hub for sustainability and green practices. Last spring, Pitt Provost and Senior Vice Chancellor Patricia E. Beeson declared the 2014-15 school session the "Year of Sustainability" with the accompanying tagline, "One Pitt, One Planet."
At its core, the programs emphasize and showcase Pitt's sustainability efforts. And the commitment runs deep: Beeson announced a $37-million investment, ranging from student competitions and related research to new green-themed academic courses. By creating a Sustainability Task Force, Beeson's office has established sustainability actions throughout the university.
Pitt's Mascaro Center for Sustainable Innovation in the Swanson School of Engineering has been around for a decade, but the new concept will touch all departments and students at Pitt.
"Long story short, the focus this year is really an effort to jump-start the existing sustainability initiatives and make them university-wide," Beeson told Pittsburgh Quarterly. "Sustainability is one of the great challenges that the world faces. And that's what universities are about: solving problems and making an impact locally, nationally and globally."
These days, sustainability means going way beyond simple recycling to creating organic gardens and farms, championing green energy and finding innovative ways to offset emissions.
Pitt freshman Geneva Trovato immediately gravitated to the organic garden on Oakland Avenue.
"I just think it's refreshing that college kids are spending some time gardening for a great cause," she said, while taking a break from picking green peppers and Swiss chard. "I really wanted to come to a harvest and see what it was all about. It's so wonderful that all these fruits and vegetables are going to be donated."
Pitt's efforts officially kicked off in August, when about 3,800 freshmen gathered outside the Petersen Events Center and formed an image of the globe by holding up blue and red LED lights. Their goal was to break the world record for the largest torch-lit image.
"From day one, all incoming freshmen are now going to be exposed to various ways that sustainability touches their lives and how it will figure into their futures once they graduate," said Gena Kovalcik, coordinator for administration and external relations at the Mascaro Center. "We'd like to get them involved through persuasion rather than making things mandatory. This group of students is naturally inclined to see the environment as an important key to the future. You don't have to push too hard to get them involved. And they also teach us some things."
The efforts are diverse.
Pitt was recently selected to test a tiny, two-seat electric-car model for data collection and research into reducing the campus carbon footprint.
This fall, the university held a Sustainability Solutions Competition where teams of undergraduates created a plan for a sustainable campus initiative to be implemented in 2015. The winning team's plan is to renovate the lobby at the Litchfield Towers residential complex and make it more environmentally friendly. University officials pledged $25,000 to make the renovations a reality. Lighting, window shades, low-flow toilets and a hydration station will be evaluated for implementation at Litchfield Towers within a year. (The winning team's four students each received a new bike.)
A trio of students was runner-up for a plan to reduce trash and promote recycling using solar-powered trash compactors on campus and throughout the surrounding community.
"The fact that the university is committed to making those renovations to the Litchfield Towers really shows the students that the administration is serious," said Pitt senior Paul Heffernan, president of the Students for Sustainability club. "Environmental initiatives sometimes drag on. That's pretty fast. That's a big deal."
The Litchfield renovations "will allow the university to share information regarding sustainability efforts and success in a highly visible and well-traveled area," said Misti McKeehen, director of PittServes, a university-wide initiative that connects students and student organizations seeking service opportunities with local and regional organizations that need volunteers for projects.
Beeson's office also recently began accepting requests for matching funds of up to $10,000 to support lectures, seminars and workshops related to sustainability. Scheduled so far are seminars ranging from hot-button issues such as managing environmental risks in the shale gas sector to the more obscure topic of Finnish log house construction. The Finns' unique way of notching and stacking logs and its impact on sustainable construction was discussed at a seminar at the Frick Fine Arts auditorium this fall.
"Finnish home construction techniques offer a classic example of history, anthropology and engineering," said Eric J. Beckman, co-director of the Swanson School of Engineering. "There's a lot of creativity going into these seminar topics."
Kovalcik said a "share ideas" feature on the school's website will give students an easy way to continuously suggest ways to make Pitt more sustainable.
Claire Matway, a junior at Pitt and co-president of the student-run environmentalist club, Free The Planet, pointed out that many conservation efforts, such as an anti-bottled water movement, have existed for years. But the overall university buy-in to green issues is now boosting awareness. "We all have a long way to go, but I'm excited to see what goes on this year with the Year of Sustainability. The on-campus environmental action community has really bloomed over the past year."
Matway and Free the Planet organized a bus trip that brought 55 Pitt students to attend the People's Climate March in New York City on Sept. 21.
"It was a great experience," said Heffernan. "It was great to see all of the popular support for policy change regarding carbon emissions. Those of us who went were really excited about representing our community. "This has been building for a long time within the student body. A lot of people have put in a lot of hard work to get to where we are. It's great that the university is recognizing the importance of sustainability."
His group, Students for Sustainability, also has received university backing to open an on-campus thrift store known as the "University of Thriftsburgh." Heffernan and other students came up with the idea of kick- starting the store with donations collected through other organizations' drives on campus. Such programs have piggybacked on existing efforts, including Pitt's first rain garden, designed and built by engineering students several years ago on the Petersen Events Center lawn.
"We're not starting at ground zero," Beeson said. "There were many sustainable efforts occurring for years in our School of Engineering. But I wanted to broaden it to encompass even more of what we do at the university. And we're all ready to watch it take flight."
Back at the organic garden, Kaloyeropoulou was convinced: "I'm really excited for the Year of Sustainability because we're gaining more visibility and more students want to get involved. Nothing but good can come from more exposure and more activism."