National Aviary Announces 2018 Featured Artists
March 13, 2018
Photos courtesy of the National Aviary.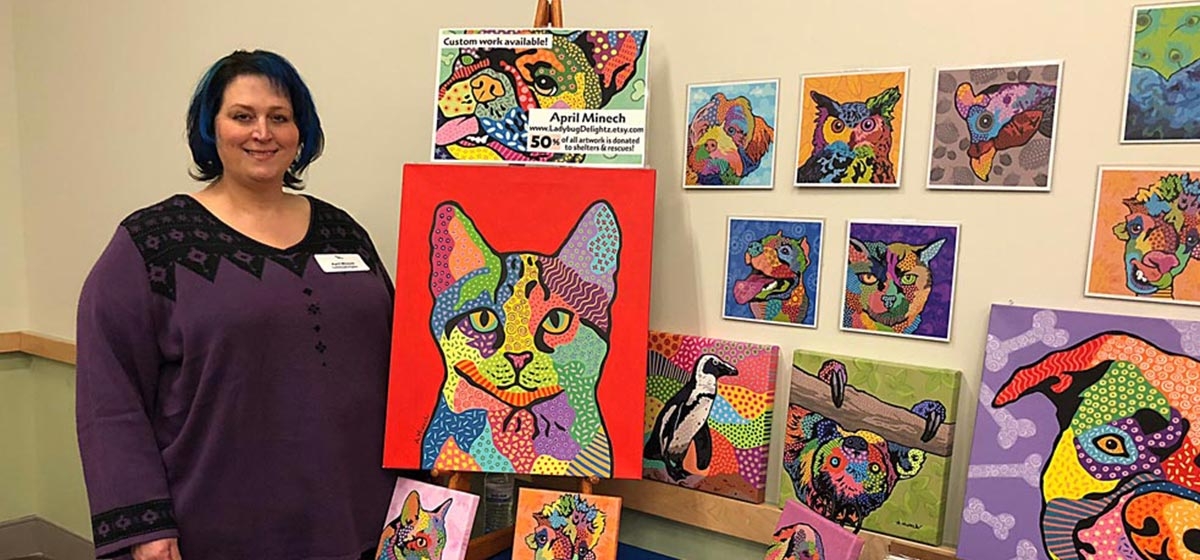 March 16, 2018
The National Aviary officially kicked off Wings & Wildlife 2018 on Tuesday, March 13 with the announcement of this year's featured artists: the 18 makers of the National Aviary Maker Challenge, a unique partnership between the National Aviary, Bridgeway Capital's Craft Business Accelerator, and MONMADE, with the goal of fostering entrepreneurship among a select group of artists and makers in the Pittsburgh region.
---
---
The Wings & Wildlife Art Show will be held November 2-4, 2018, and work by featured makers will be available for purchase, along with the nature-inspired art of up to 40 artists from around the country.
"This collaboration has challenged the makers and our staff to bring our birds' messages to life in unique ways, and has brought the work of many talented local makers to our gift shops to showcase and promote these one-of-a-kind gifts. Now we have a chance to extend this program to an even wider audience as we feature these makers in our 2018 Wings & Wildlife Art Show," says Cheryl Tracy, executive director of the National Aviary.
Prospective artists have until April 30 to submit their work for consideration for the Wings & Wildlife Art Show. Details and application forms can be accessed at www.aviary.org/call-for-artists. A total of 40 artists will be selected to present their work.
Now in its fourth year after a decade-long hiatus, the Wings & Wildlife Art Show offers a jury-selected array of beautifully crafted, nature-inspired art in a variety of media, including paint, woodwork, metal, jewelry, textiles, and glass. The show has continued to grow in scale, attendance, and dollars raised for the National Aviary since its relaunch, and this year will feature the work of more than 40 artists and makers. The 2018 Wings & Wildlife Art Show weekend includes an Opening Soirée and Benefit Auction on Friday, November 2, followed by a two-day public art show and marketplace on November 3-4, from 10 a.m. to 5 p.m.
Four makers were on-site at the National Aviary showcasing their work for the kick-off: designer and printmaker Allison Glancey (Friendship) with illustrations; artist and naturalist Lindsay Wright (Greenfield) with illustrations; glass and jewelry artist Sarah Cohen (Bloomfield) displaying jewelry made with glass and feathers; and animal and wildlife artist April Minech (Sheridan) with paintings and illustrations. Previous Wings & Wildlife artists displaying their work included painter Johno Prascak, painter and illustrator Maria DeSimone Prascak and photographer JP Diroll. Many more artists and makers will join them this fall. Adam Kenney spoke on behalf of Bridgeway Capital's Craft Business Accelerator, which is a partner in the National Aviary Maker Challenge.
The National Aviary Maker Challenge, a collaborative effort with Bridgeway Capital's Craft Business Accelerator and MONMADE, engages local makers in the design and production of new products inspired by National Aviary birds. In addition to their products, makers collaborate with National Aviary education staff to create programming that connects visitors with each artist's vision and design, and with the conservation story of the birds represented in their work. Maker Challenge products are available for purchase in the National Aviary's gift shop, furthering entrepreneurial opportunities for the makers, and enhancing the quality, beauty, and uniqueness of gifts available to shoppers. Funding for the National Aviary Maker Challenge has been generously provided by the Richard King Mellon Foundation.