Mowod, Twerski, Sommers, Schano, Connelly, Burke
Noting the passing of prominent Pittsburghers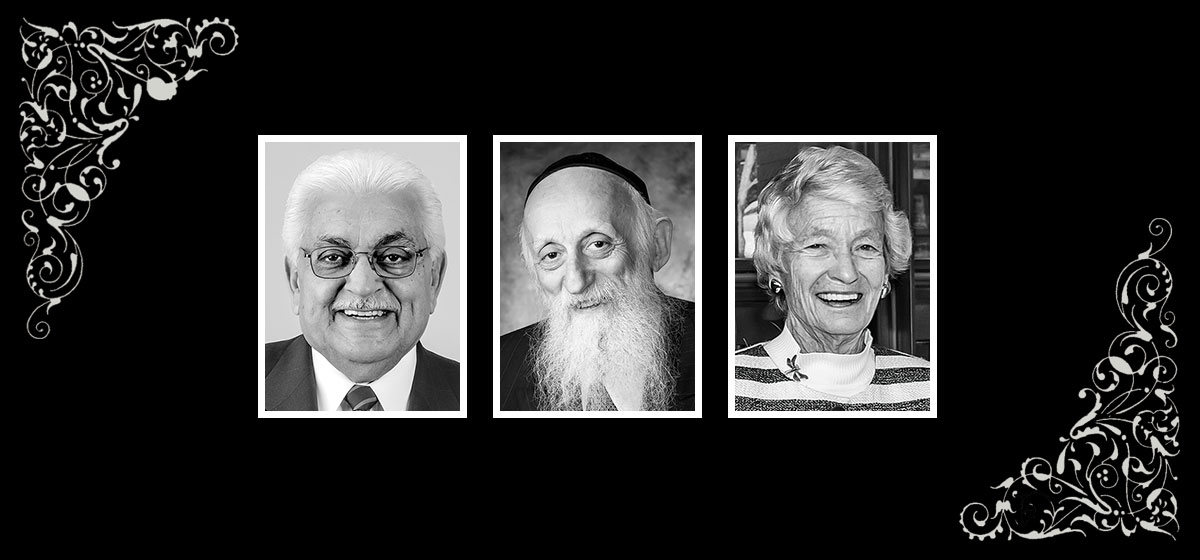 March 17, 2021
Tony Mowod, 85: The longtime host of the WDUQ jazz program "Nightside" and founder of the Pittsburgh Jazz Society, Mr. Mowod grew up in the Hill District surrounded by jazz. His parents ran a restaurant, and he would go on to own several including the Vogue Terrace Dinner Theatre, which burned down after one production starring Ginger Rogers.
Mr. Mowod studied acting in New York, where he roomed with Charles Grodin, but came home to start a family. In 1987, he founded the Pittsburgh Jazz Society, which hosted the Pittsburgh Jazz Society Big Band every Sunday night at Foster's in Oakland. His voice can still be heard online on the Pittsburgh Jazz Channel (WZUM).
Dr. Abraham Twerski, 90: In the traditional black dress and long white beard of a Hasidic scholar, Rabbi Abraham Twerski led a life of towering achievement and contribution. He followed in the footsteps of his father and became a rabbi. He later decided if he really wanted to help the people he saw, he needed to become a psychiatrist, despite having no funds. Entertainer Danny Thomas heard of a poor rabbi struggling to pay tuition and helped bridge the financial gap. Rabbi Twerski went on to become the clinical director of psychiatry at Pittsburgh's St. Francis Hospital and the founder and medical director of Gateway Rehab. He was a pioneer in treating addiction with dignity and authored more than 60 books. He was also a cantor and composer of religious music. Despite all he saw, he believed that God had a purpose for human life and in the importance of looking for the good in life.
Cecilia Sommers, 85: Fearless, forthright and determined, Mrs. Sommers was the station manager who raised millions of dollars for WQED-FM, which was founded by her late husband a year after the couple moved here in 1972. She was passionate about everything, but especially the arts and classical music. Initially hired to run the first Great TV Auction at WQED, she became an executive at the radio station as well as the producer and host of "Sunday Arts Magazine." She also created the Vita Awards, WQED-FM Musical Kids and "Q the Music," music for public spaces. Mrs. Sommers volunteered with the Squirrel Hill Urban Coalition, Bethlehem Haven, the Middle East Peace Institute and others. She was also a civil rights activist who participated in the first march from Selma.
Eleanor Schano, 88: Pittsburgh's first primetime anchorwoman was a bright, feisty and energetic reporter who got her start as the "weather girl" on WDTV, the forerunner to KDKA. She persevered through five decades, often in the face of discrimination, as the new medium matured. During the course of her career, she worked for every local station in different capacities: news anchor, consumer reporter and general assignment reporter. But she excelled at public affairs, hosting such programs as "Face to Face," "Good Day Pittsburgh," "Live Well/Live Long With Eleanor Schano" and WQED's "LifeQuest." In 2006 she wrote her autobiography, "Riding the Airwaves: The Life and Televised Times of Eleanor Schano."
Jean Wykoff Connelly, 97: Though she wasn't sure what television was when she was offered her first job in 1949, Mrs. Connelly became a pioneer in local television and host of the first television talk show in the region. Eventually she became one of the most well-known personalities in local news, producing and hosting "The Jean Connelly Show" on WTAE from the 1950s to the 1970s when Pittsburgh was the sixth largest media market in the country. Mrs. Connelly, the Erie County debate champion in 1941, was known for her intelligence and quick wit. She spent 25 years as a board member for the Western Pennsylvania School for Blind Children and was inducted into the Pennsylvania Association of Broadcasters Hall of Fame in 2002.
Patricia Grable Burke, 91: With her husband Charles, mother Minnie, and sister and brother in-law Marion and Bill Nicholson, Mrs. Burke started the Grable Foundation with assets of about $300 million. The foundation, which works to improve the lives of children in the Pittsburgh region, is a tribute to her father Errett Grable, the founder of Rubbermaid. Mrs. Burke served on the Grable board since 1976 and was active in many civic and community organizations. She also co-owned the Village Wardrobe dress shop for almost 20 years.