Millvale Vista
Photographs by David Aschkenas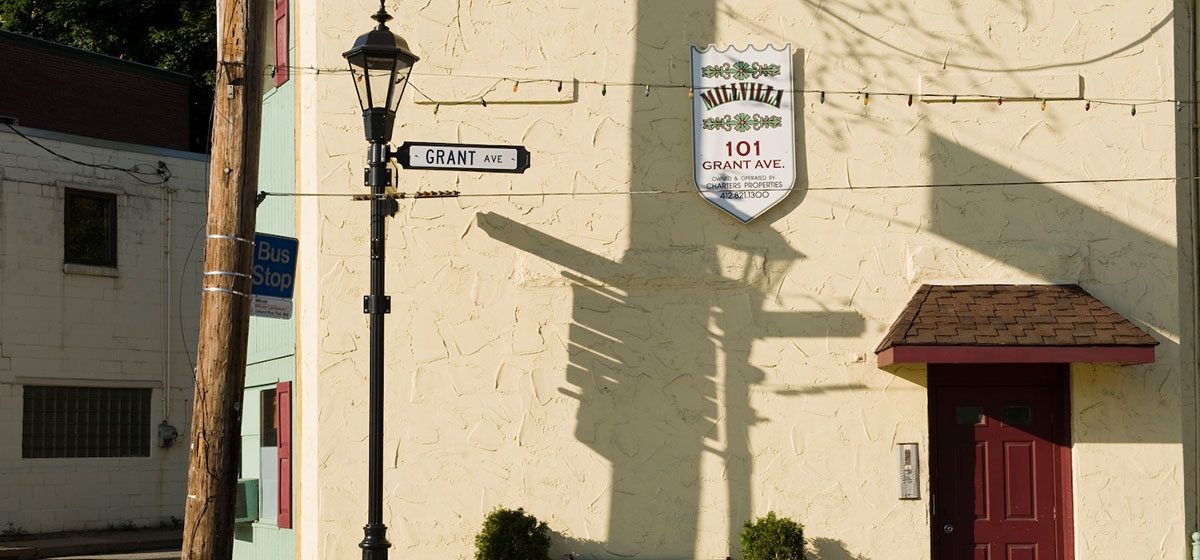 August 10, 2010
Tucked in a valley off the Allegheny River along Route 28, Millvale teems with homes, churches and stores that follow the contours of the flood plain along Girty's Run. Long before its 1868 incorporation, the land marked the beginning of the Venango Trail, which led to Erie.

---
---
One of the earliest white inhabitants of the area was Simon Girty, who was captured and raised by the Senecas and then, in the late 1700s, lived on the banks of the stream that now bears his name. In 1844, the city of Allegheny located its Poor Farm in what is now the .7-square mile borough. Industry soon grew up around it, including forges, lumber mills and breweries.
Replacing the industry are establishments that run from bars and pizza shops to VFW and Moose halls and ice cream and auto shops, clustered mainly along Grant, Lincoln and North avenues. The nearly all-white borough numbers below 4,000 souls—down from 6,736 in 1900—who have a median household income of $26,500.
Four attractions, however, bring visitors to Millvale from across the region. Among the younger set, Mr. Small's is a recording studio and concert hall in an old church that attracts national touring bands and serves as a party venue. For epicureans, there's Jean- Marc Chatellier's French Bakery on North Avenue. And diners enjoy Grant Bar on Grant Avenue, a third-generation neighborhood restaurant and gathering place.
The borough's most unusual attraction, if it can be called such, is the St. Nicholas Roman Catholic Church and the murals inside, painted by Croatian immigrant artist Maxo Vanka. The remarkable mix of religious and cultural images painted in the 1930s and 1940s depict the struggles of Croatian immigrant workers in America, as well as Vanka's own views of war and industrialism.
Separated from the main body of the borough, under Route 28 and across the railroad tracks, lies a thin strip of land between the tracks and the Allegheny. The land is home to a marina, bait shop, the Millvale Riverfront Park and, at its terminus, Three Rivers Rowing.