Manfred Honeck, Music Director
A life's recounting in the subject's own words
Photo by Renee Rosensteel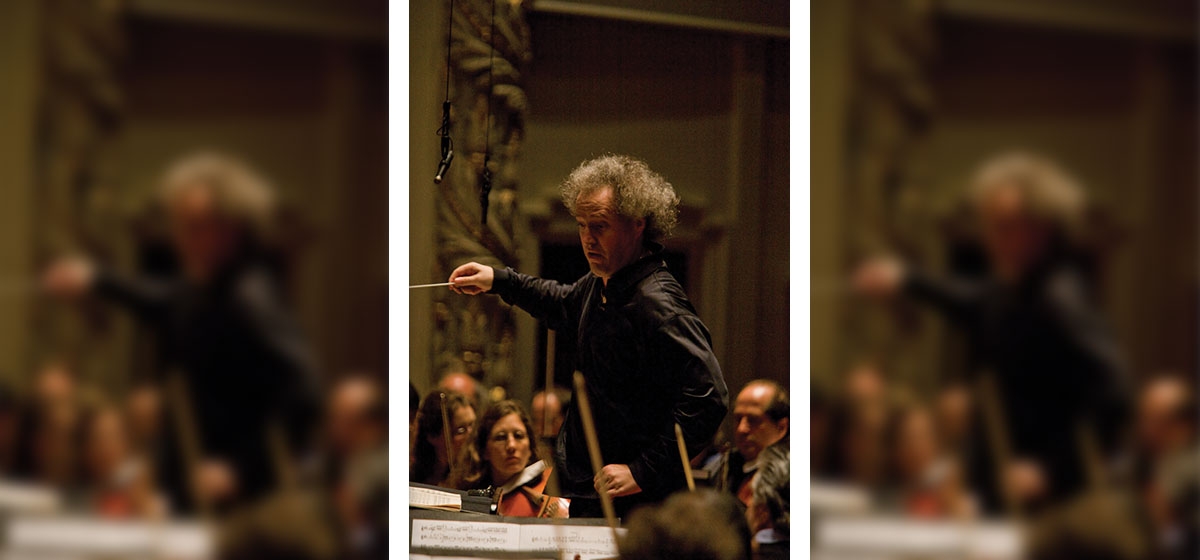 August 25, 2008
I came to Pittsburgh in 2006 originally just to be a guest conductor for the symphony orchestra. I didn't know at the time that they were looking for a music director. I really had no idea about it.

When I arrived at the Pittsburgh airport, I noticed something that stayed with me. Two nuns were collecting money there for the poor. It was a wonderful first impression. I thought, "Isn't it great that they're doing that?" I strongly believe that we all must do what we can to care for the less fortunate. Then, the religious man that I am, I went to St. Mary's Church where I met a local person quite by accident and had a wonderful conversation about Pittsburgh and the lifestyle and values here. So a positive inner feeling for this city was already in place when I finally met the orchestra. Then I found that those musicians and I had an amazing chemistry. Somehow we belonged together.
Growing up in Austria, I was the seventh of nine children, and each of my eight sisters and brothers played an instrument, so I played one, too. To make music was somehow natural for us, somehow clear.We didn't think about it too much. We just did it. As a youth, I studied violin. I attended the Academy of Music in Vienna and later played the viola in the Vienna Philharmonic and the Vienna State Opera Orchestra. My early work as a conductor was with the Jeunesse Orchestra and as assistant to Claudio Abbado with the Gustav Mahler Youth Orchestra, both in Vienna.
Today, when I think about my career in music, it sometimes seems like a miracle. I didn't push it. I didn't ask for it. I hoped I was taking the right steps. I am just thankful that something allowed it to happen. Only later did I come to understand that things seem to happen in their own time, no matter what you do. So here I am.
Every human being develops in his or her own way. I'm sure that I am a little different from my parents, and also from my brothers and sisters. But because of my faith, I began to understand early that it would just not be possible for me to live in this world happily without thinking of others. One can decide to be an egoist or one can decide to encounter the world with open eyes. If you do the latter, you will see the wonderful creation around you. You will also see the challenges you will likely have to face in time. We all go through good times and not-so-good times. That is life, for everyone. We must embrace it all.
I have never considered conducting a difficult profession. Historically, as a group, conductors tended toward treating orchestras terribly. Some actually fired musicians for playing one wrong note. And these were often wonderful musicians! Many conductors saw themselves as among the chosen—geniuses, if you will. It is true that, for a long time,conducting was a world of big egos. But that's changed. These days, conductors are trained to treat others the way they would like to be treated, and it's much better, especially for a person like me.
Now, some things about conducting never change. You still must be a leader. You cannot ask, "How should we do this?" You must know where you're going and bring others along with you.
When I decided that I wanted to be a conductor, naturally, I wanted to be the best. But in time, I grew to realize that such a goal really went against my inner attitude. One is who he is. You cannot change your face. You must be who you are. So I decided to accept myself as I was and became focused not on myself, but rather on how I could make musicians play as well as possible. I suppose one could, as a dictator, force them to practice until they achieved something close to perfection. But wouldn't that just make them crazy? Besides, I don't know any musicians who love dictators. Does anyone love a dictator? I don't think so. So I work with musicians. We do it together. And the results, I would say, speak for themselves.
I like Pittsburgh very much. The people here are extremely friendly. And we have in the Pittsburgh Symphony Orchestra,great musicians, a great management team and great trustees. I'm personally very proud and honored to be a part of that organization. It's a big deal for me to be here. And of course, it is an incredible responsibility to produce good concerts. I'm not sure that all of Pittsburgh knows this, but the music world does: In this city, we have some of the best musicians anywhere. We have a reputation as being one of the finest orchestras in the world. The Pittsburgh Symphony Orchestra is an incredible ambassador. We bring this great city to other parts of the world by way of music, which I believe is a real force for good.
My wife, Christiane, and I have six kids of our own. As a result, we have quite a lively life at home in Austria. When I'm there, I try to spend as much time as possible with my family. We live in a mountainous region, so we go skiing in the winter. And in summer, we go off into the mountains to spend some time with nature. I would like to do this much more but, unfortunately, my work doesn't allow for it. At home, I also like to read books. I am interested in philosophy and religion, and I'm always asking myself: Why are we here? How can we make the world a better place?
For my children, I am struggling very hard when it comes to the cultural influences that have an impact on them. I don't review what music they listen to, but I'm very careful to help them to understand and appreciate the effects that music can have on their whole beings. Music can truly alter the way you feel and the way you act, positively and negatively. And that's one reason that I take pride in my work and pray that classical music keeps reaching out to young people, especially young children. Our young have the right to receive this culture. It belongs to all of us. This is a big implication of our times now. How can we influence the young to live positive lives? I think that music is here to help with that. It can reach down to one's inner soul. You just have to be open.
For years, research conducted in hospitals has taught us that classical music can be a life-enhancing force, a means for healing. Many young people don't know this music at all. They don't know what kind of life-affirming experience is there for them just for the asking. I don't know how it is in America, but I know in my country, we see a lot of depression and anxiety. Too much of today's music just goes boom, boom, boom… attack! But take a composer such as Mozart. His work really touches the soul with melodies that forever will supply fresh air for the listener. That's the kind of communication that I prefer. Life is too short to live on the dark side.
In my profession, I try to make people happy. I work with the orchestra to help them feel what I feel about a piece of music. If they feel it with me, then the audience will feel it, too. Then everyone goes home having experienced that. And that's a most beautiful thing. People say sometimes that a particular performance got to their heart or soul, that they really felt something that brought tears or happiness. When you get this, it's a great thing, isn't it?