A Mountain from the Hill
A closer look at DeJuan Blair—home-grown basketball phenomenon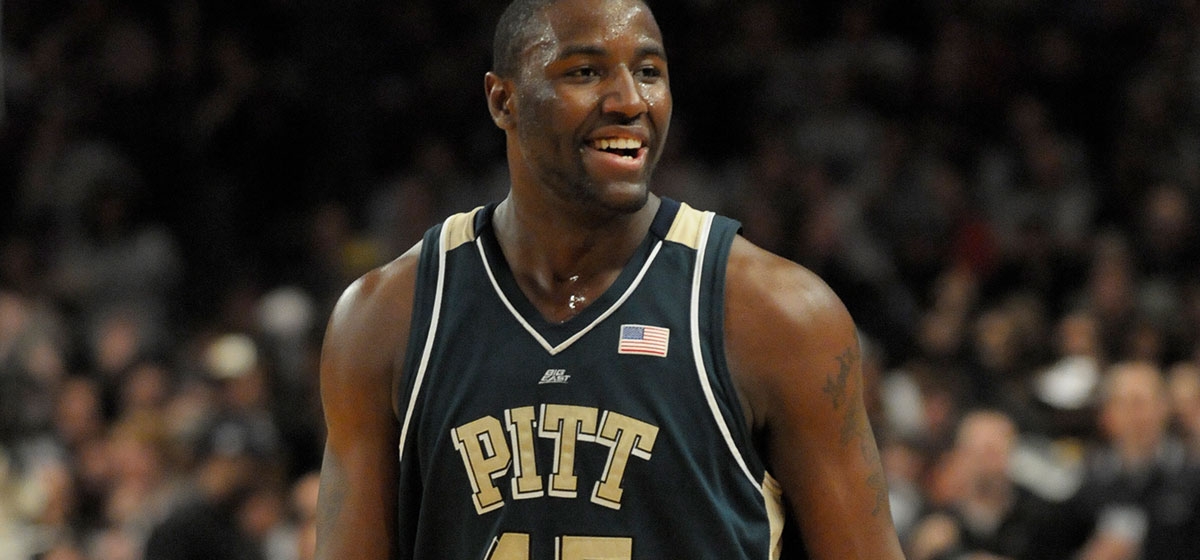 February 20, 2009
The wiper blades arched back and forth against the SUV's windshield, sweeping away an icy rain. Over the narrow, cobblestone streets and vacant, littered lots of the Hill District, DeJuan Blair drove his grandmother's Buick Rendezvous.

He stopped at a light on Bedford Avenue and said, "This is my 'hood. Over there, that's Whiteside Avenue. I used to live there, but the house was torn down. So was our house on Reed Roberts. They're building new developments now. Things change, you know?"
Further on, the University of Pittsburgh basketball star pulled over at the corner of Kirkpatrick and Reed. Dressed in his gray Pitt sweats, he got out and walked over to the asphalt courts to show where the best street ball in the city is played. "This is where I dunked on my little brother," he joked, flashing a wide smile. "I spent a lot of hours here growing up. I still play during the summer, too."
Climbing back inside the warm car, he continued the tour. It was a weekday morning, post-rush hour, so there was no need to hurry. Meandering along, the best local ballplayer to don a Panther uniform in a generation—the only city player for that matter—continued to point out places of interest: an elementary school on one street, his favorite barber shop on another. He mentioned where shootings took place and drug deals went down but said he avoids those locations like the plague. "There are times when I see what's happening in the Hill and I get sad."
When Darelle Porter walked off the court at Fitzgerald Field House following senior night in March 1991, few could have known that the departure of the former Perry Traditional Academy standout would result in a 16-year absence of dynamic homegrown talent to wear Pitt basketball's blue and gold.
In the ensuing seasons under coaches Ralph Willard, Ben Howland and Jamie Dixon, the Panther program solidified its reputation as a destination for top recruits from other regions, most notably basketball hotbeds in New York City, New Jersey and Philadelphia. And those players have made Pitt the dominant force in the Big East Conference. The Panthers have won three regular season titles since 2002 and have reached the NCAA Tournament each of the past seven years, winning at least 20 games and making the Sweet Sixteen four times.
Until last season, however, something was missing: namely, a local player. Enter Blair, the Big East's co-Rookie of the Year last year and a consensus freshman All-America selection who has brought hope and pride to people all over the Hill District. Not since Sam Clancy 30 years ago has the Hill had someone at Pitt they could call one of their own.
"When the Hill District has an asset, they like to flaunt it," said Pittsburgh District 6 City Councilwoman Tonya Payne, who has represented the Hill since 2005. "And he's one of our biggest assets because he shows that you can be a success if you stay on the right path and work hard. He's tremendous."
Coaches talk about recruiting in their own back yard. How does 600 yards away from the front steps of your home court sound? Dixon saved a lot of travel money pursuing Blair, a 6' 7", 275-pound bulldozer of a power forward, who lived during his high school years with his family on Avalon Street, a sloping cobblestone side road just off Allequippa Street and Sutherland Drive, the main arteries on Pitt's upper campus.
"Actually, we didn't recruit DeJuan," Dixon said with a grin, "It was more like DeJuan recruited us."
From the modest family home, Blair embarked each day for Schenley High School, descending Centre Avenue in a straight line for about a mile before reaching school. Roberto Clemente once lived along this stretch of road and, like the Great One, Blair knows something about championships. As a senior, he led Schenley to a 2007 Pittsburgh City League title and PIAA state championship en route to being named Pennsylvania State Player of the Year by The Associated Press. In his four seasons at Schenley, the team never lost in 57 City League contests, and it's considered one of the best high school squads ever to play in western Pennsylvania.
Blair's accomplishments caught the attention of scores of prominent college coaches, including Tennessee's Bruce Pearl, Florida's Billy Donovan, West Virginia's Bob Huggins and Xavier's Sean Miller, a fellow Pitt alum. All paid visits to the Blair home, which included his parents, Greg and Shari Blair, and his younger siblings, Greg Jr. and Sharae.
But in the end, Pitt was it for the teenager affectionately known throughout his community as "Big Fella," "Fella" or "Big Juan." "It's amazing the number of people who see him on the streets and shout 'Hey Fella!' while driving by," said Greg Hotchkiss, Pitt's media relations contact for men's basketball.
"I have fun when I play here because I know I have a lot of support from my family and friends," Blair explained. "I like making my neighborhood feel proud."
Initially, Shari Blair wasn't sure Pitt was the right move. "Truthfully, I didn't want him to stay here. I didn't want him to be around the same environment," she said. "Now, I wouldn't have it any other way. He's spoiled me."
Just how popular is Blair? During a December home game, a young coed stood among the Oakland Zoo, Pitt's rabid student section, and held a hand-painted sign that was straight to the point: "DeJuan Blair… Will You Marry Me?"
"I saw that," said Blair, laughing. "Tell her I accept!"
Since putting their faith in Blair to fill the role of power forward and center in the rugged Big East, Coach Dixon and his staff, who began recruiting him as a sophomore, have not been disappointed.
After first gaining national attention on ESPN last season by leading the Panthers to an overtime victory against Duke five days before Christmas at Madison Square Garden, Blair went on to rank among the top players in the conference. He amassed double figures in scoring and rebounding 14 times, one game shy of the Panthers' freshman record set by Clancy in 1977-78.
As a sophomore, Blair has continued to anchor the Panthers, not just in scoring and rebounding, but also by showing an uncanny deftness on defense. Watching him maneuver around opponents to steal the basketball and kick-start Pitt's lethal transition game, he clearly does things on the court that few players sporting size 13 feet and 46-inch waists should be capable of doing. As a result, Blair's contributions to a roster that includes talented seniors Levance Fields and Sam Young has helped elevate the Panthers to their first No. 1 ranking.
Whether it's relocating would-be defenders with a hip or grabbing a rebound with his condor-like 73-inch wingspan, it's easy to see the comparisons regularly made to Clancy—the son of a J&L Steel worker who led then-Fifth Avenue High School to a state title in 1976 and who continues to rank among Pitt's all-time greats. And the elder Panther doesn't mind.
"I really think DeJuan has his own style," said Clancy, a Blair family friend who grew up an outlet pass away from Mellon Arena on Bedford. "He's a much better athlete than I was."
That Blair has been able to reach college is a victory in itself. Pointing to a seven-inch scar on his right thigh before a recent practice, Blair said, "They told me I had a problem with the growth of my femur bone and that it might have had cancer. It wasn't growing straight, so they operated on it when I was younger."
Venturing farther down to both knees, scars mark each joint. They've been there since he was in 10th grade—vestiges of ligament repair surgeries to counter the wear and tear from the countless hours on unforgiving blacktop basketball courts or, perhaps, from simply growing too fast. By sixth grade, Blair stood 6' 3".
And then there's the Achilles tendon injury, the result of landing on a player's foot while playing basketball at the Hill District's Ammons Recreation Center when he was 13.
"DeJuan's had a lot to overcome physically," said his uncle, Clarence Battle, the program coordinator at Ammons. "But he loves basketball too much to let things like that get to him."
Blair also stood tall in the face of a challenging upbringing. His mother was 17 and a budding high school athlete at Schenley when she gave birth to him. His father, who also attended Schenley, was just 15. But the young couple stayed together, living with DeJuan's grandmother, Donna Saddler, until eventually marrying. When he was 4, DeJuan's 3-month-old brother, Damaun, died in a crib accident.
DeJuan credits his family's strength with helping him overcome obstacles and avoid trouble, which was never far away. Once, after a pick-up game when he was about 11, Blair grabbed the wrong coat, and a gun fell onto the floor. And three years ago, his best friend, Antonio Hampton, was shot to death during a house party.
"My mom tells me I'm God's gift to them, and I think about that every day," said Blair. He shows his massive left biceps where "God's Gift" is tattooed. "My mom could have gone the easy way out, but she kept me. I'm blessed to have my parents and my grandmother in my life. Sometimes, when I play, I think about them. I believe I was put on this earth for a reason, and I take what [my mom] did very seriously…."
He paused, breaking the mood with his trademark smile, and laughed. "Besides, I'm a good person with an excellent personality. Who wouldn't want me?"
Just about everybody wants Blair these days. "A lot of guys are in his ear right now," said Battle. "They see the LeBron Jameses and the Kobe Bryants, and they figure that anybody who can play a little bit of ball should [leave school early]. You're in the projects, in the ghetto, and there's that old adage that you have to get out and help your family. But my conversations with him have always been that he should be a college athlete first."
Shari Blair concurred that school should take precedence. "I tell DeJuan, 'Look, we've done OK so far, so waiting two more years is fine.' Getting his degree is first and foremost for me. There's no rush to get out into the world. Being in college is a special part of your life; you can meet the love of your life or your best friend, so there's no need to hurry."
For a 19-year-old, Blair has a pretty good picture of his future. He enjoys English class and said getting a degree is important. His top priority, though, is leaving a lasting legacy on campus. "I want to help bring a championship to Pitt and Pittsburgh."
After college, he wants to play professional basketball, "whether it's in the NBA or somewhere—just so I can get my parents out and away from all the drama. But if I do play, I want to come back when I'm done and make a difference here. Places like Ammons meant a lot to me growing up, keeping me out of trouble, so a part of me will always be from the Hill. That will never change."