Rice, Adebimpe, Genge, Barnes, Tate, Wilson, Williams, Rockwell, Wile, Kidney
Noting the passing of prominent Pittsburghers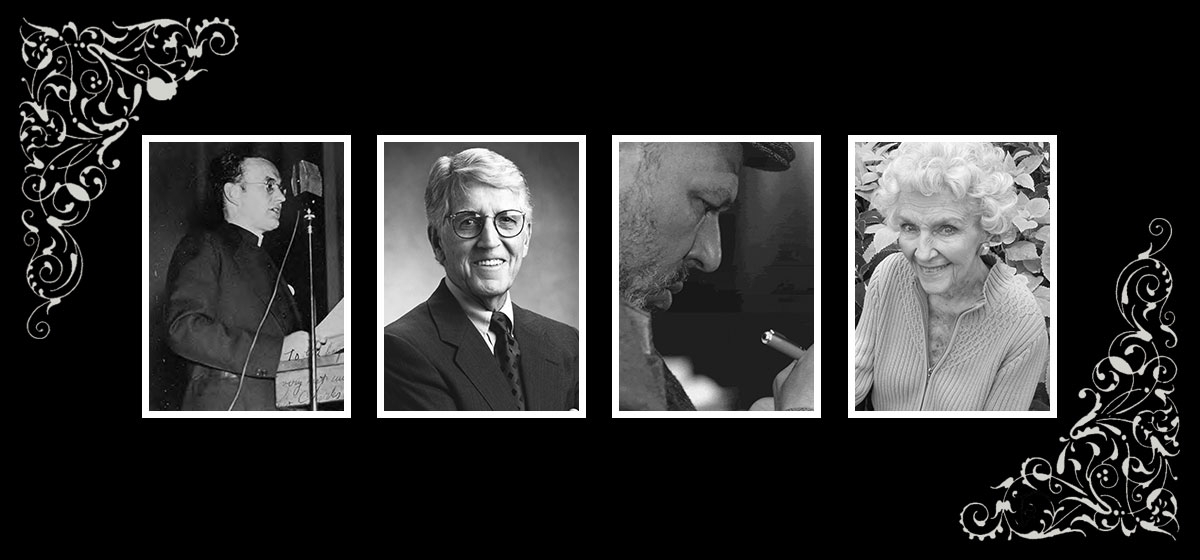 November 20, 2005
Charles Owen Rice, 96: Monsignor Rice was termed "The most important Catholic social activist in 20thcentury Pittsburgh." Known as the "Labor Priest," he was a fiery advocate of working people — a regular on picket lines and protests of many stripes from the 1930s until the end of the century. He delivered the invocation for the founding convention in Pittsburgh of the Congress of Industrial Organizations, precursor to the AFL-CIO. He was a civil rights advocate, marching arm-in-arm with Martin Luther King Jr., and was a regular columnist fighting for social equity. He was born in New York but was raised in Ireland after his mother died when he was young. He studied at Duquesne and St. Vincent Seminary, becoming ordained in 1934. He founded the St. Joseph House of Hospitality, which still operates.

Victor R. Adebimpe, 60
Dr. Adebimpe was a native of Nigeria who became a psychiatrist known for fighting racial prejudice among health care providers. He worked in Pittsburgh hospitals for the past 31 years, but his reputation was international, based on his study of the psychiatric needs of immigrants and African Americans. His publications included contributions to the book "Ethnicity Immigration and Psychopathology." Adebimpe of McCandless died of a heart-related ailment.
William H. Genge, 82
Genge was the chairman and CEO of Ketchum Communications from 1979 through 1991, building the company into a communications and advertising powerhouse with offices in 12 U.S. cities and eight countries. A native of Warren, Pa., Genge was a World War II fighter pilot who was shot down in 1944 and spent a year as a POW in Germany. He was a graduate and trustee of the University of Pittsburgh, who chaired a $250 million capital campaign. He was involved in many local organizations, including Allegheny General Hospital, the United Way, Carnegie Institute and Chatham College. Genge of Shadyside died following a massive stroke.
Mary Thaw Dilworth Barnes, 91
She was an active professional woman when there were few. A graduate of Vassar and the University of Pittsburgh School of Law, Barnes was among the first 100 female lawyers in the state. She was also a former chair of the state Civil Service Commission. The longtime Fox Chapel resident helped organize Western Pennsylvania Citizens for Ike during the Eisenhower campaign and was involved in many Pennsylvania Republican campaigns. She also served on the boards of many local organizations, including the Home for Aged Protestant Women, the Urban League and the Western Pennsylvania Hospital.
Charles William Tate, 83
Tate was in the first unit of the famed Tuskegee Airmen, a regiment of black fighter pilots who fought in World War II. He flew 99 missions, earning him the Distinguished Flying Cross and four Oak Leaf Clusters. He re-enlisted in the Korean War and later became a supervisor on the North Side with the U.S. Postal Service. The Manchester resident was inducted into the Hall of Valor at Soldiers & Sailors Memorial in Oakland.
August Wilson, 60
Wilson was the greatest Pittsburgh playwright and one of the greatest American playwrights. He wrote about the black experience in America. Wilson's great dramatic accomplishment is the Pittsburgh Cycle, a group of 10 plays that are, except for one, set in the Hill District, where Wilson grew up and spent his early adult years. Each is set in a different decade of the 20th century. The plays won Wilson of Seattle many awards, including two Pulitzer Prizes, a Tony, three American Theatre Critics awards and seven New York Drama Critics Circle Awards. A Broadway theatre has been renamed in his honor. Wilson's work also won the Hill District an enduring place in literary America as the cauldron of Northern black conflict and aspiration. His mother was an African American. His father was a German baker, with whom he had little contact. Wilson's education was as much a product of life in the Hill as it was local schools. He dropped out of high school and instead went to the Carnegie Library in Oakland to read and continue his education on his own. He died of liver cancer.
L. Stanton Williams, 86
Williams was chairman and CEO of PPG Industries during the era in which the company built its dramatic new headquarters, PPG Place, the glass castle complex designed by architect Phillip Johnson. PPG Place was a major part of the Downtown real estate construction boom known as Renaissance II. Williams was also responsible for the global company's first steps toward international expansion. An Amherst College grad who later earned a Harvard MBA, he was involved in many local organizations, including the Allegheny Conference on Community Development, Carnegie Mellon University, Pittsburgh Cultural Trust, United Way and YMCA. Williams of Oakmont died of a heart ailment.
Richard Wile, 61
Wile's legal career included practice with the Wall Street firm Hughes, Hubbard and Reed and posts as assistant U.S. attorney for the Southern District of New York and chief of the criminal division of the U.S. attorney's office in Atlanta. He was valedictorian of the Allderdice High School class of 1962 and a graduate of Princeton University's Woodrow Wilson School of Public and International Affairs and Columbia University's School of Law. A golfer and golf historian, Wile was a longtime member of Westmoreland Country Club and a resident of Nevillewood.
Walter Kidney, 73
Kidney was the architectural historian at Pittsburgh History & Landmarks Foundation as well as the author of numerous books and articles on Pittsburgh architecture. Among Kidney's nine books were investigations into the architecture of, most recently, Oakland, as well as Allegheny County's historic buildings and the work of Henry Hornbostel. He was a native of Johnstown but fell in love with architecture and Pittsburgh as a boy when he would spend the summer in Oakland. He died of kidney failure.
Constance Rockwell, 90
Rockwell founded the Civic Light Opera Guild 50 years ago and remained one of the group's leading lights and benefactors until her death. She was the wife of the late Pittsburgh industrialist Willard F. Rockwell Jr. A native of Manila, the Philippines, she spent most of her life at the family home in Edgewood or at their estate, Nemacolin, or Cat Cay in the Bahamas. Her death was related to a stroke.