Smith, Detre, Ringer, Marshall, Hodges, White, Kerr, Patrick, Halpern, Hazo, Stautner, Lowenthal, Irvis, Hodges, Walton, Turner
Noting the passing of prominent Pittsburghers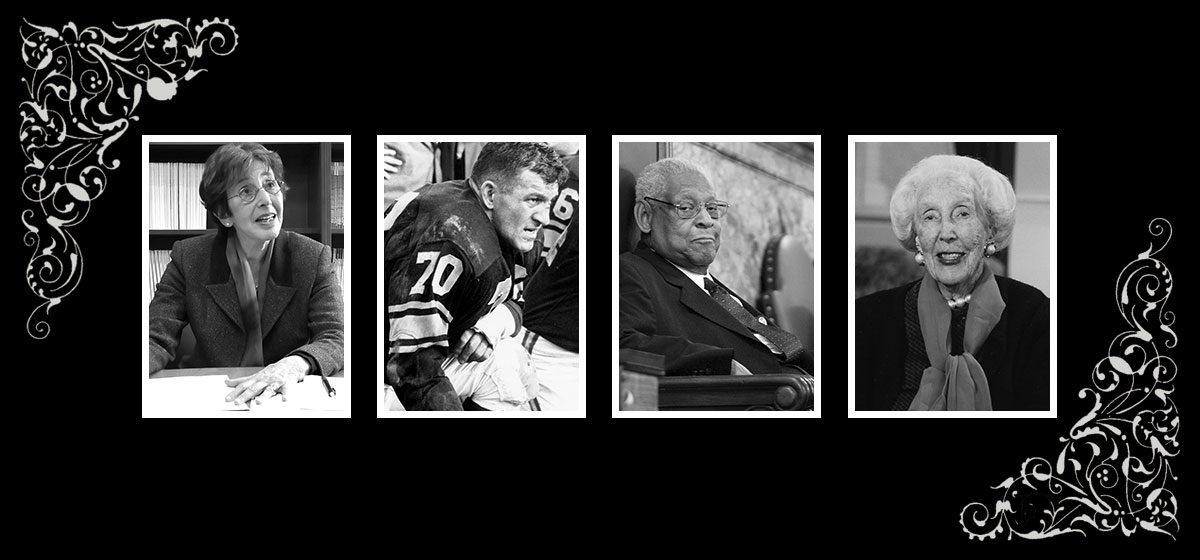 February 20, 2006
James Ignatius Smith III, 74: Smith became the first executive director of the Allegheny County Bar Association and built it into one of the most vital in the country. He was in charge from 1963 until 2001 and built membership from 1,900 to 6,500 and staff from seven to 70.Smith was dedicated to the association and to its members, helping lawyers when they needed it most. He is responsible for starting the annual Bench-Bar conference at Seven Springs. The longtime Mt. Lebanon resident died from an infection from a broken ankle.

Anthony Hodges, 87
A native of Great Britain, Hodges worked for Mellon Bank and was involved in bringing the Penguins to Pittsburgh. He was a distance cycling champion as a youth and later served in the Royal Navy, surviving the sinking of his destroyer. In Mt. Lebanon, he directed the choir at St. Bernard Catholic Church. Hodges was also a breeder, shower and judge of dogs. In 1957, he had a Canadian champion Great Dane. In 1993, he judged Best in Show for the Philadelphia Dog Show. A resident of Monroeville, Hodges died of congestive heart failure.
Dr. Katherine Detre, 79
She escaped the Holocaust, which claimed her father and brother, by posing as a Catholic in a Budapest convent. Dr. Detre became a renowned epidemiologist, professor and leader of research projects. She was principal researcher in a seven-year project on Type 2 diabetics with coronary heart disease. The $52.2 million grant from the National Heart, Lung and Blood Institute was among the University of Pittsburgh's largest. She founded the Epidemiology Data Center at the university, which now has more than 120 employees. She was the wife of Dr. Thomas Detre, a decisive figure in the rise, prominence and excellence of UPMC. She died of complications from liver cancer.
Fritz Ringer, 71
A native of Germany, Ringer was an international authority on the role of intellectuals in society. He wrote "The Decline of the German Mandarins," an acclaimed critical study of the role of intellectuals prior to the Nazi era that was translated into 13 languages. He was a professor at the University of Pittsburgh for nearly 20 years and was also a leading scholar on German sociologist Max Weber. He died of idiopathic pulmonary fibrosis.
Welsh S. White, 65
A professor at the University of Pittsburgh School of Law since 1968, White was a leading national authority on the death penalty and the Fifth Amendment. He wrote three books, including "The Death Penalty in the Nineties: An Examination of the Modern System of Capital Punishment." A resident of Point Breeze, White died of lung cancer.
Robert C. Marshall, 79
After service in World War II and Korea, Marshall got a job as a milkman. On one store delivery, a woman came out, handed him a gun and went back in the store, where her husband was being threatened by a gunman. Marshall noticed that the gun he'd been given was unloaded. But after the gunman wounded the husband and the wife, Marshall aimed the empty weapon at the gunman and persuaded him to drop his pistol. He won a Carnegie Hero medal for the act. He became Fox Chapel police chief, where he lived until his death due to a stroke.
Thomas M. Kerr, Jr., 86
He was a longtime teacher of business ethics at Carnegie Mellon and nearly a lifelong champion of fairness. Kerr, of Squirrel Hill, was a lawyer who worked in the U.S. Government and in the private sector with Westinghouse. He was a leading light in the ACLU, having served 20 years as president of the Pennsylvania chapter. As a young man, he enlisted in the Marines on Dec. 8, 1941, earning two Purple Hearts and a Bronze Star for action at Iwo Jima and Pacific sites.
Reverend Leroy Patrick, 90
The former pastor of Homewood's Bethesda Church was a leader of Pittsburgh's civil rights movement. He led pool desegregation in the 1950s by jumping into off-limits pools with a group of white and black children. He was chairman of the County Council on Civil Rights and the County Committee for Fair Housing. He was both president of the Pittsburgh school board and leader of demonstrations against it, advocating integration and equality in education. Known as a man of great commitment, intellect and action, he built the Bethesda Center, which served for more than 30 years as a social outreach center in Homewood.
Bernard M. Halpern, 88
A graduate of Wharton and Harvard Law, Halpern enlisted in World War II and was awarded the Bronze Star for his efforts in Pacific intelligence as a major in the Marine Corps. His business career included posts with two family businesses, manufacturer J. Halpern Co., and Washington Trust Co., as well as serving as president of Commercial Bank and Trust Co., which ultimately became part of National City. As president of Montefiore Hospital, he led efforts to affiliate with the University of Pittsburgh medical school, one of the early steps in the creation of UPMC. A resident of Oakland, he died of congestive heart failure.
Robert G. Hazo, 74
Hazo created the American Experience at the University of Pittsburgh, a program to augment the insight of local business and civic leaders into politics and economics. Through that, Hazo brought many of the top names in American public life to the Pitt campus. A top student at Central Catholic High and St. John's College, Hazo's education continued at Princeton, the Sorbonne and the American University of Beirut. He was an expert on the Middle East and had been a senior editor at Encyclopaedia Britannica. He lived in Squirrel Hill and died of heart failure.
Ernie Stautner, 80
Stautner was a Hall of Fame defensive tackle for the Steelers who was known for his tremendous strength and toughness. Despite his relatively small size, 6'1" and 230 pounds, Stautner dominated opponents with relentless incursions into enemy backfields. A native of Bavaria whose parents moved to the U.S. when he was three, Stautner was the only Pittsburgh Steeler whose number — 70 — was officially retired. In 14 seasons, he missed six games. Stautner later became an assistant coach for Tom Landry's Dallas Cowboys, serving as defensive coordinator for 16 seasons. He died of Alzheimer's disease in a Colorado nursing home.
David Lowenthal, 84
Lowenthal was deeply involved with helping survivors of the Holocaust relocate to Israel. He was responsible for defense of the vessel Exodus made famous by the Otto Preminger movie. In 1947, he was involved in the purchase of the ship Pan York, which helped thousands of Jews to immigrate. Lowenthal was imprisoned and beaten in connection with the events, escaping to Israel, where he served in security forces. He also became an innovative industrialist, purchasing and reinvigorating Apollo Steel and later helping create the Nuclear Materials and Equipment Corp., which prepared the first nuclear fuel for commercial reactors. A resident of Oakland, he died of stomach cancer.
Leroy Irvis, 89
Irvis was a great leader, both in position and in character, in 20th century Pennsylvania politics, becoming the first African-American speaker of the Pennsylvania House of Representatives. After service in World War II, Irvis came to Pittsburgh where he worked for the Urban League, leading protests for new hiring policies regarding African Americans. He graduated from the University of Pittsburgh Law School and served as an assistant Allegheny County district attorney, prior to election to 15 terms as a Democrat in the state legislature. His reputation among his colleagues was such that he was elected by acclamation as speaker of the state House, the first to be chosen by acclamation to the post since Benjamin Franklin. Irvis was known as a man with impeccable honesty and integrity, who united Democrats and Republicans. He was decisive in creation of the state system of community colleges and was a powerful promoter of healthcare, education and fair treatment. He knew discrimination well personally but believed a man should be judged by his actions, not his color.
Fletcher Hodges Jr., 99, and Margaret Hodges, 94
The Hodges came to Pittsburgh in 1937 from Indianapolis and died within three months of each other. As a young man in the Depression, Fletcher Hodges was hired by the owner of Eli Lilly to help with his collection of the music of Stephen Foster. When Lilly gave the collection to the University of Pittsburgh, Hodges moved here, becoming the original curator of the Foster Hall Collection and the foremost expert on Foster. Mrs. Hodges was the award-winning author of more than 40 children's books, most of which brought new life to classic stories and myths. Trained as a children's librarian, she started down her renowned path as a volunteer at Carnegie Library telling children's stories. She did most of her writing after retiring as professor in Pitt's graduate school of library science.
Rachel Mellon Walton, 107
She was one of the leading philanthropists in Pittsburgh, extending her largesse and involvement to concerns including the Pittsburgh Symphony, Carnegie Institute, Beechwood Farms, the Women's Center and Shelter in Shadyside and Haiti's Hopital Albert Schweitzer, founded by her brother Dr. William Larimer Mellon Jr. Mrs. Walton was the daughter of William Larimer Mellon, the founder of Gulf Oil, and she became the matriarch of the family that has been Pittsburgh's most notable in the past 100 years. Her survivors include 14 grandchildren and 27 great-grandchildren. She was a resident of Oakland.
Harry Turner, 63
After seeing the Buhl Planetarium model train collection, Turner, a collector himself, decided to create his own layout to take on the road for people who couldn't see Buhl's. Stored in an 18-wheeler, Turner's layout made it to all 50 states and Canada, making the Guinness Book of World Records in 1989 as the biggest mobile Lionel train display in the world. A resident of Cochrantown in Crawford County, he died of a stroke.