Last Chapter, Fall 2020
Noting the passing of prominent Pittsburghers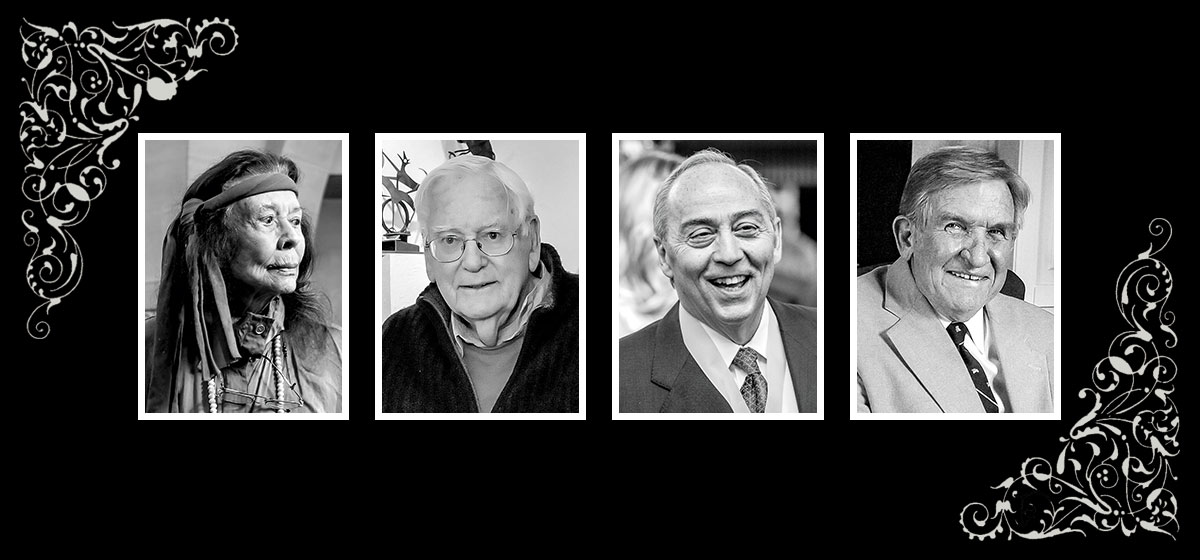 October 5, 2020
Judge John Corbett, 73: Corbett lost the use of his body from the chest down after a diving accident when he was 15. Despite that, he became a distinguished jurist and lawyer, once arguing a case before the Supreme Court. After Pitt Law School, he and two classmates with disabilities formed the Downtown firm of Karns, Corbett and Kissane. Through the 1970s and 1980s, Corbett worked at the Allegheny County Public Defender's office, including as chief of its appellate division. In 1989, he was appointed administrative law judge with the PUC, a post he held for 23 years. He frequently visited patients at the Children's Institute of Pittsburgh, and helped those who'd experienced similar traumas.

E. Maxine Bruhns, 96: The tiny but forceful Bruhns retired in January after 54 years directing Pitt's famed Nationality Rooms. She guarded their authenticity, researching and recording the narrations describing each room. Bruhns also ran Pitt's Intercultural Exchange Programs and traveled to 83 countries. She was conversant in nine languages. The early rooms concentrated on European countries and the identities those immigrants brought, but Bruhns saw the need to represent diverse cultures and added rooms from around the world. Today the 31 rooms that are her legacy have become a major Pittsburgh tourist attraction.
William Russell Robinson, 78: The longtime representative of the Hill District and Pittsburgh's eastern neighborhoods in the state House, City Council and County Council spent his career fighting racial injustice and for his community. The former Schenley High track star earned a masters in political science at Duquesne and was known for a trademark red carnation in his lapel and his outgoing personality. He was most proud of ensuring that minority contractors were given equal opportunities in the construction of Heinz Field, PNC Park and other large projects.
David Lewis, 98: Architect, painter, sculptor, writer, critic, teacher and urban design pioneer, the South African native came to Carnegie Mellon in 1963, starting one of the first graduate urban design programs. Students worked with elected officials, agency representatives and citizens on community design. Charismatic, warm-hearted and compassionate, Lewis was a founder of Urban Design Associates, a ground-breaking architecture firm that designed buildings to solve social problems. He wrote books on art, architecture and urban design, held numerous one-person art exhibitions and chaired the 1988 Remaking Cities Conference with HRH Prince Charles as the keynote speaker.
Dr. Carl Fuhrman, 67: Dr. Fuhrman was chief of thoracic radiology at UPMC and a medical school professor for 27 years. As the director of Pitt's undergraduate medical education, he was a nine-time winner of the Golden Apple award, given by students to the top medical school professor. He was also recognized 15 times with the Ronald J. Hoy Excellence in Teaching Award in radiology. The prize, given by residents, was renamed in Dr. Fuhrman's honor. He loved to travel and drive his 1971 Corvette. A bachelor, he volunteered to work holidays so his colleagues could be with their families. He died of a heart attack while working.
Joseph Calihan, 82: A Wharton graduate, Calihan worked for Mellon Bank and became CEO of Bradford Schools before establishing the successful investment firm, Bradford Capital Partners, in 1987. He served on the boards of the Extra Mile Education Foundation, the Women's Center & Shelter of Greater Pittsburgh, the Historical Society of Western Pennsylvania, Children's Hospital, the Pittsburgh Symphony, and the Pittsburgh Foundation. In 2014 he started the Mansmann Foundation to help entrepreneurs in underserved local markets.
G. Gray Garland Jr., 96: With an MBA from Harvard and a law degree from Duquesne, Garland would have excelled at an ordinary life. But his was filled with adventure, heroics and several escapes from death. The first was during World War II, when the naval lieutenant's boat was caught in Typhoon Louise and he saved his shipmates by swimming to a neighboring boat and attaching a rope. In 1980 Garland was invited to visit Liberia by its president, William Tolbert, who was overthrown and executed during the visit. Garland had to sneak out of the country in the middle of the night. A founding partner of McCann, Garland, Ridall and Burke law firm, he also founded Unionvale Coal Company in Ligonier and later bought the Youngstown Steel Tank company. He chaired several other companies, including the Pittsburgh & Lake Erie Railroad. A voracious reader, he wrote three spy novels inspired by his adventures.
Richard P. Mellon, 81: The oldest son of the late Richard King Mellon, for 28 years he chaired the R.K. Mellon Foundation, the quiet giant of Pittsburgh philanthropy. During his tenure, the foundation provided decisive support for countless initiatives that remade this region. Mellon is also likely the most important private citizen in U.S. history in land conservation, overseeing the preservation of more than four million acres in all 50 states. He was known as a thoughtful, generous person and an avid reader who loved the outdoors.
Jack Mascaro, 75: A civil engineer by training, Mascaro realized he didn't want to spend his life behind a desk. He went to work for a construction company for 15 years, took out a second mortgage on his home and started Mascaro Construction on his ping- pong table. More than 32 years later his three sons run the company, which built or renovated Heinz Field, The Children's Museum, Heinz Hall, the UPMC Sports Performance Complex and Pitt's Biomedical Science Tower 3. He was extremely generous to many causes but especially to Pitt, his alma mater. He received the Chancellor's Medallion, was a Legacy Laureate and in 2009 completed the Mascaro Center for Sustainable Innovation at Pitt. He also received numerous industry awards including National Entrepreneur of the Year and the National Business Ethics Award.
Dr. Siamak Adibi, 88: At 17, he emigrated from Iran to the United States, raising money to charter a plane with friends for the trip. When a financial crisis shuttered the banks, the Shah of Iran intervened so they could pay the pilot. Dr. Adibi went on to get an education—at Johns Hopkins, Thomas Jefferson Medical School, MIT and Harvard. In 1966 he moved to Pittsburgh to become chief of gastroenterology and clinical nutrition at Montefiore Hospital and to join Pitt's School of Medicine faculty. He wrote hundreds of medical journal articles and two books, a memoir and a book about Iranian-American relations. Peace was his passion, along with sailing his boat "Eroica," named after Beethoven's composition.
William "Willie" Baker, 79: A grocer in Homewood-Brushton, Baker gave away refurbished bicycles each Christmas that he had spent the year collecting and fixing. Known for his generosity and warm heart, he ran the neighborhood's longest operating black-owned business. For 52 years, Baker's Dairy Store was a hub, where he gave free sandwiches to hungry children, free advice to scofflaws, hosted community appreciation parties and, if he caught a kid stealing, wrote his name on the wall until the child returned with his mother. Raised in Alabama, he was severely injured in a car accident at 11 but went on to be a high school linebacker. After moving to Pittsburgh, he enrolled in business courses at CCAC and delivered milk for Country Bell until he opened his first store in 1968.
Johnny Majors, 85: He was introduced with the prophetic slogan "A Major Change in Pitt Football," and led Panthers to their last national championship in 1976. He was born in Lynchburg, Tenn., the son of a coach and the oldest of five brothers, all of whom played football. The former tailback starred at Tennessee from 1953–56 and finished second to Notre Dame's Paul Hornung in the 1956 Heisman Trophy balloting. When he arrived at Pitt the football program was on the verge of extinction, with little fan or financial support. After his two stints at Pitt—1973–76 and 1993–95—he was inducted into Pitt's Hall of Fame.
Robert Full, 65: The former Allegheny County Emergency Services chief and fire marshal and the former assistant director of the Pennsylvania Emergency Management Agency, Full created the county's centralized 911 system—reducing 30 dispatch centers to 13. His first love was firefighting—he was a lifelong volunteer in Forest Hills. But he became a paramedic and was remembered for climbing 126 feet to help an ironworker whose leg was pinned by a girder on the old Brady Street Bridge. Full held the man while a doctor amputated the leg, the only way to save the worker.
Tom Love, 65: Love helped make Ohiopyle an international destination for whitewater rafting, creating the Shredder, the first frameless, inflatable "cataraft"—a combination of catamaran and raft. He traveled throughout North America riding rapids, promoting the Shredder and making friends with his sense of humor. He initially tested the Shredder illegally by going over the legendary Ohiopyle Falls, a drop of 20 feet. When it worked, his company, Airtight Inflatables, was born, along with a worldwide fan club.
Vernell Lillie, 89: When Kuntu Repertory Theatre closed in 2013, Sala Udin called its founder and artistic director "the queen mother of black theater in this city." A professor emeritus in Africana Studies at Pitt, Lillie founded Kuntu Rep in 1974 as a way of exploring black life from a sociopolitical-historical perspective. It was also a showcase for her colleague, playwright Rob Penny, who brought August Wilson into the fold. In 1975, Lillie directed "Homecoming," Wilson's fist play to be produced by a resident company. Lillie nurtured the careers of many during the course of 40 years and received a Lifetime Achievement Award from the National Black Theatre Festival.