Last Chapter: Fall '12
Noting the passage of prominent Pittsburghers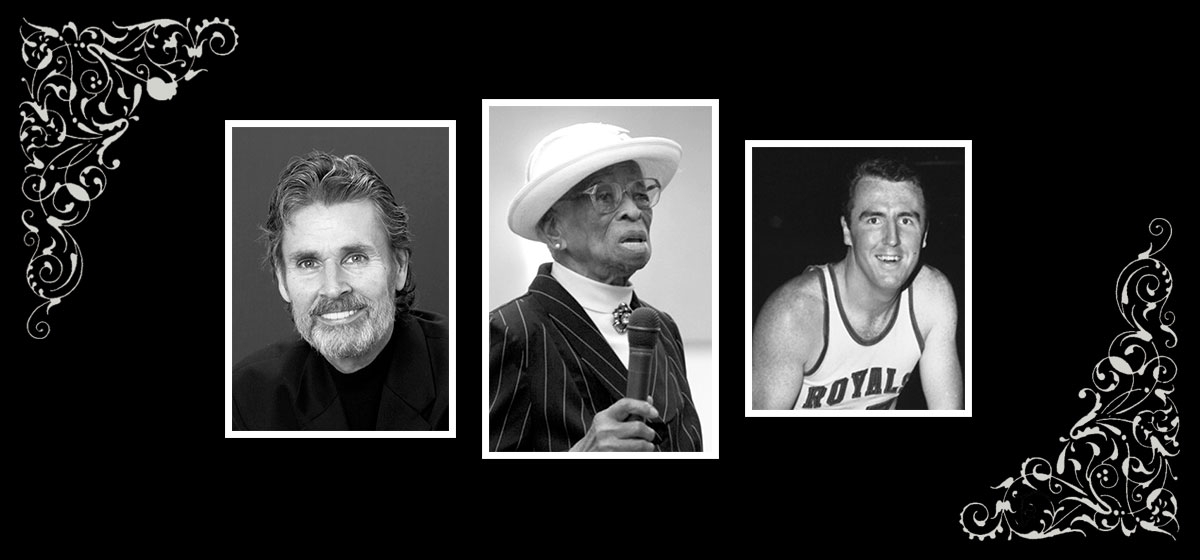 August 20, 2012
Paul R. Jenkins, 80
As the former leader of the Claude Worthington Benedum Foundation, Jenkins was a key regional leader who spurred numerous improvements in Greater Pittsburgh and West Virginia for more than 40 years. A Pittsburgh native who received an undergraduate degree from Princeton and a law degree from the University of Michigan, he was the first non-West Virginian to be named a Distinguished West Virginian. Jenkins was a man of great wit, vision and courage, being a key early supporter of the creation of Pittsburgh's Cultural District when many believed it couldn't be done. He won numerous civic awards and was on the board of several nonprofits, including the First United Methodist Church of Pittsburgh, The Pittsburgh Cultural Trust and Shady Side Academy.

Brother Richard Grzeskiewicz, 67
Brother Grzeskiewicz, was a longtime principal and the first President of Central Catholic High School. A former eight-year principal of Seton-LaSalle High School, he returned to his alma mater, Central Catholic, in 1993 to serve as admissions director. He became principal in 2000 and president in 2009. He raised more than $15 million for the school and is credited with numerous renovations and improvements. He was known as a strong leader who believed in diversity, in expanding need-based scholarships, and in building the futures of Central Catholic students.
Marvin Hamlisch, 68
Hamlisch led the Pittsburgh Symphony Pops since 1995 and was one of only two people, along with Richard Rodgers, to have won a Pulitzer Prize, an Oscar, and an Emmy and Tony award. Hamlisch was best known as the composer of the record-breaking Broadway musical "A Chorus Line," but his versatility included compositions and adaptations for Hollywood hits as well, including "The Sting" and "The Way We Were."
Ron Morris, 62
Morris was a serial entrepreneur who became well-known in Pittsburgh as the host of "The American Entrepreneur" radio program. His eclectic shows on WMNY were filled with humor and business insight, and Morris was an excellent interviewer. His business career started at age 10, by selling eggs door-to-door. He went on to found several successful ventures and became the founding director of Duquesne University's Entrepreneurial Studies Program. In the past few years, the determination and willpower he brought to business kept him going as he fought an 8-year battle with neuroendocrine cell cancer, becoming one of the longest survivors of that disease. Through his radio program, Morris delivered inspiring lessons in business and life to a dedicated listenership.
Reverend Allie Mae Johnson, 106
The Rev. Johnson was a long-time evangelistic preacher, who delivered rousing sermons even after turning 100. The granddaughter of a slave, she moved from the South to Pittsburgh in 1929 to attend Bible school in the Hill District. She later preached at churches across the region during decades when there were few female preachers. She was a strong figure in Homewood, sitting on the porch of the home where she lived for more than 70 years and talking with neighbors.
Mark Schneider, 55
Schneider was a key figure in Pittsburgh real estate development at a time when the city drove real estate projects and decisions. As chairman of the City's Sports & Exhibition Authority and the Stadium Authority, he was deeply involved in the development of PNC Park, Heinz Field and the David L. Lawrence Convention Center. Later, as president of the Rubinoff Co., he led two key riverfront residential development projects—Washington's Landing and Summerset at Frick Park—which took largely unused space and turned it into attractive city dwellings. An avid cyclist with a great interest in community development, Schneider was also an advocate for developing bike paths in the City.
Edward Ryan, 88
Ryan started and built one of the largest homebuilding companies in the nation, and his name and that of his company—Ryan Homes—became part of real estate vernacular. He got started in the business by accident. After he had built a home for himself and his wife, someone offered to buy it at a handsome profit. The Ryans never moved in, but Ryan knew he was onto something. He teamed up with boyhood friend Joe Hardy to start Green Hills Lumber in Upper St. Clair. Hardy later took over that company, renaming it 84 Lumber, and Ryan built Ryan Homes, using prefabrication in constructing homes in Ohio, Pennsylvania and New York long before it was common. He built more than 60,000 homes before retiring from the business that is now part of parent company NVR. Ryan and Hardy also teamed up to buy the Meadows Racetrack, where they introduced computerized betting. Ryan was a member of the Harness Racing Hall of Fame. He was a hardworking, innovative Irish Catholic whose philanthropic efforts stemmed from the belief that God had blessed him with good fortune.
Les Banos, 88
Banos was best known in Pittsburgh as a sports photographer who captured famous moments for the Pirates and Steelers. During World War II, he played a key role helping Jews avoid concentration camps. A native of Hungary, Banos spied for the Allies as a teenager. By hiding his Jewish heritage, he gained a position with Hungarian Nazi SS, working with high level Nazis, including Adolf Eichmann. In that post, he helped numerous Jews avoid death and worked with famed Swedish diplomat Raoul Wallenberg in the effort. After studying at Pitt, he went to work as a Pittsburgh sports photographer. He became close friends with Roberto Clemente and was to chronicle earthquake devastation on the star's doomed aid mission to Nicaragua, but for Franco Harris's "Immaculate Reception," which kept the Steelers alive in the 1972 playoffs. He credited the catch for saving his life. Many of his photos are on display in Lawrenceville's Roberto Clemente Museum.
Jack Twyman, 78
Twyman was an NBA all-star and Hall of Famer who grew up in Pittsburgh's West End. The Central Catholic grad was a star with the University of Cincinnati Bearcats and later the Cincinnati Royals. A great shooter, Twyman ended his NBA career with 15,840 points. He was also known for his enduring friendship with former teammate and Pittsburgher Maurice Stokes, who became paralyzed after hitting his head while on the court during an NBA game. Twyman took care of his friend and became his legal guardian. Stokes died in 1970, and Twyman fought to get Stokes into the basketball Hall of Fame, which happened in 2004.
Ellen Weiss Kander, 51
An irrepressible and charismatic woman, she co-founded the Steeltown Entertainment Project in order to enhance Pittsburgh's film industry. The Squirrel Hill native worked as a lawyer at the American Stock Exchange before returning to Pittsburgh and helping to raise $900,000 to launch Steeltown's first project, an R.L. Stine film "Don't Think About It." Profits from the movie continue to fund Steeltown. She had great personal style and, after being diagnosed with liver cancer, started a website called Cancer Be Glammed that gave advice and style suggestions for women with cancer. Kander was a tireless supporter of Jewish causes and was also on the board of the Children's Museum of Pittsburgh.
J. Evans Rose Jr., 80
Rose was a leading Republican fundraiser, whose financial help was crucial to candidates in western Pennsylvania and beyond, including former Pennsylvania Governors Dick Thornburgh and Tom Ridge, now-Governor Tom Corbett and President George W. Bush. A graduate of Yale and the University of Pittsburgh Law School, Rose was a fourth-generation lawyer who practiced law for five decades at Rose, Schmidt, Hasley and DiSalle and at Cohen & Grigsby. The former captain of the Yale soccer and rugby teams was considered indefatigable, and he served on numerous corporate, legal and civic boards, including the University of Pittsburgh. He was also a former borough council president of Sewickley Heights.