Donovan, Morris, Hattler, Schloss, Pausch, Pidgeon, Diven, Witter, Handy, Harmeier, Jones, White
Noting the passing of prominent Pittsburghers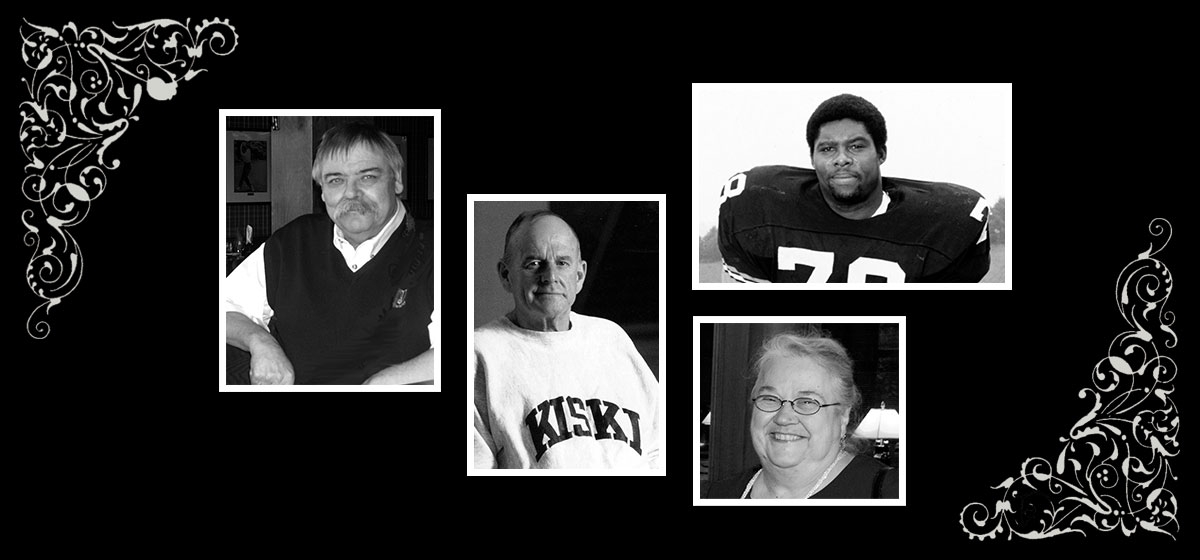 August 25, 2008

Bishop Edward V. Donovan, 76
After working as a metallurgist with U.S. Steel for 20 years, Edward Donovan turned to religion, forming a prayer group that ultimately broke away from the Catholic Church and became the Community of the Crucified One.Under Bishop Donovan's leadership, the Community grew to include its own priests and nuns and has missionaries on three continents. In Greater Pittsburgh, his efforts included helping the people of Homestead after the collapse of steel. He was known as an honest, committed man who loved to help people of all kinds. He led the Community for more than 30 years, until his death.
Steve "Froggy" Morris, 62
For two decades, Morris was the best- known tavern owner in Pittsburgh. An ebullient, gregarious, story-telling proprietor, the man with the scratchy voice made "Froggy's" the place to meet local and national celebrities and Pittsburghers of all stripes, all in a crowded, noisy bar where drinks flowed late into the night. Froggy made it his business to meet and greet newcomers to his Market St. bar/restaurant, which opened in 1979 and closed in 2003. Morris was also a strong supporter of the local Epilepsy Foundation, raising funds through Froggy's Golf Classic. In his honor, the group's children's camp is called Camp Frog.
Brack Hattler, 73
A transplant surgeon who invented an artificial lung, he was also a robust adventurer, climbing Mt. Everest and Kilimanjaro and bicycling across America as recently as 2007. He was an intrepid man who loved challenges, an amateur poet and a wonderful, warm raconteur, fluent in French and Spanish. A battlefield surgeon in the Vietnam War, he has eight patents, and his artificial Hemolung may enter human trials next year.
Irvin P. Schloss, 83
An entomology student in college, Irvin Schloss was blinded in World War II when his tank was hit by a German missile. He went on to become a national leader in the movement for rights for disabled people. Working for Helen Keller's American Foundation for the Blind for more than 30 years, Schloss lobbied Congress effectively on several major pieces of legislation,including the Rehabilitation Act and the Individuals with Disabilities Education Act. He was a resident of Upper St. Clair.
Jack Pidgeon, 83
In the nation's prep school circles, Jack Pidgeon was a giant, leading the Kiski School for 45 years and molding generations of young men in his care.He was raised by his mother in an Irish ghetto in Massachusetts and through athletic prowess won a scholarship to Phillips Academy. A graduate of Bowdoin College, he was a naval veteran of World War II and taught and coached at Deerfield Academy before arriving at Kiski. Pidgeon believed in testing themettle of young men, with a blend of discipline and love. He saw to it that they rose early and worked hard, whether on the playing field where he coached, or in the classroom where he had them recite and memorize great works such as Hemingway and Fitzgerald. He believedin manners and taught his charges to be gentlemen first. Pidgeon held the school together through difficult times and caused Kiski's reputation to spread around the world.
Randy Pausch, 47
Pausch was a professor of computer science at Carnegie Mellon who became internationally known for his final lecture, given last fall when he faced terminal pancreatic cancer.He co-founded CMU's Entertainment Technology Center, which has become a national leader. But it was his inspirational and courageous final lecture that rocketed him to fame as his life waned. He exhortedthe packed auditorium to make the most of life and not waste time. The lecture, which became a book, still travels the Internet.
Charles W. Diven Jr., 91
The Oakmont resident is credited as being the creator of the jump shot in basketball. The two-handed shot has become the standard shooting method for players ever since. Diven was known to first make a jump shot in 1934 at Sharon High School to avoidhaving his shot blocked by competitors. Until that time, players shot from the chest in what was known as the set shot, which has largely faded into obscurity. He went on to play at the University of Pennsylvania and later spent his working career at Sharon Steel Corp.
Jean Witter, 80
Witter was a leader in the fight to ratify the Equal Rights Amendment.An early female graduate of Duquesne Law School in the 1940s, she took center stage in the national campaign for women's rights in the late 1970s as the battleto ratify the ERA faced a deadline and likely defeat. An early President of the Pittsburgh chapter of the National Organization for Women, Witter wrote the legal opinion that formed the foundation for a three-year extension of the deadline for ERA ratification. Ultimately, the quest failed inthe early 1980s.
Stephen W. Handy, 57
The Upper St. Clair resident helped found RPS, a rival to United Parcel Service that grew into one of the region's mostsuccessful companies, Fedex Ground. Handy and Dan Sullivan sought to use barcodes as a means of tracking packages and creating a competitive advantage. RPS became so effective that Federal Express acquired the company.
Rita Carey Healon Harmeier, 93
Dr. Harmeier was a pioneering woman who became one of the first women to graduate from the University of Pittsburgh Medical School. She practiced pediatric medicine at the Children's Home of Pittsburgh, where she was a long-time supporter, and also led well-baby clinics by the Allegheny County Health Department.
Dwight White, 58
White was a defensive end on the famed "Steel Curtain" defense that produced four Super Bowl Championships during the Steelers' Golden Age in the 1970s. He was a relentless sacker of quarterbacks, including Fran Tarkenton for a safety in Super Bowl IX. In that game, White left a hospital bed with pneumonia to help win the team's first championship. The next year, in the victorious Super Bowl X, he had four of the Steelers' seven sacks of Dallas quarterback Roger Staubach. Nicknamed "Mad Dog" for his style of play and agitation of opponents, he played 10 seasons with the Steelers.Later in Pittsburgh, White was engaged in several charities including Goodwill Industries, The Pittsburgh Foundation, the Boy Scouts of America and the August Wilson Center for African American Culture. White was also chairmanof the Governor's Council on Physical Fitness and Sports.
Elizabeth W. Jones, 69
Jones was one of the nation's leading geneticists, co-authoring two textbooks that are used in schools and universities across the country. She published more than 70 academic papers and was the editor in chief of Genetics, the top journal in genetics, for 11 years. Jones earned the University of Washington's first doctorate in genetics and taught at Case Western Reserve University before joining the faculty of Carnegie Mellon University in 1974. At CMU, she was known as an exemplary teacher and person, becoming head of the department ofbiological sciences and winning several top awards from CMU and her national colleagues, including the Lifetime Achievement Award from the Genetics Society of America.