La Fête du Papier at The Frick Pittsburgh
November 1, 2018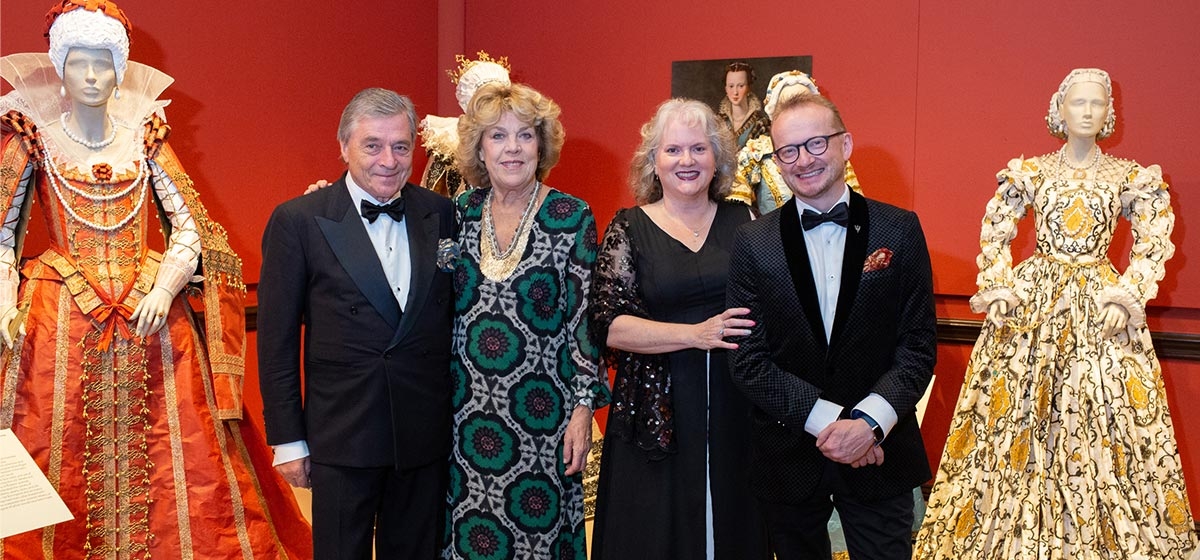 November 6, 2018
Countess Isabelle de Borchgrave and her husband, Werner, count de Borchgrave d'Altena, traveled from their home in Brussels, Belgium to Pittsburgh, where they were guests of honor at La Fête du Papier, an exclusive black-tie dinner event held on the evening of Thursday, November 1 at The Frick Art Museum in connection with the current exhibition, "Isabelle de Borchgrave: Fashioning Art from Paper."
---
---
Guests enjoyed exclusive access to Isabelle de Borchgrave's breathtaking paper sculptures on display the exhibition galleries and cocktails in The Frick Art Museum rotunda before moving to the elegantly decorated tented terrace for a four-course dinner, prepared by Rania's Catering.
The carnival-like evening, replete with a contortionist, strong men, a stiltwalker and other street performers delighting guests at every turn, was conceived and executed by Tim Komen of TK Events. The 100-foot clear tent providing views of the Frick's dramatically lit trees was provided by PartySavvy. Décor for the event was provided enhanced by Hens and Chicks and Marbella Event Rental, including a black to white ombre color scheme, punctuated by clever uses of paper in honor of Countess de Borchgrave, a paper artist.
Frick Executive Director Robin Nicholson and artist Isabelle de Borchgrave made brief remarks and a lively program of festive entertainment was enjoyed by guests throughout the exquisite evening. A highlight of the evening was a dance performance on the museum terrace by Maria Caruso of Bodiography Center for Movement. Upon their departure, guests received bespoke gifts from Isabelle de Borchgrave.
Among the guests were Board of Trustees Chair Charles R. "Chip" Burke, Jr., and Carole King, Robin and Dianne Nicholson, Scott Izzo (Richard King Mellon Foundation) and Terri Wolfe, Sam Reiman (Richard King Mellon Foundation) and Sandra Reiman, Barbara and David Burstin, Steve and Helen Hanna Casey, Barbara Noble Howard, Vivian and Bill Benter, Wendy and David Barensfeld, Bonnie and Tom VanKirk, Donna and Vince Delie, Cary and Richard Reed, Weasey and Chip Babst, Bob Hernandez and Karen Blumen, Catherine Loevner, Wallis Katz, David Bush and Tim McVay, and Barbara Barry
.
"Isabelle de Borchgrave: Fashioning Art from Paper," the touring retrospective exhibition of the contemporary Belgian artist's marvelous paper costumes, remains on view at the Frick through January 6, 2019.