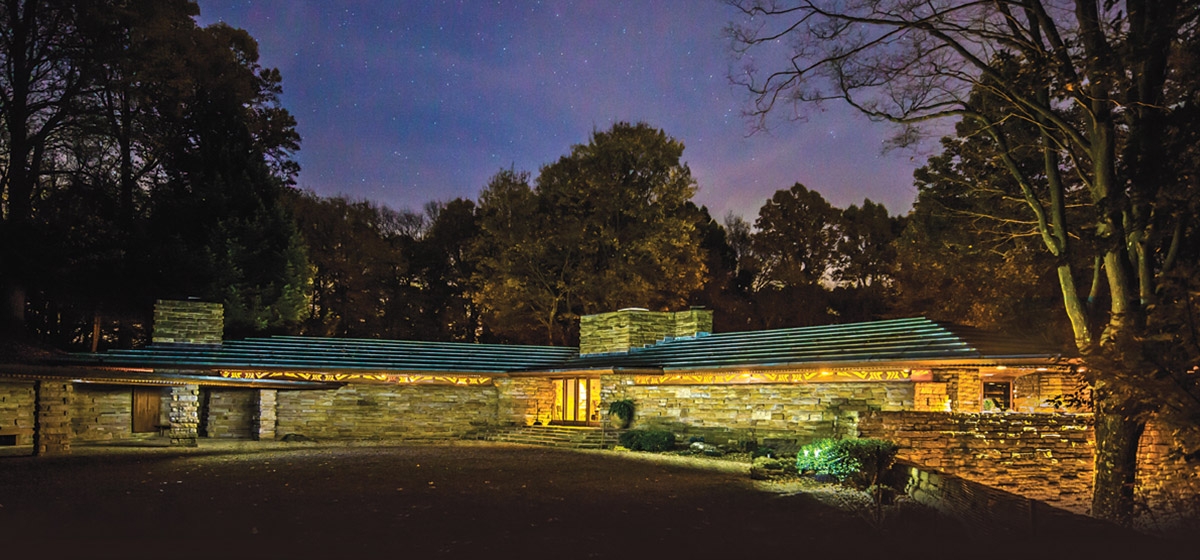 August 20, 2015
In London, he is Baron Peter Palumbo, a property developer, art and architecture collector, former chairman of the Arts Council of Great Britain and a member of the House of Lords. His wife, Hayat, comes from a Lebanese newspaper family and exudes the graciousness of a woman used to navigating in tony circles.
But in the Laurel Highlands of western Pennsylvania, the only hint of that life is their British accent. For three months each year, the Palumbo's retreat to Kentuck Knob, Frank Lloyd Wright's other house, near Fallingwater and about 16 miles from Uniontown. Built in 1956 by I.N. and Bernadine Hagan (of Hagan ice cream fame), the home is classic Usonian—Wright's term for a small, simple, one-story dwelling he conceived as being affordable for the masses.
"I went to Fallingwater because I'd never been before, and I longed to see it," remembers Lord Palumbo. "I flew from Chicago and drove from the Pittsburgh airport to the great house, which I then toured, after which the director of Fallingwater asked if I would care to see the other Frank Lloyd Wright house in Pennsylvania. It was six miles down the road, and it happened to be for sale. Of course, I fell in love immediately with the outside of the house, but there was no one around."
Lord Palumbo was no ordinary visitor. Not only does he serve as chairman of the Pritzker Prize for Architecture, considered the most prestigious award for architecture in the world, but he has owned several of the most iconic homes in modern architecture—the Farnsworth House near Chicago designed by Mies van der Rohe and Le Corbusier's Maisons Jaoul in Paris.
"Architecture is the most prominent of all the art forms," says Lord Palumbo. "You can't escape from the necessity of shelter whether housing, office, the shop, or some great public building. At its best, it can achieve a higher dimension, combining form and function, plus a magic that only the greatest architects are able to achieve. In addition to that, it has a resonance with other art forms. Goethe defined it in four words: 'Architecture is frozen music.' When you think about it, he was absolutely right. And it's painting and sculpture and literature as well; it has a global appeal."
---
---
Kentuck Knob had been on the market for three years when Lord Palumbo returned six weeks after his first visit and met I.N. Hagan, who had lived there for almost 30 years. Failing health combined with the isolated location convinced the Hagans it was time to sell. "It seemed destiny was playing its hand," says Lord Palumbo, who bought the house for $600,000 in 1985.
Three months later, Kentuck Knob caught on fire.
A gardener put the lawn mower away while it was hot, and a spark started the blaze. Fortunately, the Ohiopyle fire department responded promptly and was able to save most of the structure and contain the damage to the master bedroom and bath. In a stroke of even greater luck, Bob Taylor, the original job architect for Wright, was still active, and Lord Palumbo brought him in to oversee the restoration.
Taylor was careful to replicate the intricate red cypress woodwork, which is one of the home's most striking features. Much like Fallingwater, Wright made full use of indigenous materials including sandstone to marry the structure to its site. Eschewing the obvious—a hilltop setting with a sweeping view of the Youghiogheny River gorge, Wright nestled the house into the southern side of Kentuck Knob below the crest, giving it a sunny disposition as well as the organic effect of emerging from the hillside. As such, it blends into its surroundings—then 89 acres of hills and farmland, today a total of 630 with the additional land purchased by the Palumbos.
What is most surprising is how perfectly situated the house is despite the fact that Wright only visited the site once, and that was prior to construction. He was 86 at the time and working on the Guggenheim Museum in New York.
"He told the Hagans 'you come to meet me' when they wrote him a letter inviting him to come and meet them after the Kaufmanns (owners of Fallingwater) had effected an introduction," says Lord Palumbo. "He asked them questions—what did they like, what did they read, what kind of food did they eat. Finally, Mr. Wright agreed to accept the commission, on condition that he did not have to come to the site. 'Send me the contour maps, and I'll shake a design out of my sleeve.' When they approved the drawings, he made one visit, during which he interviewed the local contractor.
"He built the house with 54 different angles, like a cat's cradle," Lord Palumbo continues. "It was a summation of the Usonian concept that came very late in life. Mr. Wright only lived for another five years. His three-dimensional visual memory was without compare."
At a cost of $96,000 (Wright received 10 percent as his fee), Kentuck Knob was designed on a hexagonal module. The house centers around the kitchen, which has stone walls that rise through the copper roof and unite the living and sleeping wings of the house. The extensive use of glass, whether for walls or the skylight that crowns the kitchen, opens the house to the exterior along one side, with adjoining stone terraces. The opposing wall is more solid for privacy, with high windows covered by cypress fretwork. Three bedrooms and two baths are joined by a narrow hall, an intimate contrast to the great room that anchors the other side of the house.
"It is a fabulous house to live in," notes Lady Palumbo. "It's so easy to manage. It's a housewife's dream because there's so much storage. The house makes you feel as if you have time even if you don't." Adds Lord Palumbo: "It combines to an extraordinary degree beauty and function. Every inch of the house is dedicated to function. It's not only beautiful, but very practical."
The couple married the year after Lord Palumbo purchased Kentuck Knob, and their three children were raised on a steady diet of American country life. "We are so far away from our normal life, it's wonderfully therapeutic for recharging the batteries," says Lady Palumbo. "Nature is very much a distraction. We have quality time, and we spend a lot of time together. It has helped to make us a united family. And meeting the local people and getting to know them is very satisfying."
Today the Palumbo's live down the road in a small farmhouse they are renovating, though they often wander over to Kentuck Knob in the evenings for cocktails with friends. They moved out of the main House at Kentuck Knob partly for privacy, but a more important reason was posterity. In 1997, they made the decision to go public, using a model that has become popular in England as a way to maintain the great manor houses and estates.
"It was a gradual decision," says Lady Palumbo. "We wanted to make it less of a load on the children. If the house was able to look after itself one day, it would be less of a burden and they could enjoy it. It would be very hard for them to sell it because it works."
"The idea was it would be self-sufficient financially," adds Lord Palumbo.
Kentuck Knob is open to the public from March through September, and the Palumbo's are in residence for much of the summer. They are very much hands-on. Lady Palumbo deadheads the flowers as she stops by the visitor's center—control central for the property.
Lord Palumbo has lunch in the café and chats with employees and visitors alike, his dogs by his side. The couple has invested more than money and time in Kentuck Knob. Their extensive collection of outdoor sculpture by artists including Andy Goldsworthy, Claes Oldenburg, Sir Anthony Caro and Phillip King surrounds the house, and many personal belongings remain inside. Clearly, the Palumbo's are happy to share, and their appreciation for Wright is almost evangelical.
"He's certainly the greatest American architect who ever lived," says Lord Palumbo. "His architecture is organic, which in a country as big and wonderful as the U.S. is absolutely appropriate. He was four or five decades ahead of his time. He was a true visionary. He would never admit he was influenced by anyone, but, of course, he was—Japanese woodcuts, [Scottish architect and designer] Charles Rennie Mackintoch—he would take all that on board and reinterpret it in his own way. He was a citizen of the world, rather like Darwin or Shakespeare, a universal man."
Do their fancy friends in London think they're crazy to spend so much time in the outback in rural Pennsylvania?
"Yes they do," laughs Lord Palumbo. "They think we're crazy until they come here. But once they've come here, they don't want to leave. It's the only place they want to come to in America. It's an epiphany."