Money, Power & Purpose
The story of Joseph P. Kennedy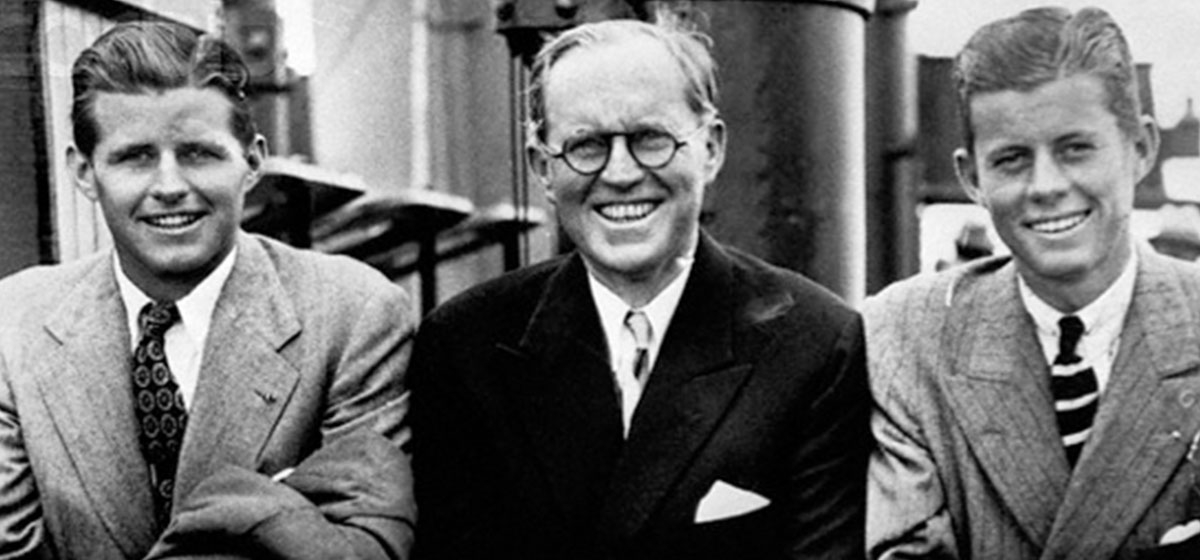 February 17, 2011
Harvard played its final game of the 1911 baseball season the day after graduation. With Harvard up 4-1 and one out to go, team captain and star pitcher Charles B. "Chick" McLaughlin called time, for a substitution at first base.

A lanky redhead came off the Harvard bench. He had failed to make the team and hadn't even ridden the bench all season. The Yale batter hit a grounder and was thrown out at first; the substitute now had his coveted letter "H." McLaughlin then called over for the game winning ball. The first baseman shoved the ball in his pocket, saying, "I made the put out didn't I?" Right from the start, Joe Kennedy was hell on wheels.
Joseph Patrick Kennedy was born in 1888. His grandfather, a tenant farmer, was one of thousands driven from Ireland by the Great Potato Famine of the 1840s. They came to America not to make their fortunes, but because they were hungry. Kennedy's father, Patrick Joseph, bought a saloon and then several more in Irish East Boston. Many a political career in those days was launched over saloon talk, and in 1886, he was elected to the Massachusetts House, and six years later to the state Senate. A reticent man, political office held little appeal for him. He turned his attention to political influence as a means to financial gain. He moved into coal and banking, and by the modest standards of East Boston, the Kennedy family was affluent.
Pat Kennedy was a role model for his son in two dimensions: ambition and love of family. Encouraging Joe to set his sights beyond the Irish world, he sent him to Boston Latin. Founded in 1635, the school had educated generations of the Yankee imperium, including Cotton Mather, John Adams, Benjamin Franklin and Charles Sumner. Joe Kennedy cut a wide swath during his six years at the school. As he would later do at Harvard, he neglected his studies and compiled a poor academic record. Instead, he set his energies toward advancing his social standing. His good looks, quick smile and natural affability won friends easily and set him apart as a man to watch. He played basketball, captained the baseball team, and won the Mayor's trophy (presented by his future father-in-law, John F. Fitzgerald) for the city's highest batting average—a sizzling .667. He was elected senior class president.
As good Catholics, the Kennedys might have sent Joe to the Jesuit Boston College or Holy Cross. Pat, however, was determined to set Joe up against the Yankee first team; he went to Harvard. At Harvard, the headwinds stiffened. He failed to make the baseball team. McLaughlin beat him out for first base before he moved to the mound. Joe was openly resentful. Why then did McLaughlin put him in the game? After graduation the star pitcher wanted to open a movie theater. Pat Kennedy's political friends told Chick that if Joe didn't get his varsity letter, McLaughlin might not get a theater license.
Kennedy's efforts to escape the confines of the Boston Irish did not extend to marriage. During his six years at Boston Latin, he began to date Rose Fitzgerald (1890–1995), the daughter of Boston Mayor John F. "Honey Fitz" Fitzgerald. They had met as children when politics brought their fathers together. Rose made her debut before a glittering crowd of 400. She was a must-have for Joe Kennedy. The Fitzgeralds occupied a higher station than the saloon-keeping Kennedys, and Honey Fitz was not keen on the hard-driving Kennedy as a prospective son-in-law. He sent Rose to a convent school in Prussia for a year, hoping somebody better would turn up—to no avail. So on Oct. 7, 1914, Joe and Rose Fitzgerald were married by cardinal William O'Connell in the prelate's study. Kennedy later recalled, "I always wanted to be married by a cardinal and I was." It was a brilliant marriage for him. Rose bore him nine children whom she raised virtually alone. And she not only tolerated, but put on a game face in dealing with what might be described as her husband's world-class womanizing.
Pre-war Boston was sluggish and self-satisfied. "Why should I travel?" a Boston matron once said, "I'm already here." The closed circle of Boston bankers were not about to accept Joe Kennedy. So he did an end run. Through his political connections he landed a job as a state bank examiner. A year poring over the books of dozens of banks gave him a solid understanding of banking and finance; it was his MBA. In 1895, Pat Kennedy organized The Columbia Trust Company. In 1913 it was a threatened takeover target. Joe quit his state job, raised enough money to give the family control, and at age 25 became president—the nation's youngest bank president. The attendant publicity, pumped up by Joe himself, dwarfed the substance; it was a very small bank. He also invested $1,000 in Old Colony, a real estate investment firm. Three years later he sold his share for $25,000 ($400,000 in today's money).
In 1917, through a sponsor, Kennedy became assistant to the general manager of Bethlehem Steel's booming Fore River Shipyard. The job paid a handsome $10,000 a year, which he supplemented by opening a cafeteria to feed many of the yard's 22,000 employees. Kennedy, tipped off about a change in Bethlehem Chairman Charles Schwab's arrival time in Boston, scooped his boss, picked up Schwab and took him to a suite at the Copley Plaza. Learning his favorite lunch was chicken livers, Kennedy alerted the chef, and Schwab allowed as how his chicken livers were the best ever. So well did their conversation go that Schwab later accepted Joe's invitation to dinner and a show. He received the full Kennedy treatment. A contemporary observed, "Joe was born mature. He would meet powerful, socially prominent men in passing and later they would say to each other 'that fellow has something.' "
It was at Fore River that he first met Franklin Delano Roosevelt, then the assistant secretary of the Navy. The two were at loggerheads over a couple of Argentinean battleships—completed but not paid for. Roosevelt wanted them for the British—payment later. Kennedy refused to release them. FDR sent in Navy tugs and towed them away. Thus was he Kennedy's master once and for always.
At the war's end in 1918, government ship orders vanished. Kennedy tried to sell ships to a steamship line chaired by Boston investment banker Galen Stone. He failed to sell Stone any ships, but he did sell him on Joe Kennedy. Stone hired him at the prestigious investment house of Hayden Stone. When Stone retired in 1922, Joe struck out on his own. Save for government service, he would never work for anyone again.
During the first half of the '20s, Kennedy became a successful stock speculator and pool operator. In pool operations, insiders fed off a parasitical relationship with small investors. The operators picked a languishing stock and began to buy and sell it rapidly, giving the unsuspecting public the impression that some unknown catalyst was about to propel the stock upward. Kennedy termed this "advertising the stock." The public would buy the stock, anticipating further appreciation, and they themselves became the catalyst. When the stock rose 20 percent, insiders pulled the plug, and the stock plunged—the lambs were fleeced. "It is easy to make money in this market," Kennedy told a friend, "We better get in before they pass a law against it." In 1934, they did, creating the Securities & Exchange Commission (SEC). Ironically, Joe Kennedy would be the first SEC chairman. During his five years as a stock operator, Kennedy made good money, but he was still small potatoes. But through self-promotion, he made himself look bigger than he was. He would find the big money 2,500 miles west in Hollywood.
The Hollywood years
To the pantheon of Hollywood moguls—L.B. Mayer and Irving Thalberg (MGM), Adolph Zukor (Paramount), Jack Warner (Warner Bros.) and "Uncle Carl" Laemmle (Universal)—can safely be added the name of Joseph P. Kennedy. Louella Parsons once called him "the Napoleon of Hollywood."
Kennedy entered the film business in a small way in the early '20s, when he organized a group to purchase 31 theaters in New England. The theater business was consistently profitable, but Kennedy soon understood that the exhibitors could easily be squeezed by the Hollywood producers. He determined to be the "squeezer" rather than the "squeezee" and entered film production. His target company was Film Booking Office (FBO), a modestly profitable second-tier studio. Kennedy and his lawyer set sail for England to engage key bankers and stockholders. The bankers wouldn't give him the time of day.
At breakfast the next morning Kennedy learned from a newspaper that the Prince of Wales was enjoying a brief vacation in Paris. Jumping up from the table he announced, "We're going to Paris." At Maxim's, the Prince's favorite restaurant, Kennedy crossed palms with the maitre d', who seated him beside the prince. Flashing his thousand-watt smile, Joe told the future king that he enjoyed meeting him at a reception at the exclusive Myopia Hunt Club the previous summer. He turned the animated conversation to his problem with the English bankers. The prince offered a letter of introduction—problem solved. This tour de force was sheer bluff. Kennedy hadn't made the list for the reception, but with hundreds going through the receiving line, who would remember? He closed the FBO deal, putting up $200,000 of the $1.1 million purchase price.
When Kennedy arrived, the tectonic plates upon which the movie business rested were shifting. The business of Hollywood had grown up on a shoestring, led by a band of audacious and tough Jewish entrepreneurs. But the rules were changing. Movies, like any rapidly expanding business, required outside capital. With growing audience sophistication, bigger, more expensive productions were required, and the star system with the stratospheric $10,000-a-week salaries of Charlie Chaplin and Mary Pickford was coming into play. Finally, there came talking pictures. The eastern bankers began to exercise increasing control, and all too often they said "no." As director Cecil B. De Mille put it, "When banks came into pictures, trouble came in with them." Kennedy ameliorated the problem for FBO; he was a studio chief and a banker. His business acumen, charm and fast talk transformed him in record time from outsider to insider.
The ultimate solution to Hollywood's voracious appetite for capital was consolidation, and Kennedy was front and center. Radio Corp. of America, (RCA), jointly owned by General Electric and Westinghouse, was late to the table with its Photophone movie sound system. President David Sarnoff sealed a deal with Kennedy in 1927 for an investment in FBO. As his part of the bargain, Kennedy was to acquire a chain of theaters. The next year was a whirlwind year for Kennedy. He and FBO purchased a controlling stake in a large exhibitor, Keith-Albee-Orpheum (KAO). Edward F. Albee, the vaudeville pioneer, was given assurance by Kennedy that he would remain in charge. Kennedy, however, soon removed him, announcing, "Didn't you know Ed, you're washed up, you're through." Kennedy was making more money than ever before—$2,000 a week at FBO and a like amount at KAO. More important, he had significant stock ownership in both. He also became chairman of De Mille-Pathé studios at another $2,000 a week, and later a "special advisor" to even larger First National at $3,000 a week.
In October 1928, Kennedy caught the gold ring when he engineered the merger of FBO and KAO, creating Radio-Keith-Orpheum (RKO), controlled by RCA. He received $2.5 million and doubled that with the exercise of his RKO options. He had arrived in Hollywood not quite a millionaire. He walked out with $5 million. Riding the bull market until mid-1929, then getting out and selling short on the downside, he ended 1930 with a fortune of $10 million ($150 million in today's money). For most wealth seekers, enough is never enough. But for Joe Kennedy, money-making ceased to be center stage. He turned to power and purpose.
Like Howard Hughes and others, Kennedy was not immune to Hollywood's feminine charms. Kennedy's took the form of a very public liaison with reigning movie queen Gloria Swanson. Not yet 30, Swanson decided to produce her own pictures. Independent of his several day jobs, Kennedy became her banker, advisor and lover. They produced the big budget flop "Queen Kelly." Joe complained that he had lost his shirt ($1 million) on the film. However, most of the money was lost by Swanson because the astute Kennedy had secured his investment with a cut of Swanson's future (profitable) vehicles. You might say that Joe Kennedy screwed Gloria Swanson literally and figuratively. Their affair lasted long after their business arrangement. She was often a guest in the Kennedy home. Rose was a friendly and gracious hostess, and the children were smitten by the Hollywood star.
Kennedy came out of Hollywood with more than money. His spectacular success laid the basis for the Kennedy legend, and Kennedy stoked it in the press. There was a Horatio Alger quality to Kennedy's rise, and set against the backdrop of America's most glamorous industry, it gave the Kennedy name an aura it never lost. Long after the Hollywood years, the Kennedy family maintained its ties. The Kennedy boys were thrilled to receive outfits and signed pictures from cowboy star Tom Mix. Kennedy's daughter Pat married actor Peter Lawford, bringing Frank Sinatra and the "Rat Pack" into the fold. Jack and Bobby graduated from cowboy heroes to Marilyn Monroe. At family gatherings over the years requests were shouted for Jack Kennedy's Navy buddy, Paul B. "Red" Fay to "sing Hollywood." The Johnny Mercer lyrics rang out in an Irish lilt: "Hooooray for Hollywood, where you're terrific if you are even good…"
Roosevelt & Kennedy
With his fortune and high profile established, Kennedy was now ready to move into the biggest arena of all: national politics. With the Depression savaging the country, it didn't take a political seer to forecast a Democratic win in 1932. Kennedy, early and wisely, backed New York Gov. Franklin D. Roosevelt with a $25,000 donation. Additionally, he loaned the Democratic Party $50,000 and raised another $100,000. In those days that was serious money. The Democratic Convention in Chicago looked like a deadlock between the 1928 standard-bearer Al Smith and Roosevelt. The king maker at the convention was wealthy and influential California publisher William Randolph Hearst, who was backing House Speaker John Nance "Cactus Jack" Garner. Between Texas and California, Hearst controlled 86 votes. Roosevelt sent Kennedy out to California to convince (falsely) the isolationist Hearst that Roosevelt shared his views. He followed up with a critical phone call from the convention. Hearst gave the nod and Roosevelt was the nominee.
Kennedy campaigned and raised money indefatigably. The press named him one of Roosevelt's "silent six" intimate counselors. He garnered important support and money from the Bank of America's charismatic founder, Amadeo P. Giannini, whose tag phone salutation was, "dis is A.P." He also kept a leash on Detroit's fiery and demagogic Father Charles E. Coughlin, "the Radio Priest." Kennedy did a lot for FDR and claimed even more. After the election, Mrs. Fitzgerald told a group of intimates, "isn't it wonderful, my son-in-law Joe Kennedy has made Franklin D. Roosevelt President?" Jaws dropped. The source was Joe himself.
Roosevelt owed Kennedy, and Joe knew exactly what he wanted: the Treasury post, and, from there, perhaps the Oval Office. With his proven leadership and administrative skills, he was eminently qualified. Instead the Treasury job went to William Woodin and then to Henry J. Morgenthau, Jr. Throughout most of 1933, Joe sat beside a silent phone as the choice jobs went elsewhere.
He tried another gambit, the cultivation of FDR's oldest son, Jimmy. After an undistinguished four years at Harvard, Jimmy had two aims in life: to make some serious money and to become governor of Massachusetts. Joe steered a lot of corporate insurance business Jimmy's way. In September 1933, with the repeal of Prohibition, competition was keen for British liquor distribution rights. Joe and Rose, together with Jimmy and Betsy Roosevelt, went to London. His close association with the son of the new president turned the tide. Joe was awarded the U.S. distributorships for Haig & Haig, John Dewar and Gordons Dry Gin. For a modest investment of $100,000, his Somerset distributors returned $250,000 a year. In 1946, when liquor became a political embarrassment, he sold for $8 million.
On July 1, 1934, FDR discharged his campaign debt by appointing Kennedy the first chairman of the newly formed Securities & Exchange Commission. Kennedy's charge was to regulate stock markets and purge them of the very practices that he had exploited. The press was outraged: "like putting the fox in the hen house." In private, Roosevelt rejoined, "set a thief to catch a thief." Confounding critics, Kennedy organized the commission brilliantly, appointing a high-quality staff and carefully mediating between the zealous business-hating New Deal reformers and the legions of Roosevelt haters in the business community.
The success added to his stature as one of the most influential men in America. He became as close to Roosevelt as anybody came to that master manipulator of men. Unlike FDR's many sycophants, Kennedy always gave the president a straight answer, whether he liked it or not. When FDR admonished him for an open liaison, Kennedy said he would terminate that relationship when FDR halted his affair with his secretary, Marguerite "Missy" LeHand. In 1935, Kennedy stepped down as SEC chair and campaigned for FDR in the 1936 election, writing a book, "Why I'm for Roosevelt." In 1937, he was named ambassador to the Court of St. James.
The ambassador
Kennedy arrived in London on March 1, 1938. He would serve as ambassador until November 1940, three of the most tumultuous years of the 20th century with London at the epicenter. At first blush, Roosevelt chose wisely. Kennedy was clear-eyed, hard-bitten, and capable of dealing unsentimentally with the British. He was unlikely to go native. The first two months went swimmingly. The Kennedys and their nine children captivated the press, who dubbed him "the Nine-Child Envoy." And with the luck of the Irish, during his first round of golf, he lofted an eight-iron into the cup for a hole-in-one. It was front page news. Kennedy regaled audiences, saying, "I am much happier being the father of nine children and making a hole-in-one than I would be as a father of one child making a hole-in-nine."
One of Kennedy's many talents was his ability to get close to men of power. He did not disappoint with the British Prime Minister, Neville Chamberlain. "I'm just like that with Chamberlain. Why, Franklin himself isn't as confidential with me." A Birmingham industrialist, Chamberlain conferred with Kennedy as businessman to businessman. They were both thorough-going isolationists. The relationship was a plus at first, but soon a grievous liability. The first two months of Kennedy's ambassadorship represented the culmination of a brilliant 50-year career; it had been straight up all the way. The remainder of his life would be a chiaroscuro of triumph and tragedy.
The memory of the horrendous slaughter of the First World War was foremost in the minds of the British. The mood favored appeasing Hitler. And during three humiliating meetings with the Führer at his mountain retreat in Berchtesgaden, Chamberlain sacrificed Czechoslovakia. With umbrella in hand, he touched down on English soil announcing, "Peace in our time." Kennedy regarded it as a diplomatic triumph. During a Trafalgar Day speech, Kennedy remarked that, with Hitler and Mussolini, it was best to live and let live. The speech inflamed the growing anti-appeasement movement in both Britain and the U.S. Kennedy had committed a grave personal and diplomatic blunder. Like a bomb with a long fuse, the Trafalgar Day speech soon blew up in Kennedy's face. Less than a month later, on the night of Nov. 9-10 1938, forever known as Kristallnacht, thousands of Nazi thugs rampaged through the Jewish community, murdering dozens, injuring hundreds, and destroying thousands of shops.
When war began on Sept. 1, 1939, the appeasement crowd melted like spring snow. Kennedy became a defeatist, earning him the undying enmity of the British, who only months earlier had showered his family with kindness. In the U.S., the interventionists (Roosevelt among them, walking a fine line) fought an uphill battle against the isolationists. With Russia and the Axis powers arrayed against France and England, Kennedy coolly assessed the odds like a stock speculator. France and England were stocks to be shorted. In Kennedy's view, England didn't stand a chance. Through his government and business contacts, Kennedy was privy to a guarded secret. England was running out of money and could fight on only at the sufferance of the United States.
The rise of Winston Churchill paralleled the decline of Kennedy. At the start of the war, Chamberlain brought Churchill into the war cabinet in his World War I position as First Lord of the Admiralty. A direct correspondence between FDR and Churchill began that intensified in May 1940 when Churchill became prime minister. In hedgehog fashion, Churchill knew "one big thing"—the war could only be won if the United States eventually came in. Kennedy publicly and privately argued against this. He was repeatedly bypassed by the White House and the State Department. Increasingly isolated and defeatist, his position became untenable. Apropos of investing, Churchill once said, "I never met a rich pessimist." There was one exception: Joe Kennedy. Personal feelings clouded his faulty judgment. If war came to America, his boys might be killed, his fortune dissipated and his dreams destroyed. For once, Kennedy found himself on the wrong side of history.
Roosevelt, breaking the "no third term" tradition and facing a close race against his Republican rival, Wendell Willkie ("the barefoot boy from Wall Street"), wanted Kennedy out of the country and with mouth shut. Kennedy finally forced the issue. He threatened to release a statement in New York before the election if he was not recalled. He returned Oct. 27, 1940, and went directly to dinner with the president. It was an important meeting for Kennedy and more important for FDR. If Kennedy, resentful of his shabby treatment, retaliated by denouncing the president as a warmonger, it might throw the election to Willkie. In his usual colorful language, Kennedy unburdened himself and lambasted the State Department. FDR, that great dissembler, nodded in sympathy. He said he couldn't agree more; the actions of the State Department were disgraceful. FDR swore that after the election, "by God I'm going to clean house." Earlier in the evening, Senator James F. Burns had asked Kennedy to make a speech supporting the president; Kennedy refused. After castigating the State Department, FDR posed the same question. Kennedy accepted. The speech on Oct. 29 was a thundering endorsement, everything Roosevelt wanted. Once again, he owed Kennedy.
Then, on Nov. 9, in one fatal interview with The Boston Globe, Kennedy threw it all away. He felt the rambling 90-minute session was off the record, but didn't bother to extract a guarantee from The Globe. The next day, headlines across the country blared: "Democracy All Done in England. If we get into the war it will be done in this country too." This gave the band of Kennedy detractors in the administration all the ammunition they needed. Kennedy would sit out the war and stew. On Kennedy's public demise, one might paraphrase sociologist Max Weber's comments on the German Communist Karl Liebknecht: "The press cast him up and the press dispatched him."
The family
Kennedy's greatest achievement was his family. It stands above and rests upon his dazzling financial success and distinguished public career.
Men consumed by ambition often regard children as engaging distractions. The stark contrast between the achievements of the Kennedy boys and the lack thereof with FDR's four sons illustrates the point. After 1940, the driving ambition which brought Kennedy great wealth and national prominence was focused laser-like on his family. While the family had large homes in Palm Beach and Hyannis Port, they were sized to accommodate a large family and not to make a statement. The children were kept on strict allowances. If they needed a modest lump sum, it would be released only as an advance on their allowances. The Duke of Wellington famously said that the Battle of Waterloo was won on the playing fields of Eton. In like manner, Kennedy electoral victories were won on the lawns and surrounding waters off Hyannis Port. With Joe Kennedy, winning at anything was everything—sports became war games.
The family was bookended by Joe Jr. (1915) and Teddy (1932). Kennedy advanced Joe Jr. as a stand-in role model for his younger brothers; he was the family sergeant major. When still in his teens, Joe Jr. set his sights on a career in politics and said he intended to become the first Roman Catholic president. Volunteering for a dangerous mission, he was killed in August 1944 when his bomb-laden aircraft exploded. His father never got over it, lashing out at FDR as "the crippled bastard who killed my son Joe." The future of the family then rested upon the slender shoulders of John F. Kennedy, two years younger than Joe Jr. Jack wrote an excellent senior thesis at Harvard. His father then interceded and with heavy rewriting by Arthur Krock and a forward by Henry R. Luce, founder of Time magazine, it became the 80,000 copy best seller, "Why England Slept," published in 1940.
One of the essential elements of the JFK legend was his receipt of the Silver Star (the Navy's third-highest award) for his heroism commanding the ill-fated PT 109. The award was made after considerable controversy almost a year after the event. At the same time, Readers Digest published a John Hersey piece on PT 109; it made Jack Kennedy a national hero. Joe Kennedy's long tentacles are wrapped around both the medal and the article— no Joe Kennedy, no best seller, no war hero.
With only a gentle nudge from his father, Jack sought a congressional seat from Boston in 1946. The Kennedy machine went into overdrive. For the decisive May primary, Joe set up his command post at the Ritz Carlton. He spent multiples of the total spent by the 10-man field. Campaign strategy, personnel decisions and the deployment of funds, all required his personal stamp of approval. He boasted that, with the amount of money he was spending, he could elect his chauffeur. Jack was a celebrity, but he was also a diligent and effective campaigner.
After walk-away victories in 1948 and 1950, Jack sought the Senate seat held by the formidable Henry Cabot Lodge Jr. Joe endorsed the move, "When you've beaten him, you've beaten the best." It was a tough fight. Against Eisenhower's sweep of the state, JFK won a stunning 70,000 vote victory. The Kennedys outspent Lodge 10-1. Had red-baiting Sen. Joseph McCarthy come to Massachusetts to campaign for Lodge, he might have swung the election. Not to worry—Joe had befriended McCarthy (he genuinely liked him) and gave him money. McCarthy never set foot in Massachusetts. Even Joe Kennedy wasn't rich or influential enough to buy the presidency—credit Jack for that.
In the letters of Joseph P. Kennedy edited by his granddaughter Amanda Smith, we see an intimate portrait of Joe Kennedy molding the clay of his family legacy.
To Joe Jr. (17): "Mother and I are very proud of the job you have done at Choate. There is not much that a father can do to make his boy's career a success—it rests entirely upon the boy. You can look for help and suggestions—that you know I am prepared, willing and anxious to give at all times."
To Joe Jr. (19): "I think you have gone back to your poor penmanship. As to the allowance… I would suggest $125 a month mainly for the moral effect of trying to live as reasonably as possible."
To Jack (15): "I got your letter of the 4th with your examination and daily marks [not good]… I am much more hopeful that you can pull yourself up than I ever have been."
To Jack (17): [more disappointments]. "After long experience in sizing people up, I definitely know that you have the goods and you can go a long way. Now aren't you foolish not to get all there is out of what God has given you."
To Bobby (16): "I wouldn't be too discouraged about the football team… Try to cultivate as many people as you can and know as many people as you can. That's all life is—whether it's in business, or a profession or anything."
To Teddy (8): "I certainly don't get all of those letters you keep telling me you write… you and Bobby are the worst correspondents I have in the family… well old boy, write me some letters and I want you to know that I miss seeing you a lot, for after all you are my pal, aren't you?"
To Teddy (11): "I got your telegram and I was pleased to note that you are the still the only child of the Kennedy family that pays for his telegrams."
Shortly before he died, Ted Kennedy recounted a "come to Jesus" talk he had with his father upon committing a serious transgression. Joe laid it out: "You can have a serious life or a non-serious life, Teddy. I'll still love you whichever choice you make. But if you decide to have a non-serious life, I won't have much time for you." Ted Kennedy had a serious life.
Joe Kennedy sustained a crippling stroke in December 1961 and died in 1969. He lived the American Dream like no one else in the 20th century. Was he a bare-knuckled son-of-a-bitch? No doubt about that. Was he a good father? He was not; he was a great (and loving) father.