Joseph A. Hardy III, Entrepreneur and Civic Leader
84 Lumber's entrepreneur and civic leader opens up
Photo by Renee Rosensteel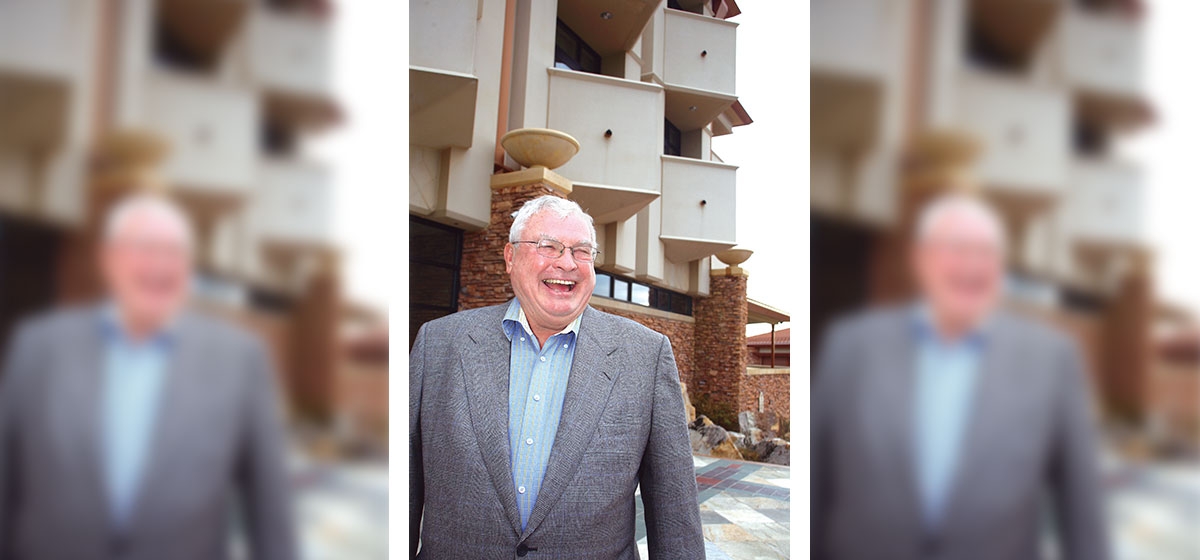 November 20, 2006
Money. That's your scorecard. Absolutely. But anyone who is financially successful is so because of the contributions of many people. I don't say that because I'm a good guy. I say that because it's true.

Years ago, this kid of about 16 started working for us. I saw that he was bright. He had depth, objectivity and focus. One day, I asked him, "Are you going to go to college?" He said no. Couldn't afford it, I guessed. So I sent him to Washington & Jefferson. He worked 40 hours a week for us and went to W&J, a pretty tough liberal arts school. Graduated Phi Beta Kappa. Today, he's our CFO at the ripe old age of about 37. Sure, I've had some success. Why? Because I have the ability to recognize and nurture talent.
My grandfather started with nothing and built Hardy & Hayes. Fine jewelry. A three-story building on Wood Street in Pittsburgh, it was like Tiffany's. My dad, Norman Hardy, had three sons. I was the oldest. And he wanted to pass on the family business to us. But Hardy & Hayes wasn't concerned with recognizing talent. They didn't really invest in anybody. If there was a problem, my dad or my uncle would say, "Get out of the way. I'll solve this."
When I got out of the Army, I knew I had to finish school. I thought that one day some boss, who would have to choose between me and some other guy, would say, "Gee whiz Joe, you don't have a college degree?" So for fear of failing, I got educated. At the time, I didn't have any money, but I had a couple of kids. I was married by the time I was 21. I bought an old farmhouse and put in a vegetable garden on three acres. People wanted fresh vegetables, so that's what I grew and sold, door-to-door. I also worked part-time at Hardy & Hayes, for about two years, with my uncle Paul. He ran the store. One day, my uncle took me to lunch at the Duquesne Club. My God! This was THE businessman's club! I thought he was going to tell me how great I was. But when we got there, he chewed me out. "Why are you so aggressive, Joe? Do you realize that you're selling more than any five of our salesmen? Knock it off." Right then I knew, "This place just isn't for me."
In the early 1950s, me and my brothers — Norman and Bob — and a friend named Ed Ryan (who later became the third-largest home builder in the United States) each put in $5,000 to start some kind of building materials supply business. At the time, I had this "estate," you know — three lousy acres and a broken down farmhouse — that I called Green Hills. It had a nice ring to it. My father managed to get me an old station wagon and I thought, "Great! We now have a means of delivery. We'll put the name 'Green Hills' on the side and call our little company 'Green Hills Lumber'." That was the beginning. After about three years, a lot of wheeling-and-dealing and flirtations with disaster, we got things going. Norman was a great salesman. Bob was sharp, a great shipping and purchasing guy. And Ed, he knew building. I think we were doing about $3 million then. But at that point I said, "This is OK, but I'm going to take a year's hiatus and see what to do next."
One day, I asked Ed Ryan, "What are you paying to sell your houses?" He said 4 percent or something. I said, "I'll sell them for 3." He said: "Oh you will? Well, go ahead." So I opened up Park Lane Real Estate. Within a year, we had five different little offices. I was not only selling Ed's homes but larger buildings at 2 or 3 percent. I did that for a couple of years, but I missed the lumber thing. I don't know why. A few years later, we pooled our resources again, bought some land in Eighty Four, Pennsylvania, and opened a "cash and carry" lumber yard for professional home builders. I liked the name of the town — "Eighty Four." So we became the 84 Lumber Company. And that was it, more or less. For years now, my daughter Maggie [Hardy Magerko] has been managing the day-to-day, and that has allowed me to focus on the development side, building new stores and component manufacturing plants.
Through the years, I'd say that I've been fairly successful in lumber. But when I got into my 60s, I thought, "Gee, is there anything else?" I was ripe for something. One day, this attorney that worked here came in and threw down a brochure about someplace called "Nemacolin Woodlands." I looked at it and thought, "That's only an hour away!"
Maggie was 21 then and wilder than a cat. She was into everything — and she liked fishing. I thought, "OK, I'm going to build on that." So I went up to Nemacolin. They had a couple lakes there. I went to their auction thinking that maybe I'd buy a little lake or something. Well, I bought the nucleus, which was 400 acres. Then reporters started calling and asking, "What are you going to do with it, Joe?" I had no idea. But today, it is considered one of America's premier resort destinations. And it just keeps improving. I had no idea we'd do anything close to what we're doing now up there.
I'm proud of what we've accomplished in Fayette County with Nemacolin. Ninety-percent of its employees, of which there are about 1,500, are from the county. And our Falling Rock hotel there just received Five Diamonds from the AAA! But some of our guests, who would come in from other parts of the region and country for three or fours days, started getting this idea that they'd like to venture out and see a "typical mid-western town." They'd go down to Uniontown and it was all boarded up!
At that time, there were three county commissioners who were really awful. So I thought, "Gee, because of the investment we have in Nemacolin, maybe I should participate a little bit."
So I ran for and became a county commissioner. Since then, we've done some things down there in town, made some improvements. And there's much more to do.
In life, even if you try to make things better, you're not going to change some people's attitudes.
Take that old G.C. Murphy building in Uniontown. We tore that down and some people said, "But Joe, you tore down a part of history!" No. We tore down a crappy building to get a nice grassy area near some of the new shops. And I can remember when we got our first PGA event at Nemacolin, the 84 Lumber Classic. Some people said, "That Joe Hardy, he's just having that for a couple of his golf cronies." Then when we decided that we weren't going to have it anymore, they said, "How could he do that? That was the best thing that ever happened here!" Sometimes you can't win. You just go on. You don't sit and think, "What will they think of this or that?" It doesn't hit me. It just rolls off. Hell, why should I care what these people think? I actually feel sorry for some of them.
When you're young, you're always looking over your shoulder. But when you get to my age, there's one good thing: You don't worry about too much. You just get up there and do what you can do, and if people don't like it, to hell with them. I'm certainly eccentric. But I don't try to be. Maybe I just look at things a little differently than most people.
Look, nobody ever gave me a nickel. I started with peanuts. My folks had a little bit of money but I said, "I don't want any of it." So I guess that all I can hope for is that, when people think of me, they think, "Hey, that jackass started out with only $5,000 and made a fortune. Maybe I can, too."