Hatfield and Home
Lawrenceville project melds traditional & contemporary design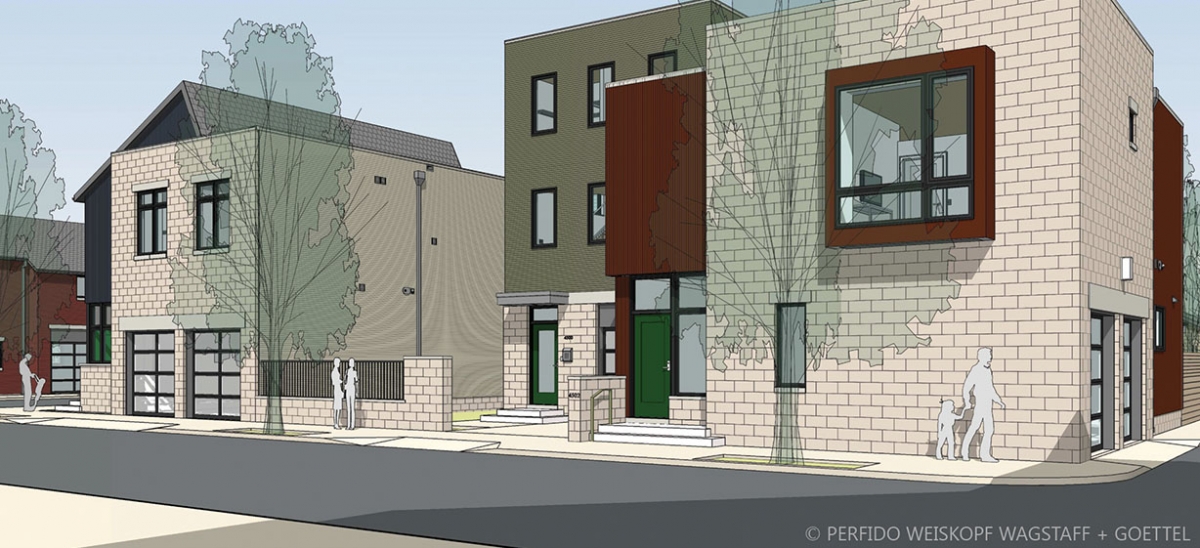 November 21, 2013
At the corner of Hatfield and Home streets, lively currents in Lawrenceville's past, present and future converge in vivid architecture. Historic rowhouses line the street in one direction, and in another are some of the remains of industrial infrastructure. The substantial remaining open space toward the river seems to ask almost vocally what to do next. Meanwhile, here comes new Lawrenceville, not unlike the South Side 25 years ago. Along with its boutique shops and ethnic restaurants, the area is seeing rapidly rising property values, which lead to numerous possibilities for new construction. Should it be traditional or contemporary? And how should such choices be made?

Not just a corner, Hatfield and Home is a new 14-unit residential development designed by PWWG Architects and developed by Jaxon Development with Mistick Construction. Its multifarious architecture interprets what the neighborhood is and may become.
The project began as an initiative of the Urban Redevelopment Authority (URA), which acquired the properties, packaged them as one site, and asked developer/architect teams to submit proposals for residential construction. Unlike a purely commercial effort to maximize revenue, this project brought mandates to respond to the neighborhood character and provide enticing models of livability that would appeal to the next generation of residents.
The initial winning design scheme by PWWG was an acutely contemporary project—flat roofs and industrial-looking finishes for a series of compact, free-standing structures that aimed for a market of singles or young families. All members of the design and development team were on board with forward-looking buildings. "With contemporary architecture," says developer Jack Johnston, "you get a magnet for the area that traditional architecture rarely does as effectively."
Nonetheless, even though they had won the project, the team immediately received feedback from both the URA and neighborhood groups, Johnston recounts. "There was some push to do something that was more of a continuation of the existing neighborhoods." Particularly along Home Street, the neighborhood groups and some members of the URA board wanted materials, façade configurations and rooflines to mimic the existing historical context. But this would not completely eliminate contemporary impulses from the project. Principal architect Kevin Wagstaff explains, "along Hatfield, it could still be more modern and take its cues from the industrial buildings that are still sprinkled through the neighborhood."
As a result, along Hatfield, roofs are flat, and walls revel in their corrugated metal skin and unfinished concrete block. An added bonus is that paired garage doors make more sense in this industrial vocabulary than they would on the side streets. One could argue that the corner residence is one of the best, not least because the roofline, which appears to be sedately historical from Home Street, reveals from Hatfield that it is willfully asymmetrical, but with a capable designer's sense of three-dimensional composition. "The corner house is meant to be a hybrid of the two," Wagstaff explains with a straightforwardness that belies his compositional success. It is a real estate success as well, with 11 of 14 units in the complex sold before completed construction.
Rick Landesberg, principal of a 31-year-old, South Side-based design firm, will be moving into one of the units with his wife, Ann. "The design of the house itself is smart. It's highly efficient. It's green, flexible, and it's cozy." He adds about the Hatfield and Home development, "like Lawrenceville itself, there's… a healthy tension between the new and the traditional."
Indeed, the quality of the neighborhood plays a role, especially as observers make comparisons to the South Side. It has been "a great neighborhood," says Landesberg. "But on weekends, it turns into a human zoo." It's no secret that the South Side has too many bars, too much weekend vehicle traffic, and especially too much awful drunken behavior in the late hours. "While Lawrenceville is actively evolving, it doesn't feel like it's headed toward the South Side malaise."
Notably, though, what the South Side does have is a wealth of new projects woven in among the historic architecture, which does not suffer from their presence. Fisher Architecture's Emerald Art Glass Residence drew a feature in the New York Times, and the Muriel Street residence appeared in the Wall Street Journal. Studio d'Arc's Home and Studio was featured on the cover of Azure magazine. The projects that are bringing the much-desired national coverage are unapologetically contemporary.
As it happens, the Hatfield and Home project has good results by blending the traditional and the contemporary, but an unfettered contemporary approach is both possible and desirable, without any ill effects to historic architecture. In fact, as the URA contemplates how to develop the much larger parcel on the river side of Hatfield Street, they are almost obligated to choose a more purely contemporary approach. After all, this new project's modern face sets just such a precedent on the other side of the street.