Unique Boutiques
For special and local holiday gift ideas, try Lawrenceville.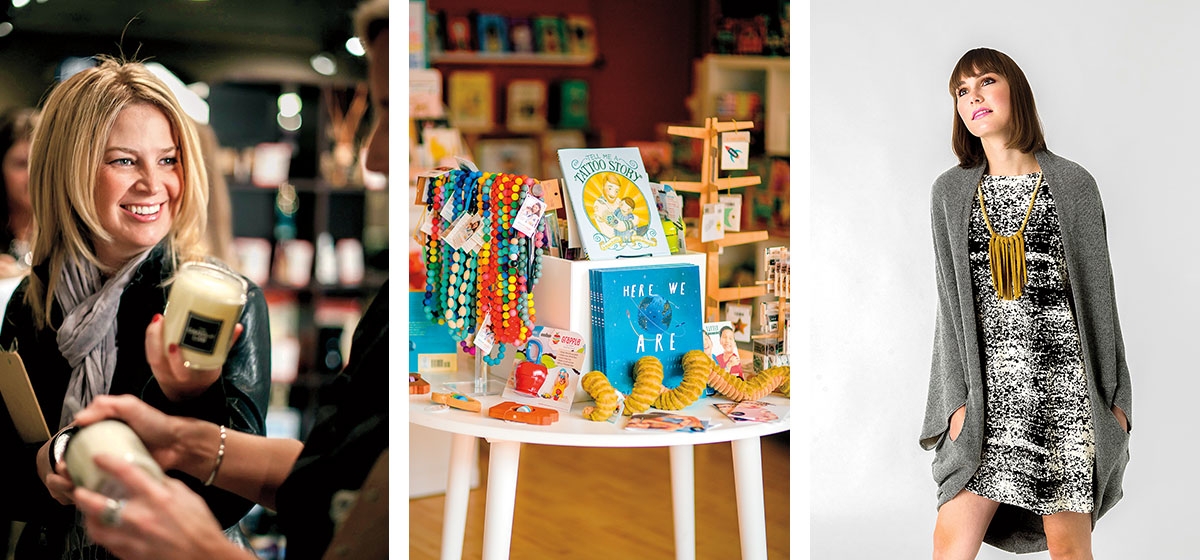 November 19, 2018
As the holidays approach, so does the need for presents and hostess gifts. While it may be tempting to get on your iPad at 2 a.m. and order mass-produced items that will show up on your doorstep in two days, there are unique or personalized options that support local businesses and make you look like a gifting guru.
One of Lawrenceville's charms is its eclectic mix of stores, restaurants, coffee shops and bars. While some offerings might be too hip or funky for your taste, there's quite a range of one-of-a-kind stores in this reinvigorated Pittsburgh neighborhood. Here are a few places that make shopping a breeze. All are owned and operated by women accomplished in their fields.
The Candle Lab, owned by Abbey Meyer and located at 4409 Butler Street, enables you to create a uniquely scented gift for someone special. Candles with more than 100 scents are available from the typical (balsam fir, verbena) to the unusual (yuzu, absinthe, wasabi). While you can buy these, the real fun is in making your own. Take a clipboard, note the scents you like, select three that blend nicely, add your selected fragrance oils to a jar of melted soy wax with a clean-burning, cotton wick and 90 minutes later, your candle is in a bag, ready to gift. You can also make custom-scented reed diffusers, body or room spray, scrubs and lotions. Imagine a bourbon-mahogany-leather scented candle for a friend's study. The Candle Lab is also available for private parties for up to 30 people and is BYOB.
Jessica Wilson-Graves founded Una Biologicals 15 years ago and has been at her 4322 Butler Street location for about three years. She carries hand-crafted, fair-trade-ingredient creams, lotions, deodorants, bath products, natural perfumes, balms and more, all made fresh on the second floor of the store. While Una products are available in 15 shops in the Pittsburgh area, the Lawrenceville store has all of her items in one place, with testers. Everything is made with organic ingredients, an appealing option for people with sensitive skin, children, or anyone who is careful about what they use. In addition to Una products, there are beautifully curated items from other vendors, such as candles, dish towels and giftware—all produced by female-owned companies, except for the beard care. The store offers expert shopping assistance, complimentary gift wrapping, and classes ranging from terrarium making to herbal wellness.
Newcomer MAKE + MATTER at 3711 Butler Street is a studio/storefront that carries an eclectic menu of items representing the passions of its three owners and a rotating mix of local designers. Rona Chang's OTTO FINN includes children's accessories and home products from hand towels to washable paper bags, each emphasizing quality sustainable materials. Graphic designer Kelly Simpson-Scupelli has an in-store line and handmade-to-order organic clothing for women and children, as well as home goods. To address waste in clothing production, leftover fabric from adult wear is used to make accessories and items for children. The Bauhaus-influenced creations are visually striking and comfortable. Rebekah Joy Murray's clothing and accessories line, FLUX BENE, utilizes up-cycled fabrics and non-toxic hand dyeing to create one-of-a-kind, zero-waste garments. In addition to the owners' creations, MAKE + MATTER also carries locally made cards, chocolates, jewelry and giftware.
Patricia Kroboth, dean of the University of Pittsburgh School of Pharmacy, is the owner of Crystal Bead Bazaar, 4521 Butler Street, which carries everything from Swarovski crystals to precious stone beads, pearls and tools to create beaded jewelry. You can design a piece and they will string it for you, make one yourself at home or take one of their classes taught by the staff and renowned bead artists, such as Sherry Serafini, whose jewelry has been worn by Melissa Etheridge and Aerosmith's Steven Tyler.
Brambler Boutique at 3609 Butler Street is a book, clothing, toy and essential lifestyle store for ages 0-6 founded by two former women's roller derby skaters. An extensive book section includes topics with an emphasis on S.T.E.A.M., diverse races and accomplished women. Unique clothing includes brands such as Peruvian Red Caribou.
Interested in more than a day trip? The highly rated Red Star Retro Apt. in Lawrenceville offers a true local experience. Owned by local metal artist Jan Loney, the spacious Airbnb is furnished with authentic mid-century modern furnishings and modern amenities, including a flat screen TV, Netflix and king bed. It accommodates up to four people and an adjoining property sleeps two. From there, you can walk to the stores and restaurants that make up the colorful fabric that is Lawrenceville.