Gould, Kolar, Paris, Winter, Cardille, Oelschlager, Mosites, Williams
Noting the passing of prominent Pittsburghers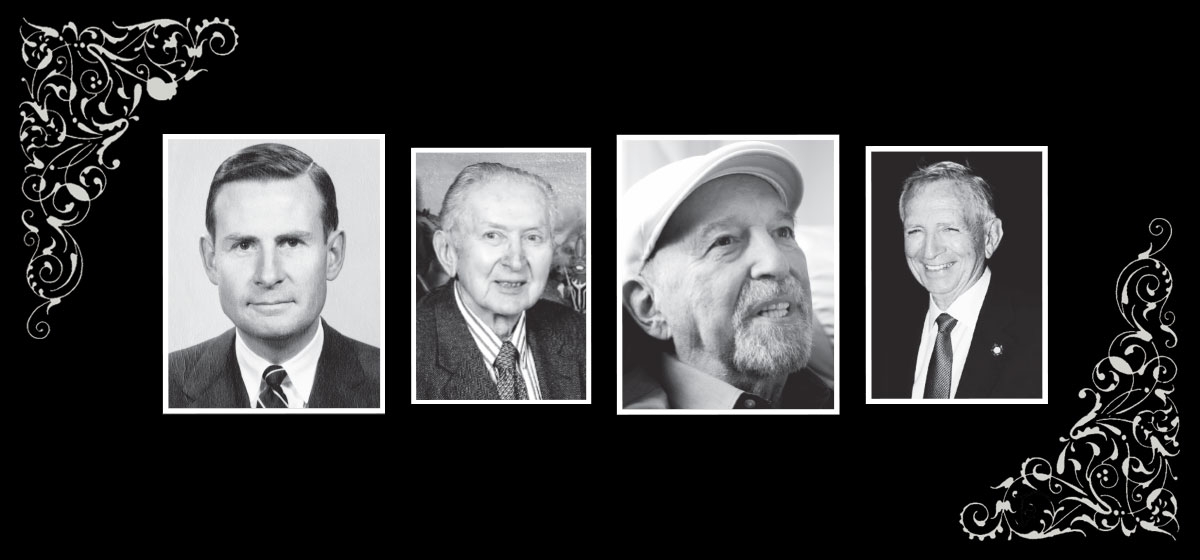 August 21, 2016
Rodney S. Gould, 93
Gould captained the undergraduate Cornell crew team where he later earned a law degree. He flew 35 World War II combat missions over Germany as a B-17 Bomber navigator. He was vice president of the Blaw-Knox Company and later Dravo Corporation and was very involved in community affairs, chairing the YMCA of Greater Pittsburgh Board, presiding over the men's board of the Children's Home of Pittsburgh, serving on the Allegheny County American Red Cross and the Historical Society of Western Pennsylvania boards, and serving on the Fox Chapel planning commission and borough council.

Walter Kolar, 93
Kolar directed the Duquesne University Tamburitzans for 36 years, taking the nascent organization and turning it into an internationally renowned cultural act. The son of Croatian immigrants, he joined the Tamburitzans as a Duquesne student. His education was interrupted by World War II, where, on his 35th bombing mission over France, he survived being shot down. He became managing director of the Tamburitzans in 1952, expanding the group to include international tours and 100 performances a year.
Myrna Paris, 68
Paris was a world-class opera singer whose voice and talents as an actress combined in a magnetic stage presence that captivated audiences in Pittsburgh and across the country. Armed with a great sense of humor, she was also a well-known and successful vocal coach—training future Tony Award-winners such as Billy Porter and Christian Borle.
Dr. Peter Winter, 81
Dr. Winter pioneered the improvement of life-support and dramatically reduced anesthesia-related deaths during his tenure as chair of Pitt's Department of Anesthesiology and Critical Care Medicine from 1979–96. He oversaw the creation of a center for training in computerized human simulation, which is named after him. Dr. Winter also enjoyed sailing, skiing and mountaineering—including reaching Everest Base Camp.
Bill Cardille, 87
"Chilly Billy" was the entertaining television host of "Studio Wrestling" and "Chiller Theater," which aired from 1963–84. He got into show business as a child, working vaudeville shows with his father before getting into the news business and ultimately becoming a popular and campy fixture in Pittsburgh television. Cardille is also credited with a key role in raising money for the production of George Romero's "Night of the Living Dead."
Thomas L. Oelschlager, 62
Oelschlager, with his wife Marlene, was a champion breeder and handler of Siberian huskies. A professional handler at dog shows, Oelschlager was president and show chairman of the Western Pennsylvania Kennel Association. His Siberian husky 'N Bingo Was His Name O won Best of Breed at the 1999 Westminster Kennel Club show in New York City.
Donald A. Mosites, 83
The son of Greek immigrants, Mosites co-founded Mosites Construction with his brother Steve. The company and its development arm became one of the largest builders and developers in the region. Devoted to his family, Mosites also was very involved in the Master Builders' Association of Western Pennsylvania, serving as past president.
George Thomas Williams, 85
In 1959, along with partners Tom Trebilcock and Paul Whitehead, Williams founded the architectural firm Williams Trebilcock Whitehead (WTW). The firm's work is found across the region—including Bayer Corp., Heinz Field, Fifth Avenue Place and the Carnegie Museums. Williams also was very interested in history and was involved in the preservation of Beaver County's Old Economy Village and in creating the Pittsburgh Korean War Memorial.