Golf's Gold Standard
Oakmont takes its place in history hosting its ninth U.S. Open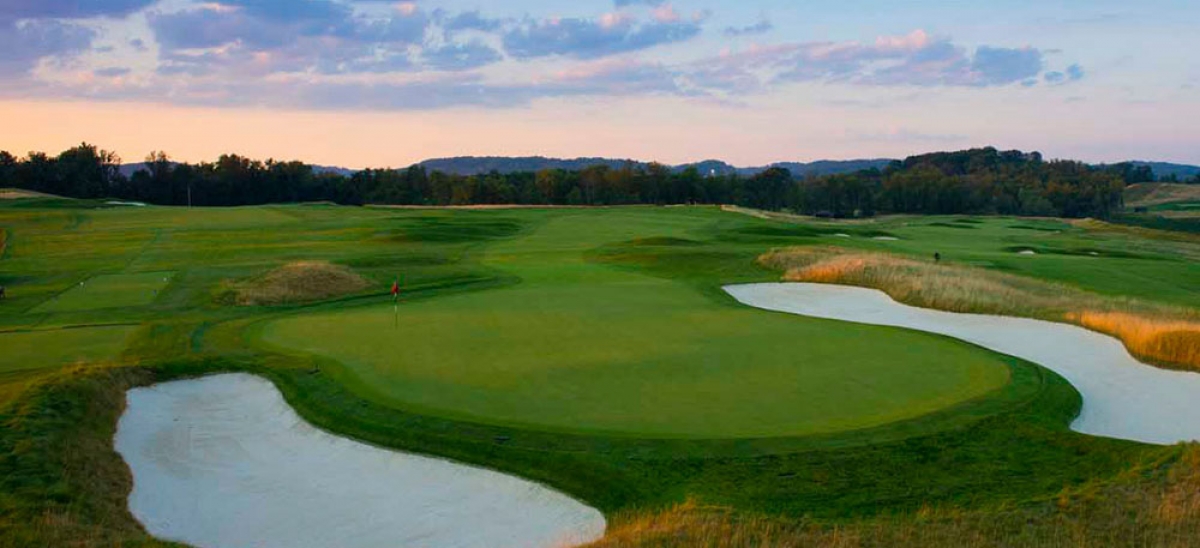 May 21, 2016
The U.S. Open, the toughest golf championship to win and generally considered the most coveted, will be played for a record ninth time across 89 years at Oakmont Country Club June 13-16, 2016. And the Open perhaps owes its existence to a big man with a big mustache who, more than 100 years ago, kept stamping his foot till he got his own way. A 39-year-old brat, many have noted.

On the night of Dec. 22, 1894—10 years before the founding of Oakmont—nine wealthy men gathered for dinner at the Calumet Club, an exclusive gentlemen's club in New York. Ordinarily, they would be striking business deals. This time, eight of them merely wanted to get a stone out of their shoe. The ninth was the stone—Charles Blair MacDonald of Chicago, the big man with the big mustache. And an "outsized ego and personality," as the text on his induction into the World Golf Hall of Fame attests.
Macdonald was a stockbroker, but designing golf courses was his first love. He created some of the finest in the land. His greatest creation, however, was the United States Golf Association, but not by design.
In the summer of 1894, when golf was quite young in America, Rhode Island's Newport Golf Club staged a national championship. Amateur, that is. Professionals were hired help. MacDonald was the easy favorite.
Critics would later note that MacDonald was agreeable—until he lost. First off, he said, a proper golf course does not have a wall in the fairway. The wall cost him a penalty and the tournament. Further, he added, a proper championship should be decided at match play, not stroke play. Macdonald preferred the head-to-head, hole-byhole competition of match play, in which the winner is the player who wins the most individual holes, while in stroke play, used in practically all televised tournaments, each player's strokes are added up for the full round, and the lowest score wins.
The Eastern elite wanted to avoid friction with the West and so agreed to a replay in October at St. Andrews Golf Club in suburban New York, and at match play. Macdonald lost again. This time, he argued, real championships are to be staged by official organizations. But there was no organization here.
Which is what brought Macdonald and the other eight men to the meeting that December night in 1894. They had come to create an organization that would please Macdonald and would stage a championship. It also ended up giving structure to American golf.
They named it the Amateur Golf Association of the United States, and scheduled a national amateur championship, at match play, for October 1895, back at Newport. Macdonald finally won. He was contented. And soon the AGAUS changed its name to the United States Golf Association—the USGA.
From the start, amateur golf was the superior game and the U.S. Amateur Championship was the preeminent championship. The amateurs were gentlemen golfers. The pros were, well, workmen. The USGA did make provision for them, however, staging a companion championship that would be open to all golfers—the U.S. Open.
***
All told, Oakmont has hosted 21 national championships, believed the most by any club in the country. It is a rich mix: three Intercollegiate Golf Association of America Championships (now the NCAA Championship), five U.S. Amateurs, two U.S. Women's Opens, three PGA Championships and a record eight U.S. Opens, from 1927 through 2007.
At some point, probably in the 1920s, the pro replaced the amateur atop the golf world, and about the same time, Oakmont was taking its place among the great courses. Some authorities considered it the hardest in the world.
There's an old saying: 'You don't win the U.S. Open, you survive it.'
It would dawn on players when they walked off the 18th that, for all of the severity of Oakmont, it had no water hazards and no forced carries over gullies and the like—two features almost necessary on tough courses. Oakmont gets its fright, instead, from a torment of nuanced uphill, downhill and sidehill lies, a mother lode of bunkers, and undulating greens of fiendish speed.
Pittsburgh industrialist H.C. Fownes, founder, designer and president of Oakmont, wanted national competitions from the time it opened in 1904. He finally got one in 1916—the Intercollegiate championship. Then came the 1919 U.S. Amateur, with Oakmont's Davy Herron beating the great Bobby Jones. Gene Sarazen, only 20, won the 1922 PGA Championship, and Jones took the 1925 U.S. Amateur, the second of his four.
The U.S. Open was gradually growing in stature, but it took a huge jump in 1913 when Francis Ouimet, age 20, a little-known working guy, beat the two best golfers in the world, Britain's Harry Vardon and Ted Ray, ending British domination of American golf. With an upset that shocked the world, Ouimet became the George Washington of golf.
***
The 116th U.S. Open comes to an Oakmont not greatly different from the one in 1904, an old farm open to the elements.
"…in some ways, the gold standard of golf courses for championship golf," said Mike Davis, executive director of the USGA. "It tests every part of your game. It is a stern test, no doubt."
Golfers are measured by their performances in the majors. Can the same be said for the golf courses? This was Oakmont in eight U.S. Opens:
1927— Tommy Armour, the Silver Scot, desperately needed a birdie at the final hole to tie Lighthorse Harry Cooper at 13-over-par 301. Armour was studying his approach shot when an Oakmont member stepped out of the gallery. "They say you're the best iron player in the country," the guy said. "Let's see what you can do with this one." Armour glared, then turned and fired a 3-iron to about 10 feet.
"Will that do?" Armour said.
"Yes," the Oakmonter said. "But only just."
Armour made the birdie, tied Cooper and beat him in the 18-hole playoff the next day.
1935— Pittsburgher Sam Parks, obscure head pro at South Hills Country Club, was the darkest of dark horses, and even though he'd practiced at Oakmont every day for a month, he wasn't exactly aglow over his chances.
"I'll finish in the top 10," Parks said.
He three-putted just twice in the 72 holes, didn't break par for any round, and shot an 11-over 299. When big-hitting Jimmy Thomson, his nearest challenger, bogeyed four of the last five holes and finished two behind, Parks was the champion.
Said Parks: "I had never planned on that."
1953 — Ben Hogan was a handicapper's nightmare coming into this Open. He was 40 and still aching from the carbus crash that nearly killed him four years earlier. He had a bad back and was coated with liniment. On the other hand, he had entered only five tournaments so far that year, and won four of them.
Hogan closed with a 71 for an amazing wire-to-wire 5-under 283. He beat Sam Snead by six, and tied the record of four Open wins. Would he go for five?
"I'm getting old and tired and weary," Hogan said.
"And rich," someone offered.
1962— This was one for the ages. Jack Nicklaus, a mere 22 and after a brilliant amateur career, a pro for just six months, came to Oakmont seeking his first win as a pro. But this was Arnold Palmer country, and Palmer was the king. It was a classic duel. They tied 1-under 283 in regulation, then Nicklaus won the 18-hole playoff, 71–74.
A battle of two powerful hitters came down to putting. Palmer three-putted 11 times, Nicklaus just once. Ironically, Palmer was also a victim of the boldness that had made him. Trying for an eagle at the par-5 No. 9, he missed the green and bogeyed. A par would have won for him.
"This was the best I've ever played for anything," Nicklaus said.
Said Palmer to the gallery: "Are there any good putters in the crowd?"
1973 — Oakmont wasn't itself for this 73rd U.S. Open. Heavy rains had left it soft and vulnerable to low scores. It all came together for Johnny Miller in the final round. After a 76 in the third round, Miller was six behind and had his wife pack for an early getaway Sunday. But he birdied the first four holes and roared away to an 8- under 63, a record not only for the Open but all four majors. He won by a stroke on his 5-under 279.
"…a round that must have been made in heaven," Miller said.
"Johnny Miller?" said Tom Weisskopf, who finished third. "I didn't even know he'd made the cut."
1983 — A U.S. Open isn't complete without a bit of friction, and at Oakmont this time, it was the rough – thick and deep. Said Bruce Devlin: "If Jim Thorpe, who can lift an elephant, can get the ball out [only] 30 feet from this stuff, it is unfair."
Larry Nelson, 35, the most mild-mannered of golfers, had seen tougher rough. It was called the jungles of Vietnam. Nelson won it with an Open-record 65-67—132 in the closing rounds, edging Tom Watson by a stroke. His final round included a 62-foot birdie putt at the par-3 16th. What were the odds on making a 62-footer at Oakmont?
Said Nelson: "I couldn't even put odds on a six-footer."
1994 — There's an old saying: "You don't win the U.S. Open, you survive it."
That was pretty much the case this time. South Africa's Ernie Els, 24, a PGA Tour rookie, outlasted Colin Montgomerie, 30, the jowly Scot, and Loren Roberts, 38, the American whose trusty putter short-circuited.
Roberts nervously missed a winning 4½-foot putt on the final hole. "I had trouble getting the putter back," he admitted. He tied at 5-under 279 with Els, who was saved by two crucial rulings, and Montgomerie. Nerves gripped early in the 18-hole playoff the next day. At the par-4 No. 2, Roberts made 5, Monty 6 and Els 7. Monty then crumbled to a 78, Els and Roberts shot 74s, and Els won in sudden- death.
"… feeling a little U.S. Open pressure," Els had said.
2007 — This was the Oakmont for the 2007 U.S. Open: The par was 70, the average score 75.720. There were only eight rounds under the par of 70 for the entire championship. A little-known Argentine, Angel Cabrera, was the only man to log two of them, shooting 69-71-76-69 for a 5-over total of 285 to edge Tiger Woods, ranked No. 1 in the world, and Jim Furyk, No. 3.
It came down to the closing holes. Cabrera birdied the 15th but bogeyed the 16th and 17th. Woods could only par the last two, and Furyk bogeyed the short 17th, unable to escape the rough. Cabrera won with a careful par at the 18th.
Said Woods: "Finishing second is never fun."
Said Furyk: "No one likes consolation prizes."
Said Cabrera: "Probably tomorrow…I will realize that I have won the U.S. Open."
Oakmont was also the scene of one of the most poignant moments in golf history.
Arnold Palmer, then 64, with a special invitation, played in his 32nd and last U.S. Open in 1994. Before a jammed international media corps, he held a final interview, eloquent for its silence. He managed a few words, then cried silently into a towel. Finally, he said, "I think that is… about all I have to say. Thank you very much."
Palmer rose and turned, and to a standing ovation, disappeared through a door without looking back, arm raised in farewell.