Going Long
'Rooney Rule' influencing minority hiring beyond the NFL

Photo by Paula Lively | Flickr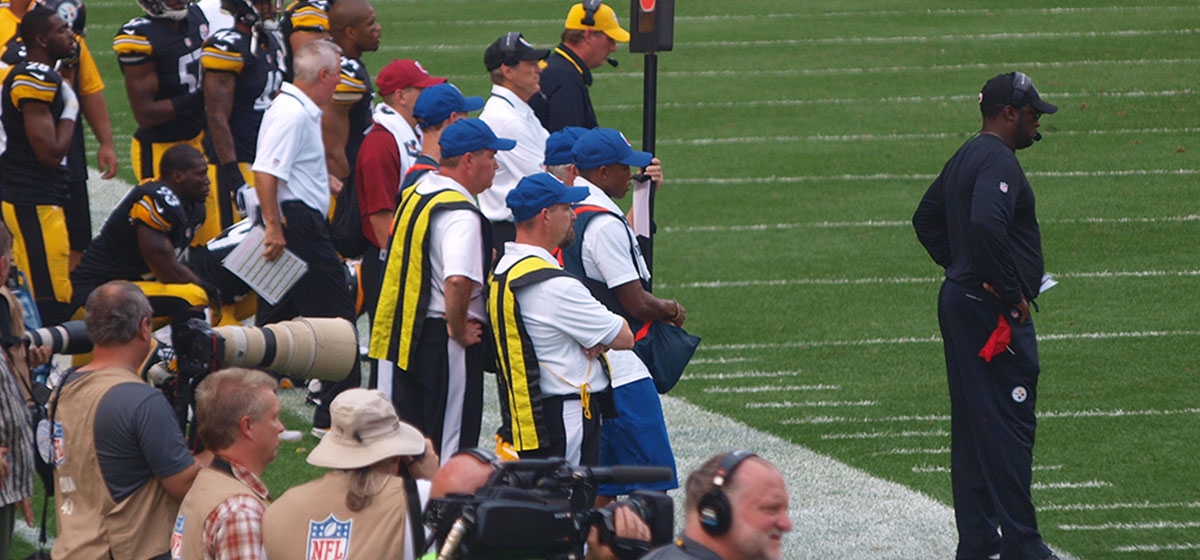 August 21, 2015
In the city where the Pirates' Roberto Clemente opened the door for generations of Hispanic ballplayers, employers ranging from local corporations to government are taking a cue from the sports industry's most celebrated hiring policy to diversify a workforce that is among the least racially and ethnically diverse in the nation.

Allegheny County government and Highmark, southwestern Pennsylvania's largest health insurer, have adopted policies that require interviewing minority candidates when hiring managers or directors – policies inspired by the NFL's 12-year-old "Rooney Rule," which mandates that teams interview at least one minority when hiring head coaches and general managers.
It's even more broadly applied at the Allegheny Conference on Community Development, one of the nation's largest regional economic development organizations, where minority candidates are interviewed for every open position.
"We know a lot about racial bias and some of it is unintended, and some of it is normative," says Larry Davis, director of the University of Pittsburgh's Center on Race and Social Problems. "I think the fact that this rule came into effect and is known brings the consciousness of [racial bias] to other endeavors."
Born from lingering inequity
In 2002, Tony Dungy of the Tampa Bay Buccaneers was fired after consecutive winning seasons. Dennis Green of the Minnesota Vikings was also fired that season after his first losing season in 10 years. In response to these firings, civil rights lawyer Cyrus Mehri and litigator Johnnie Cochran commissioned a study to look into minority hiring in the NFL. The study found that even though they had a greater winning percentage than their white colleagues, black head coaches were less likely to be hired and more likely to be fired.
Soon afterward, NFL Commissioner Paul Tagliabue created a committee among owners to address minority hiring in the league, which was led by Pittsburgh Steelers Chairman Dan Rooney.
"We had been working to improve the potential for any minority coaches to have an opportunity to become head coaches," says Rooney. "We came up with different tactics, like having a seminar for assistant coaches of different races. However, many of them said they would like the opportunity to speak with owners. So, we kept working at it and thinking about it. Finally, we said, to make it definite, that each team had to interview a minority, despite race."
The league enacted the Rooney Rule in 2003, which set the requirement when hiring head coaches. In 2007, it was expanded to apply when teams were hiring general managers.
The number of minority head coaches in the league has increased under the Rooney Rule, although the number of new hires varies season to season. There were two black coaches in the NFL in 2001. After the Rooney Rule was enacted two years later, the number of minority head coaches in the league reached a high of seven in 2006 and in 2011. There are currently six minority head coaches among the 32 NFL teams.
Professional football's popularity and prominence in American culture has made the Rooney Rule the most recognized diversity hiring initiative in the nation and a framework for new hiring strategies outside the sport.
"The concept is not a new concept, but the NFL kind of branded it around a particular brand that is very popular here. And they have some successes to tout of the effort," says Melanie Harrington, president and CEO of Vibrant Pittsburgh, a six-year-old nonprofit created to help increase diversity and inclusion in southwestern Pennsylvania.
Policies such as the Rooney Rule, she argues, shouldn't be seen as singular solutions, but rather as part of a broader conversation looking at the sources of racial and ethnic disparities. "You want to be careful that it's not just counting heads, but connecting genuine opportunities to genuine candidates – that you have a process of selection, hiring, onboarding, development and advancement that's inclusive as well. It's important to continue to comprehensively look at why we have such low representation in the first place."
A workforce less diverse
It's not difficult to understand the local interest in finding effective minority hiring strategies.
African American, Asian and Hispanic workers make up only 11 percent of the southwestern Pennsylvania workforce—less than half of the average minority workforce participation among 15 U.S. metropolitan regions benchmarked by Pittsburgh Today and a coalition of organizations convened by Vibrant Pittsburgh to explore regional solutions to diversity issues. And this is also evident at the top, where minorities hold 10 percent of the management jobs in the region.
Such lack of racial and ethnic diversity in the workforce is widely seen as a competitive disadvantage and obstacle to economic growth in the region.
"The demographics in the United States are moving more and more toward immigrants and minorities," says Allegheny Conference on Community Development CEO Dennis Yablonsky. "The pure demographics don't support a homogeneous workforce. You have to be able to attract and retain a diverse workforce, And young people are much more interested in a diverse place and diverse workforce from a quality of life standpoint. If companies want to attract and retain young people they are going to be more successful at it if they've got a diverse workplace."
The Allegheny Conference adopted a version of the Rooney Rule that requires interviewing minority candidates for every job opening as a means of increasing minority representation and reaching its goal of having at least 20 percent of its jobs held by minority workers.
Highmark recently adopted another version of the Rooney Rule as part of a broader series of diversity initiatives within the company that include voluntary training and seminars for managers. The health insurer now interviews minority candidates whenever it is looking to fill director-level and higher management positions.
Among the incentives for doing so are the shifting demographics of the region and nation, says Sara Oliver-Carter, vice president, Diversity and Inclusion at Highmark. "If you've listened to the 2010 census data, you will know that we are continuing to be more diverse. That's our consumer base. If we want to continue selling products and services, we have to make sure we understand our consumer, and we need to know how to walk in their shoes and, if not walk in their shoes, we need to at least know their shoe size. It's all about the consumer and it's about the business."
More than a head count
The Rooney Rule's greatest impact, experts suggest, may lie in raising the awareness of the talent found in minority populations, just as it has shown NFL owners the level of ability among coaches with a minority background who'd been overlooked for decades. Four years after the rule was enacted, both teams to reach Super Bowl XLI were led by black head coaches when Lovie Smith's Chicago Bears met Tony Dungy's Indianapolis Colts.
"It puts it in people's minds that we should have some minority representation in our interviewing," says Davis. "If we can't interview a minority, we certainly can't hire one. I think it's a far-reaching rule."
After taking office in 2012, Allegheny County Chief Executive Rich Fitzgerald adopted an informal version of the Rooney Rule for interviewing and hiring at the management level. Of the directors he's hired, 30 percent have been African American.
"I thought the way the NFL has instituted the Rooney Rule just made a lot of sense," says Fitzgerald. "I also think that it sends a signal that it is worthwhile applying for county positions because you will be given a equal opportunity."
Challenges remain
Despite the fame and success of the Rooney Rule, challenges remain. The NFL's rule has drawn criticism for not requiring teams to interview minorities for coordinator and assistant coach openings. Those jobs are where many, if not most, NFL head coaches are discovered. And, head coaches typically hire the coordinators and assistants.
On average, minority coaches have held eight of the 32 defensive coordinator jobs in the NFL since 2000. On the other side of the ball, minorities held only three of 32 offensive coordinator jobs.
Rooney says a more expansive version of the rule that bears his name was considered in early deliberations, but the league's diversity committee was concerned about placing too many restrictions on each team's and coach's ability to make personnel decisions.
"Whether he was a minority or not, we didn't want the head coach to think we were telling him who he could hire," says Rooney. "It took work to show that our intention was to help. If they wanted it, we would get a list of minorities for them, but hiring assistant coaches was in their hands."
Outside of the NFL, local organizations looking to increase minority hiring face other challenges. Among them is the size of the minority population in southwestern Pennsylvania. "The No. 1 challenge is that the pool of candidates is small," says Yablonsky. "It's not always possible to find a candidate that is interested and capable of filling the position."
Racial and ethnic minorities make up only 13.6 percent of the population of seven-county Pittsburgh MSA. In none of the other 14 Pittsburgh Today benchmark regions do they claim a smaller share of the population.
Several practices and readily available resources can help overcome such obstacles and realize the potential of minority hiring policies that borrow from the NFL's Rooney Rule, says Highmark's Oliver-Carter. One is hiring firms that scout for talent and specifying that those firms scout minority candidates. Local and national minority organizations, such as the Association of Latinos Professionals For America, National Black MBA Association and university alumni groups, help to cast a wider net, as do technology-based resources such as LinkedIn, other social media and employment websites, such as Monster and Career Builder.
"It's not about a resume. It's how you do your outreach. It's who you talk to. It's who you build your relationships with," says Oliver-Carter. "If people are waiting on a resume, they've already missed the boat."