George Lange: Through a Joyful Lens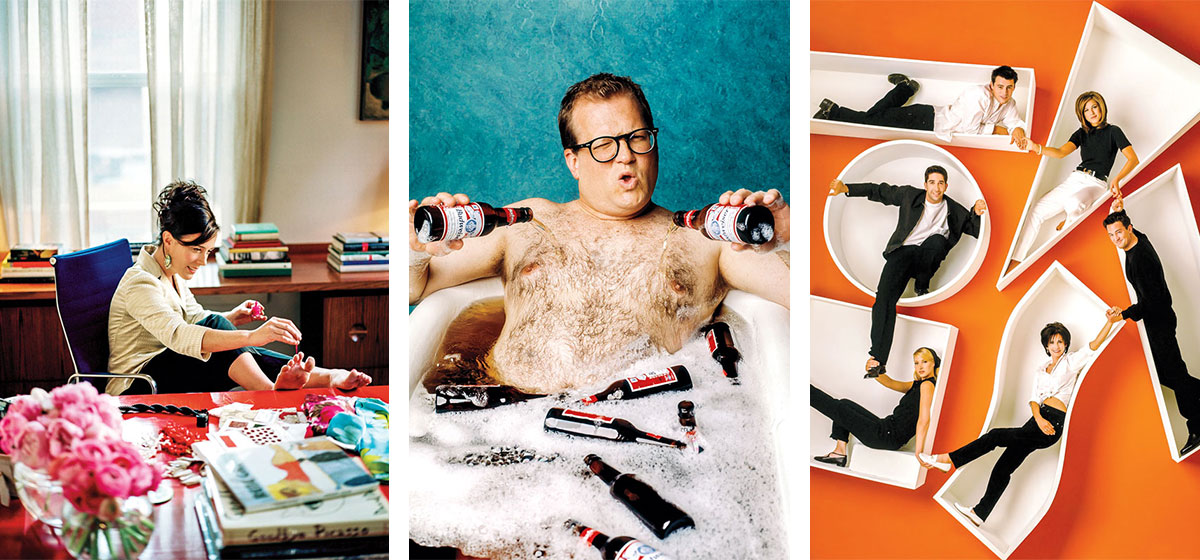 July 20, 2020
Internationally renowned photographer George Lange grew up in Squirrel Hill and recently returned with his family to live in his childhood home. He credits the joy from his Pittsburgh childhood with influencing his playful approach to photography, which often involves allowing his subjects to reveal sides of themselves that are not often shared. "I am obsessed with how we share what makes us all unique and amazing. This ranges from friends in my community to the most famous people in the world. From the most intimate portraits to the most iconic," he says.

A graduate of the Rhode Island School of Design, Lange worked for Duane Michals and Annie Leibovitz before establishing his own career. His work has appeared in Vogue, Rolling Stone, Vanity Fair, Esquire, People, The New York Times and many other publications. He is also the author of "The Unforgettable Photograph: 228 Ideas, Tip and Secrets for Taking the Best Pictures of Your Life."
Lange started exploring his vast archive this past year, making prints from images often for the first time. Included in his portfolio are some of his images from the 1990s that he has begun sharing. Original prints can be purchased at his new studio at 5427 Penn Ave. in Garfield (by appointment 917-608-2474), and online at www.georgelange.com.
Nobu Matsuhisha: Internationally renowned Los Angeles sushi restauranteur. I went to his restaurant on La Brea in LA. between lunch and dinner. All the sushi chefs were sleeping under the tables. I got the idea to have Nobu sleep, too. I got a tablecloth, covered it with a bed of rice, then told Nobu to lay there and close his eyes. I put the crabs on after his eyes were shut. They were alive.
Channing Tatum: I have been asked a thousand times if he was really doing this, and the answer is yes. He was in a crazy great shape. I built this room on both the West Coast and East Coast with different wallpapers for a Teen People story.
Diane Von Furstenberg: Recently when I started going through my archives after ignoring them for many years, there was a folder that said "Diane Von Furstenberg for Vogue." When I looked in it, it appeared to be empty except for this single frame hiding in the bottom. I remember this being shot at the Sherry Netherland in New York—but it might have been her apartment. I have shot her several times. Always extraordinary and so glamorous.
Ewan McGregor: This was another assignment for Maxim on how much Ewan liked smoking. Can you imagine? I shot this on the set of "Big Fish" in Alabama. Found the lion's head in a room in an old school where the production offices were. Movies rarely lend you props to play with. I got lucky.
Jeff Bezos: I laughed when this shooting reappeared in the search through my archives. My set designer John Simoudis ordered all these plants from South America. He told me recently that most of them didn't arrive. Still, he created this crazy set in an office at Amazon. Bezos has this crazy billowing laugh. What was I thinking?
Kobe Bryant: We built this 1940s hotel room set in a photo studio in LA for Sports Illustrated. It was a story on what athletes do in their hotel rooms. Kobe said he spent his time on his laptop. Check out the Bryant sign outside the window. Kobe was super easy to shoot and a consummate professional. There is an outtake from this shoot with his finger up to his lips like he is whispering to the camera. It haunts me.
Kate Spade: I walked into Kate Spade's office to shoot a cover for a magazine, and when I arrived she had her feet up on her amazing red laquered desk painting her toenails. Most of my pictures are about asking questions. "Kate—can I take this picture?" When people die so tragically, I love to show that how they died was not how they lived. Kate was fun that day. Here is the evidence.
Warren Buffet and Jimmy Buffet: This was shot for Fortune in a studio I set up in a ballroom at the Plaza Hotel. Jimmy and Warren are distantly related. It was fun seeing them dress up as each other.
The cast of "Friends": This shoot was at the height of "Friends" craziness. Tons of paparazzi at the front door of the studio. Inside was hair dresser extraordinaire Chris McMillon and a whole team to get everyone ready. I had this idea to give each cast member their own shape on a wall, which was all built for this shot. I was very glad my set designer was such a good carpenter.
Bill Gates and Steve Jobs: This was shot in 1992 for a Fortune cover at Steve Job's house. From what I know, it is the only posed photograph of them ever. They were whispering the most competitive craziness to each other while posing for me. Competitive. Crazy tough. "You will never beat me at anything," Bill Gates said under his breath to Jobs. Then he adjusted it a bit, "You may tie me, but you will never beat me." High tech gangsters.
Jim Carrey: This was shot for Esquire Magazine. I was on a tear—this was my third straight Esquire cover in a row. I was in the makeup room asking Jim what his rubbery face was going to look like when he got older. He picked up some clothespins and we took off from there.
Stevie Wonder, Deborah Cox and Quincey Jones: This was from a cover shooting for VIBE in LA. I was just out of my mind meeting Stevie Wonder. Such a hero and force of nature. He sang the song, "As" for us – one my favorite songs of all time. I generally don't get that excited about meeting celebrities, but Stevie Wonder is something totally different.
Yo Yo Ma: I shot this portrait in the Boston workshop where his instruments are repaired. This is a good example of exploring the location with the subject and making something that never would have existed without my saying, "Would you mind laying your head down and closing your eyes right there?"
Philip Johnson with Robert Stern and Peter Eisenman: The great architect Philip Johnson (who designed Pittsburgh's PPG building) came to my studio from the fanciest restaurant in NYC at the time, The Four Seasons, which he also designed. All I had to offer were Girl Scout cookies, which he devoured. We had to wipe all the crumbs off his suit to take this shot.
Karl Lagerfeld with Christy Turlington: Karl invited me to his home in Paris. I was the first photographer he had allowed in. I climbed the 20 marble steps, each holding two tubereuse Diptyque candles. When I reached the entrance I was totally high. Which helped, because the house was a wild Karl museum and I was totally overwhelmed. We had invited Christy Turlington to come along. I asked Karl to sit at his desk and draw on her leg.
Drew Carrey: This is from a shoot for Maxim. I have photographed many comedians, and only a handful are actually funny to hang out with. Drew Carrey was one of them. He told jokes non-stop and was hysterical not only to hang out with—but to photograph. Everything he did was wild.
Sophia Loren: I found an Italian villa in Beverly Hills to shoot Sophia Loren for Allure. She did her own hair and makeup, put on this great Todd Oldham dress—then agreed to strap on a leaf blower and go around the garden. A more elegant and lovely actress I have never met. We had a grand feast after the shooting, linen napkins and all. When she did her lips after lunch, she pressed them to a napkin making a perfect imprint. I had her sign it—the only autograph I have ever asked for my entire career.