Fisher, Roseman, Ziegler, Stein, Roderick, Hillenbrand, Pessolano, Booth
Noting the passing of prominent Pittsburghers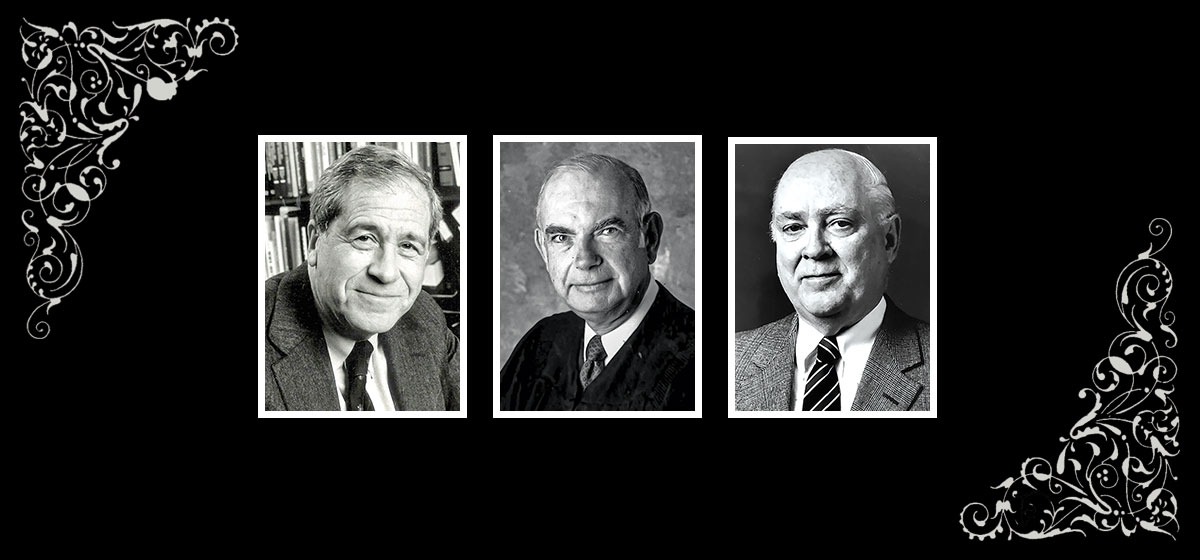 December 30, 2019
Dr. Bernard Fisher, 101: Dr. Fisher was a giant in the field of breast cancer, leading large-scale randomized clinical trials that revolutionized understanding and treatment of the illness. His earlier surgical work included performing the first kidney transplant in Pittsburgh and doing pivotal work that cleared the way for future liver transplantation.

Believing that data and evidence should inform treatment, he led several key studies that showed that the previously preferred treatment for breast cancers—radical mastectomies—did not have survival advantages over less invasive lumpectomies. A Squirrel Hill native, his work is credited for improving and lengthening the lives of women all over the world.
Donald Ziegler, 82: A Dormont native, Ziegler was a longtime U.S. District Court Judge known for his intelligence and fairness. After five years as an Allegheny County Common Pleas judge, Ziegler was nominated to the federal bench in 1976 by President Jimmy Carter. As a jurist, he was a quick study, a no-nonsense Judge and a dedicated public servant, who was respected by all who appeared before him, whether they won or lost.
Edith Stein, 98: A Holocaust survivor whose parents were killed by the Nazis, Stein was an outstanding German teacher in Mt. Lebanon schools for 31 years. She grew up in Vienna, and her parents were able to send her to the U.S. and safety at age 17. She later forgave the Germans, started an exchange program and led student tours of Germany and Europe.
David Roderick, 95: Roderick led U.S. Steel through the most difficult decade in its and Pittsburgh's history—1979–1989—when Pittsburgh steel collapsed, the company closed more than 140 facilities, and local unemployment reached 18 percent. From humble beginnings, Roderick fought in the Pacific during World War II, put himself through night school afterwards and rose through the ranks to become CEO of U.S. Steel. His difficult decisions led to thousands losing their jobs but succeeded in saving and diversifying the company with the $6 billion purchase of Marathon Oil. Roderick also was an exemplary civic leader when Pittsburgh needed it. He raised funds for numerous nonprofits, led the United Way of Allegheny County and forged the 1980s deal that kept the Pirates in Pittsburgh.
David Hillenbrand, 72: After retiring from Bayer, Hillenbrand led the Carnegie Museums from 2005 to 2011 and again when the museums needed help during a transition from 2013 to 2014. The son of a U.S. diplomat, Hillenbrand grew up in Europe, a lifelong art devotee. He brought his financial expertise, diplomatic talents and executive experience to the museum complex. He also chaired the Koppers board for many years.
Bob Pessolano, 68: Pessolano was the owner of Mario's, a landmark South Side bar which he opened in the early 1980s and which became known as a destination night spot and home to the "yard," a beer glass three feet fall. He also ran Blue Lou's and Nick's Fat City.
Charles Booth, 99: Booth was a World War II pilot who won the Distinguished Service Cross—the Army's second highest honor—for his heroism in returning his crew to safety after being seriously injured while flying over Berlin. After the war, he joined Burrell Construction & Supply Co., a small firm founded by his father. Booth took the firm from five employees to more than 600, with revenue of $60 million. Beyond those achievements, he was known as a man of great generosity.