Fine, Flaherty, Yee, McHugh, Fisher, Busis
Noting the passing of prominent Pittsburghers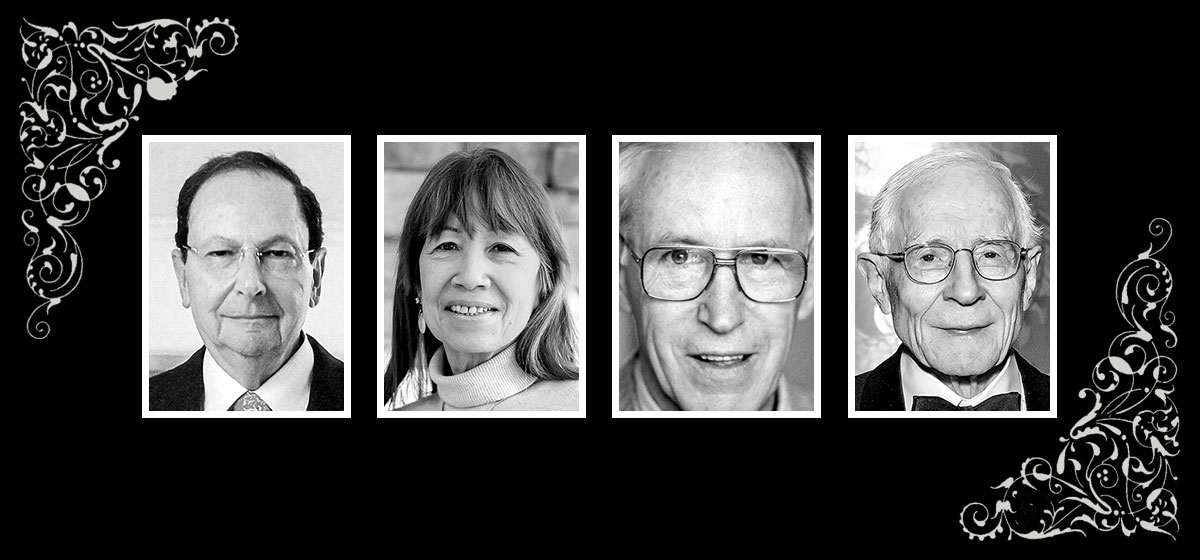 May 20, 2019
Milton Fine, 92: The son of Jewish immigrants, Fine made his mark as a businessman, philanthropist and Pittsburgh patron of the arts. He was raised in East Pittsburgh, where his father raised a family as a tailor. At 18, he was an Army sergeant, leading men into combat during World War II. After practicing law in the 1950s, he co-founded Interstate Hotels Corporation, which became the world's largest hotel management company. He later established The Fine Foundation with his wife, Sheila. Fine became an art collector and patron, chairing the Carnegie Museum of Art board and playing a key role in the creation of The Andy Warhol Museum.

John P. Flaherty Jr., 87: Flaherty rose from captain of his swim team at Allderdice High School to the Pennsylvania Supreme Court. In 1958, he opened a law practice in Mt. Lebanon. In 1973, he was elected to Allegheny County Common Pleas Court and soon showed he wasn't afraid of controversy when he ruled that an all-black middle school was illegally segregated and ordered it closed. Regarded for his integrity and love of the law, he was a calming influence on the state Supreme Court as chief justice during the turbulent years that followed the impeachment of Justice Rolf Larsen in 1996. Flaherty, who didn't believe justices should campaign for retention, was twice returned to the high court without ever doing so.
Karen Fung Yee, 81: She was an ambassador of the Pittsburgh Asian community who spread understanding of distant cultures and traditions with the art and cooking classes she taught and her volunteer work with Chinese American groups. Yee grew up in Bellevue, where she was often found working at her father's Bellevue Tea Garden, which she and her brother managed until 1997. She was the first woman to hold the presidency of the Organization of Chinese Americans. She taught Chinese language and cuisine classes. And when Japanese flower arranging caught her eye, she traveled to Tokyo to study "ikenobo" and returned to teach the ancient floral art at Phipps Conservatory.
Roy McHugh, 103: McHugh told stories with precision and grace as a sportswriter, sports columnist, editor and general columnist at the Pittsburgh Press for 36 years until his retirement in 1983. He was a native Iowan whose father died at 29 when he was only 4. His first newspaper job was reporting for the Cedar Rapids Gazette. McHugh stayed there five years before taking a job in Pittsburgh, where he mastered his craft. His stories were revealing of the characters within them whether he wrote about politics or sports. Boxing, in particular, was a passion. McHugh was recognized as one of the best to cover the sport and once went on a double date with Muhammad Ali.
Donald Lyon Fisher, 100: They named the cardiac catheterization laboratory after him at Allegheny General Hospital on Pittsburgh's North Side, where Fisher worked for 66 years, developed the lab, was its director and contributed to many advances in the treatment of heart disease with his research. He enlisted in the U.S. Army after graduating from Washington University School of Medicine in St. Louis, served as a combat surgeon and was awarded a Bronze Star. Fisher was recruited to Allegheny General from Presbyterian Hospital in Chicago, where in 1951 he saved the life of a young woman with a device he fashioned in his garage from electrical components—a defibrillator, which had never been used in the city until then.
Sidney N. Busis, 97: Busis grew up in East Liberty working as a soda jerk and delivery boy at his father's pharmacy and came to be a respected ear, nose and throat doctor who had a role in developing the polio vaccine. As part of Jonas Salk's team of polio investigators at the University of Pittsburgh, Busis performed tracheotomies on the young patients whose respiratory systems were impaired by the disease. He was a man known for his devotion to his family, patients and faith, whose contributions included serving as president or chairman of the Jewish Federation of Greater Pittsburgh and the Rodef Shalom Congregation and helping establish the Holocaust Center of Pittsburgh.