Di's Korner Stone Diner
Going homestyle in McKeesport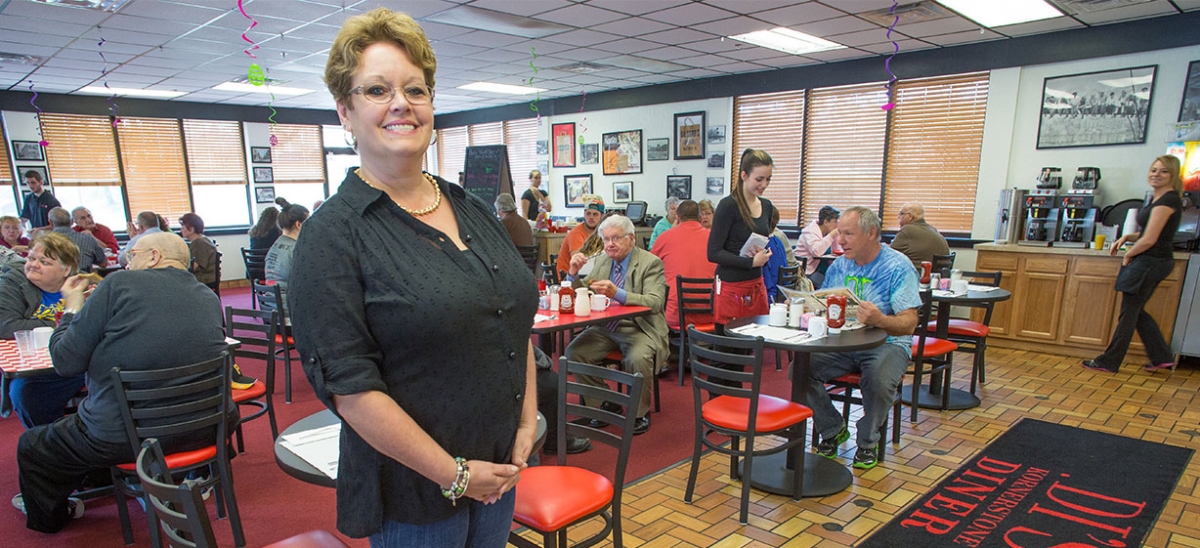 May 21, 2014
Diane Elias never gives up. When she was 41, the McKeesport eatery where she waitressed was suddenly shuttered, leaving her and her friends out of work and short on hope, a common refrain in the old mill towns around Pittsburgh.
Amid abandoned factories, shops and homes, and too many broken spirits, Di could have called it quits—she had been waitressing since she was 15—but she had a plan. She told her seven co-workers, "If we work together, we have jobs."
Her co-workers stuck with her—most are still with her today—and she convinced the landlord to give her a shot, going from waitress to owner overnight. They "knew everybody" and they packed them in.
"I'm a fighter and my girls are fighters, too," Di says. "We're all local girls and we know that hard work pays."
So when she had to move from the original location, she re-opened in a nearby abandoned Pizza Hut, flourishing there until that site was sold for redevelopment. Then, she moved up the road to a former Burger King, 10 years vacant, and now her current location. She doesn't even give up on buildings.
Always a breakfast joint, all the standards are offered, fresh and done right, including big omelets, dinner-plate pancakes, biscuits with homemade sausage gravy, grits, home fries and hash browns. You can order two eggs, but you will always get three; it's that kind of joint.
The lunch trade started with homemade soup and took off when local railroaders, fighting the cold, started ordering it by the gallons to go. Now the menu includes an array of burgers and dogs, hoagies, hot roast beef and turkey, grilled chicken and club sandwiches and a huge fish sandwich.
Dinner includes all that plus pork chops, baked fish, stuffed cabbage, liver and onions, crab cakes, a seafood platter, spaghetti and meatballs and chicken parm. A recently added barbecue menu offers smoked chicken, baby back ribs, pulled pork and all the sides. Dessert includes cakes, pies and rice pudding, made by Di's husband Mike, a retired McKeesport police officer.
Saturday is steak and prime rib night, with a free glass of wine. Lobster tail, once on Valentine's Day only, is now available by request. Early in her career, Di worked at the former Benedict Hotel in Pitcairn and learned to do steak and lobster right. Those were boom times in the valley.
There is a special ham dinner for Christmas and traditional turkey and fixings on Thanksgiving Day. Di opened on the holiday at the request of the staff, who call the restaurant home. Like family, they pitch in to help each other without being asked.
"And when one of our regulars says they feel like something not on the menu, say stuffed peppers or whatever, we'll make it for them that week," Di says. "I let my customers choose."
That loyalty goes both ways. Customers bring birthday cards and gifts for the staff, and when the current space was being remodeled, they pitched in where they could, eager for the reopening. Some even helped with the move.
One recent afternoon, a gathering of public officials and politicians huddled around several corner tables, discussing civic affairs, planning the future of a town that has been down but never out. It seems that no one has given up here.
The food is great and so are the people—tough but kind, hardworking but quick to smile, their spirit strong, as it has been for generations in these mill towns. They share that quiet will to never give up and, as Di says, "It's sort of like a club out here."
"If we see you pullin' in, your coffee's on the table."