Davis, Klausing, Donatelli, Lynch, Heinz, Sachs, McEachran, Scully, Sammartino
Noting the passing of prominent Pittsburghers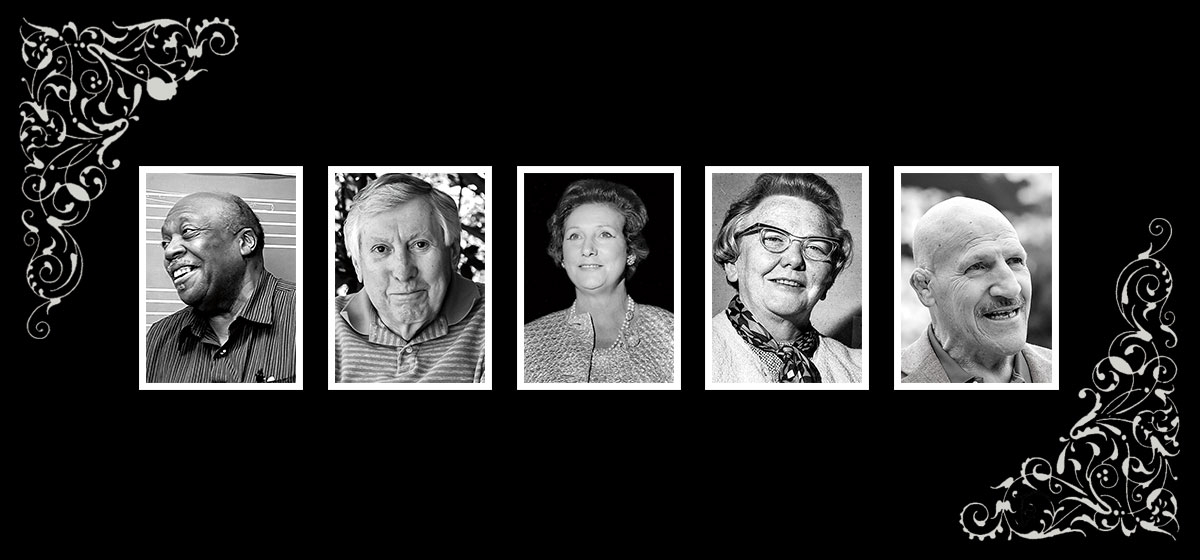 June 4, 2018
Nathan Davis, 81: Davis was director of jazz studies at the University of Pittsburgh and a pioneer in bringing jazz education into the mainstream. A tenor and soprano saxophone player, his 44-year tenure at Pitt included creating the Pittsburgh Jazz Seminar, the Sonny Rollins International Jazz Archive, the International Academy of Jazz Hall of Fame and the Pitt Jazz Ensemble.

Charles L. Klausing, 92: Klausing was a western Pennsylvania football coaching legend, winning an unmatched six consecutive WPIAL championships. At Braddock High School, he inherited a losing program and turned it around, earning a 53-0-1 record during his six seasons, setting a national high school record. An unparalleled student of the game, he also built personal relationships with players and their parents, and that mutual loyalty resulted in extra effort. Klausing went on to coach at Rutgers, WVU, West Point and Pitt and was head coach at IUP and Carnegie Mellon, where he was very successful. He ended his career as football coach at the Kiski School.
Jerry Donatelli, 80: Donatelli took a small social services office in Sharpsburg and over decades built it into one of the largest social services agencies in Allegheny County—the Northern Area Multi-Service Center. The $12 million agency helps people across the northern suburbs, running the ACCESS transportation service for people with disabilities, Meals on Wheels, and various refugee and home care programs for people with mental illness or retardation. Donatelli devoted his life to the work, leading the agency for 39 years, until he retired at the age of 70.
Adam Lynch, 89: Lynch was a leading presence in Pittsburgh television news for nearly 40 years, starting as a KDKA weatherman in 1956 and serving as reporter and anchor at all three network affiliates. He was a serious newsman with a commanding baritone voice and a warm personality. Of him, a colleague once quipped: "There goes the oldest cub reporter in Pittsburgh." And it was true in the sense that Lynch kept an almost childlike wonder about the world his whole life.
Drue Heinz, 103: A patron of the arts and especially literature, she was co-founder of Ecco Press and longtime publisher of The Paris Review. The widow of H.J. "Jack" Heinz II—the grandson of the founder of the H.J. Heinz Company—she created and endowed the prestigious Drue Heinz Prize for Literature for short stories through the University of Pittsburgh. The stature of the prize has been such that the first judge was Pulitzer Prize winner Robert Penn Warren. An avid reader with a keen intellect, she served on the boards of numerous arts organizations, including the Metropolitan Museum of Art and the American Academy in Rome.
Sylvia Sachs, 96: Short in stature but a dynamo of determination and energy, she was the longtime book editor of The Pittsburgh Press and a leading national figure in that field. She started and ran the Press and Post-Gazette Book and Author dinner for more than 27 years, bringing well-known authors to Pittsburgh, taking care of all of the details and putting Pittsburgh on the map as a place for the best authors in the world to stop. She also was a founder of the Osher Lifelong Learning Institute at Carnegie Mellon University.
Angus McEachran, 78: McEachran was the former editor of The Pittsburgh Press, who built the Scripps Howard paper into one of the nation's best regional newspapers—winning two Pulitzer Prizes. A bull of a man in stature and temperament, he came to Pittsburgh in 1982, building a journalistic powerhouse that met its demise when the Sophie Masloff administration allowed striking Teamsters to prevent delivery, effectively killing the paper. The Post-Gazette then purchased the Press, becoming Pittsburgh's dominant paper. And McEachran returned to his native Memphis, Tennessee, where he finished his career as editor of the Commercial Appeal.
Sister Jane Scully, 100: Sister Jane Scully was a local and national education leader, serving as president of Carlow University for 17 years and being appointed by President Richard Nixon to the National Commission for the Financing of Postsecondary Education. She was also a groundbreaking community leader in Pittsburgh, the first woman to serve on the board of directors for the Port Authority of Allegheny County, and also the first woman on the Gulf Oil board of directors. She chaired the Economic Development Commission of Pittsburgh and was very involved in numerous other Pittsburgh nonprofits.
Bruno Sammartino, 82: Sammartino rose from near starvation in Italy during World War II to become the World Wide Wrestling Federation heavyweight champion. Immigrating to South Oakland at 15, he and his brother got beaten up regularly by neighborhood kids, so he joined the Young Men's Hebrew Association where he began to build the physique that paved his way to wrestling fame. He became a fan favorite, selling out Madison Square Garden more than any other celebrity and holding the title for eight years. Despite that, he was known as a humble, nice, and thoughtful man.