Combined Sewage Overflow
Photo by Chris Connelly / Flickr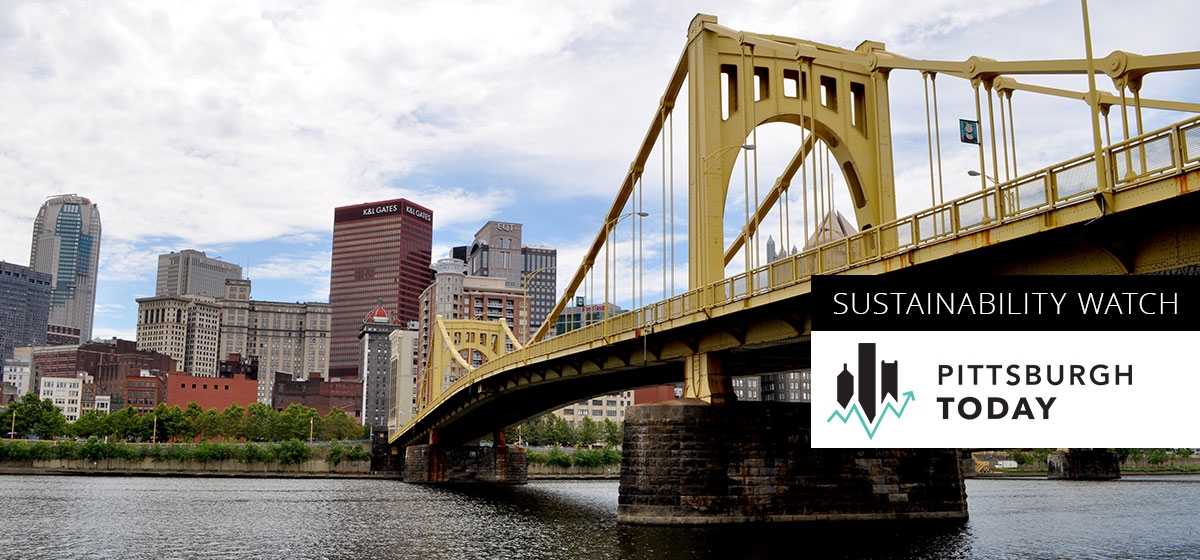 November 28, 2016
Abundant annual rainfall leaves southwestern Pennsylvania in a fortunate position as much of the world grapples with the prospect of a shortage of fresh water. But effective stewardship to protect the quality of its rivers and streams has not been the region's strong suit.

The region's most pressing water problem is in Allegheny County, where even modest rainfall causes untreated sewage to overflow into the Allegheny, Monongahela and Ohio rivers from a 4,000-mile network of aging, overtaxed city and suburban sewer lines, most of which was designed more than a half century ago to carry both wastewater and storm water.
This condition has created a lingering public health issue. Sewage contains pathogenic organisms that can cause illness, such as Escherichia coli, or E. coli. The quality of the recreational waters has other implications as well. Enjoyment of outdoor recreation, including water-associated activities contributes to quality of life and tourism in the region.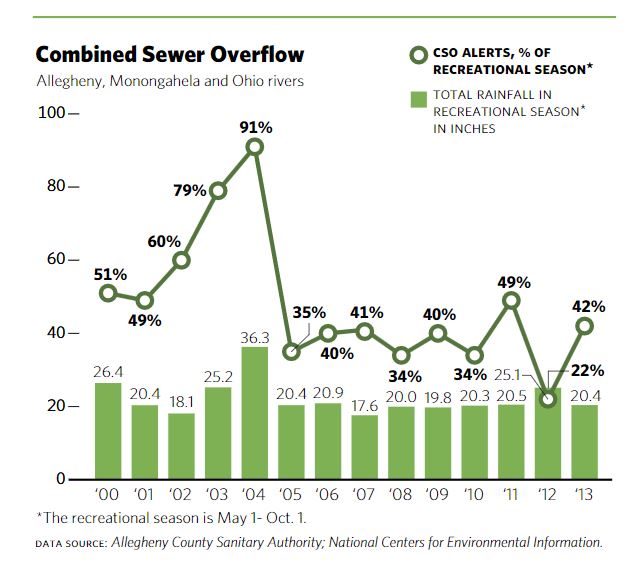 Recreation Days Lost
When discharges are likely during the recreational season, the Allegheny County Sanitary Authority raises orange "CSO" – combined sewer overflow – flags at locations on the Allegheny, Monongahela and Ohio rivers to alert recreational river users to limit their contact with the water.
Such alerts were in effect for 30 percent of the 2016 recreational season, which runs from May 1 to October 30.
Typically, sewage overflow alerts closely follow rainfall trends. In 2004, for example, the region received more than 36 inches of rain during the season, the most in the past 20 years. The same year, all but 9 percent of the recreational season was under CSO alert.
However, in recent years, including 2012 and 2015, above-average rainfall levels did not result in a return to higher percentages of time the rivers were impaired. This suggests engineered interventions deployed through wet weather planning, such as repairing sewers and building green infrastructure, are having a positive effect on water quality.
This brief is a summary of a more detailed analysis published in the 2016 Sustainable Pittsburgh Southwestern Pennsylvania Sustainability Goals and Indicators Report.