Cleaner to the Stars
Shadyside Valet's can-do performance attracts a national following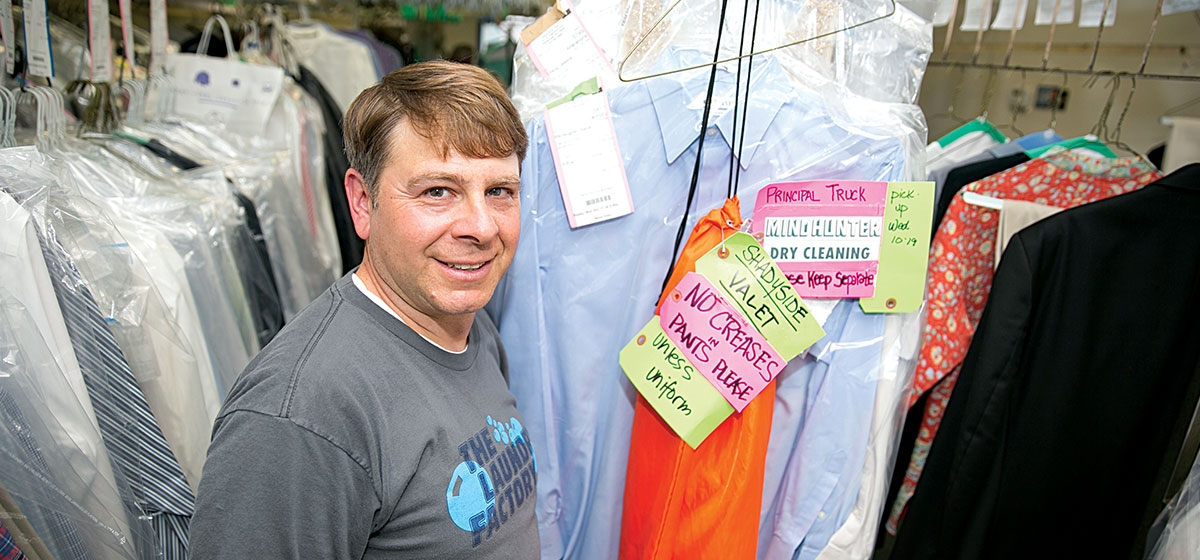 November 20, 2016
It's time to don your best apparel for holiday parties, dinners and events. And then, of course, you'll need to have those clothes cleaned. There are countless options, but Jerry Montesano's Shadyside Valet is a standout.
Jerry was born into the business—his father owned a dry cleaning company in Penn Hills and then sold dry cleaning equipment. Jerry opened Shadyside Valet, an in-house dry cleaning business, in 1989, and later its sister location, The Laundry Factory, a 70- machine, state-of-theart laundromat where customers do their own laundry or have the staff do it. Massage chairs, a flat-screen television and free Wi-Fi help make laundry day tolerable.
Jerry works 12-plus hour days—starting at 6:15 a.m.—and has taken only 15 vacation days since he opened. He's the face of the business and does all of the pick-ups and deliveries. His affable personality translates to customers who like and respect him and a national reputation.
Did you ever wonder how touring bands, theater groups, film production companies or traveling sporting events deal with their laundry on the road? Most take it to Jerry. Performing artists wait until Pittsburgh to have their stage costumes cleaned quickly. For Jerry and his staff, this can mean working all hours and holidays to expertly and quickly clean (and repair, if necessary) the professional and personal clothes for all sorts of people.
His first rock band client was Alice Cooper. Now, Taylor Swift, the Rolling Stones, The Who, Guns 'n Roses, Ted Nugent and Bruce Springsteen and many others use his services. And Jerry has the guitar picks, photographs and autographs to prove it.
They've cleaned everything from towels to catering linens for WWE wrestling, and the volume can be staggering. When Oakmont hosted the U.S. Open in June, the contract included clothes for some 700 cameramen, as well as the caddies' outfits. When the Trans- Siberian Orchestra sends its laundry, it's more than 50 suits, 70 tuxedo shirts and cummerbunds!
Other clients include Carnegie Mellon's theater department, the Pittsburgh Opera, Disney on Ice, and the Benedum.
When movies or TV shows are filmed in Pittsburgh, Jerry is the "go-to" guy. He's done the laundry for Tom Cruise's "Jack Reacher," Will Smith's "Concussion," and the upcoming Denzel Washington-produced film of August Wilson's "Fences."
These jobs can present special challenges. Huge volumes and quick turnaround times are the norm to keep shooting on schedule.
Often, celebrities visiting Pittsburgh interact with Jerry and his staff on a more personal level. On extended road trips, they seek a sense of normalcy. For Elijah Wood, who was in Pittsburgh filming "The Last Witch Hunter" with Vin Diesel and Michael Caine, it meant weekly trips to The Laundry Factory to do his own laundry. For Russell Crowe, it meant bike riding at Hartwood Acres with Jerry.
Other interesting projects include washing over 10,000 bras so that they could be donated after the "Bras Across the Bridge" event and cleaning over 600 blankets from the yarn-bombing of the Andy Warhol Bridge. The "Knit the Bridge" project provided clean blankets for the homeless once the installation was over.
So, what does this mean for you? Well, if Taylor Swift trusts Shadyside Valet with her glittery stage wear, you know your special outfits will be treated with care. Jerry's team is known for tackling tough issues, from wax to stains. Jerry says wine is one of the toughest stains, and rayon and acetate are the most finicky fabrics. His pet peeve is shirts that arrive all buttoned up or with rolled-up sleeves.
There's no guarantee that your dirty clothes will rub elbows with a celebrity's laundry, but they might hang out together on the rack. For looking your best, it's worth the drive (or scheduling a pick-up).
Shadyside Valet, 211 S. Highland Ave., Pittsburgh, PA, 412- 441 -5363.
The Laundry Factory, 5859 Ellsworth Ave., Pittsburgh, PA, 412-361-1200.