Clancey Calms the Airport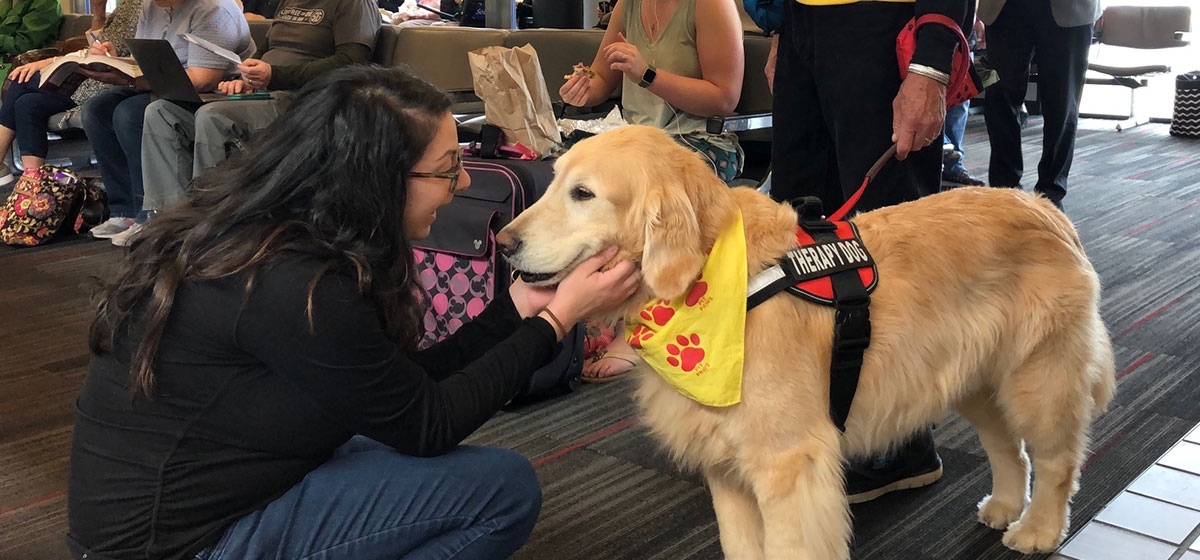 July 17, 2019
"Such a beautiful dog!" "Oooh! So cute!" "Look how sweet he is!"

---
---
It's Tuesday morning at the Pittsburgh International Airport. There are people dragging suitcases and grabbing lattes and wondering if someone can please point them in the direction of baggage claim because there is a flight to catch and a suitcase to find and no time for anything but their iPhone. Until they see a golden retriever walking through Concourse A, just past Hudson News.
"Oh my gosh! What's his name?" asks a flight attendant for United.
"This is Clancey," says Jim. "Want to pet him?"
"Yes!" she says, taking a knee to the floor despite her heels, skirt, and Chanel bag. "Aww! Clancey! So sweet. He's so sweet! This is the best day of my life!"
Clancey is a therapy dog. Nine years old with over 500 visits to hospitals, nursing homes, kindergarten classes, the library so kids can read to him. He's been visiting the airport since December with his owner/handler Jim, an Airport Authority Ambassador. They come here once a week. Usually on Tuesdays.
Clancey is one of 16 certified canines that regularly stroll through the terminals as part of the airport's therapy dog program, PIT PAWS (Pups Alleviating Worry and Stress). Because nerves and patience are usually worn out for the majority of the airport's 9.7 million annual passengers who are hurrying to find parking, hurrying to get through security, hurrying to make their flight.
What do you mean I won't make my connection in Atlanta? First time flyers. Frequent flyers. Everyone trying to get from here to there. Everyone trying not to completely stress out.
"Oh," a woman says, teary eyed as she waits for her flight to Houston, reaching out to pat Clancey's head. He wags his tail. She starts to cry.
"Hey, it's okay," Jim says, kneeling in front of her as Clancey sits down without prompting.
"I needed this," she says. "Can you tell I'm nervous?"
Jim and Clancey got to the airport a few minutes before 9 a.m. Going through security ("Hey, Clancey!") and riding the tram ("Oh my gosh, I have a golden retriever, too!") before heading into the terminal, where they'll spend the next few hours walking around, saying hello, introducing themselves, calming frayed nerves.
"We're trying to get home to Denver."
"We were supposed to fly out yesterday."
"We've literally been delayed 19 hours."
"Something about a mechanical problem."
"Then the weather. Denver got like, three inches of snow."
"I am so happy to see this dog right now… Can we get a picture of him?"
They stop by to see Joann, Bobbie, and Kara in the United executive office. "This is our Tuesday 10:45 a.m. stop," Jim explains.
"Clancey!" they all exclaim, leaving their desks to give him a pet.
They make their way through gates A2, A4, A6, A8; past flights leaving for Los Angeles and St. Louis, one scheduled for Newark, and another that's boarding for Denver.
"Would you like one of these?" Jim asks two little girls, handing them each one of Clancey's baseball cards from a stack in his pocket. On the card is his photo, details about PIT PAWS, and good to know information about Clancey. Favorite treat: oyster crackers. Pet peeve: missing his daily walk. Cards that are put into wallets and purses and pockets by airline captains, flight attendants, kids, business travelers lugging a carry-on bag.
"Can we pet him?" ask two 20-somethings waiting for a flight to Dallas while an older man wearing a Harley Davidson hat and tee shirt gets up from his seat and comes over.
"Sure!" Jim says. "You can pet therapy dogs. It's the service dogs that you can't pet."
Jim and Clancey will walk all over the airport. Through the concourses, landside, airside, up to ticketing, down to baggage claim. "I like to find kids," he says. "We found a whole family flying to India earlier this morning. The kids didn't want to get on the plane."
A few years ago, an airport employee sent an email to CEO Christina Cassotis and recommended the therapy program, the same one that had 200 dogs serving LAX that was also catching on in San Jose, Dallas/Ft. Worth, Phoenix Sky Harbor, Miami International…
"I got the memo through TDI (Therapy Dog International)," Jim says. "Clancey's been a therapy dog since he was 12 weeks old. He's got the best job in the world, getting petted all day. I have the second greatest job. I'm retired and I get to play with dogs all day."