Chip Ganassi, Auto Racing Entrepreneur
A life's recounting in the subjects own words
Photograph by Renee Rosensteel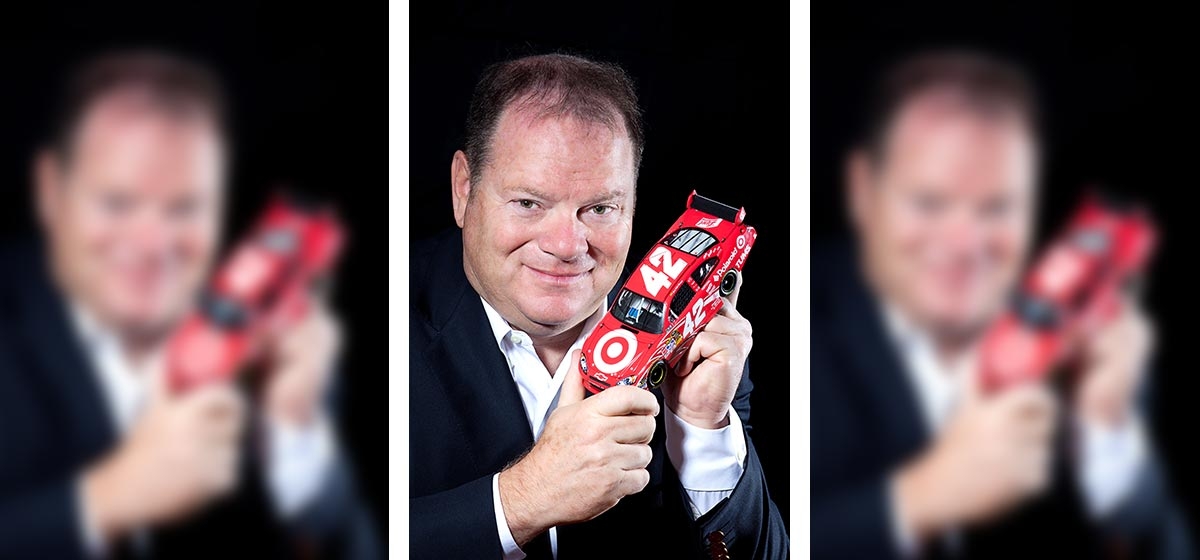 November 20, 2010
Growing up in the 1960s and '70s, Pittsburgh was the center of the universe. All the biggest companies were here: U.S. Steel, Gulf Oil, Alcoa, PPG, Westinghouse; you name it. And on top of that, we had the Pirates and the Steelers. The city was firing on all cylinders, and I pictured myself running one of those big companies one day.

Then, things started to change. In those days, we had so many great regional assets that maybe we took them for granted. Pittsburgh's decline was a huge awakening. What in the world was happening? Suddenly, people like Texas billionaire T. Boone Pickens was trying to buy Gulf Oil. (Chevron ended up with it.) Rockwell International moved to California. Westinghouse went on to become a conglomerate and then broke up into smaller pieces. Then, suddenly, the steel business wasn't what it used to be, and that meant the end of U.S. Steel as we had come to know and love it. I watched all this go down and thought, What is happening to my town? What is happening to this great region?
Track Record: In 2010, Chip Ganassi's team of some 300 employees became the first to win American auto racing's "Triple Crown"—The Daytona 500, Indy 500 and Brickyard 400. I was born in 1958 and was raised normally, in most respects. But I was ski racing and racing motorcycles early on, and, as a result, had the opportunity to travel on weekends to compete all over Pennsylvania, Ohio, West Virginia, New York, Vermont and Virginia. This gave me a glimpse of life outside my hometown and expanded my world a bit. I got to meet many new kids my age, and even though we were brought up differently and in different places, we shared the same values and interests. So ski and motorcycle racing, and even my early days racing cars, helped open me up to a much bigger playing field.
You know, I meet people all the time who say, "Boy, when I was a teenager, I had no idea what I wanted to do." Or "I didn't find out what I wanted to do until I was 30." That seems really strange to me because, at every point in my life, I knew exactly what I wanted to do. At 14, I wanted to go ski racing or to race motorcycles. I was going to take over my dad's business, too. Things changed as I got older, but I always had a goal. I always had something I wanted to do.
My father and mother both had a huge influence on me. They weren't really encouraging or discouraging. They just sort of went along with my ideas and let me find my own way, helping me from time to time. They believed that experience was good. With their approval, I was always able to try things. For instance, when I was 16, I drove from here to California with a 17-year-old friend of mine to race motorcycles. Can you imagine letting a couple of kids do something like that today? I couldn't. But it was a different world back then, and it was fabulous.
I always thought, however, that as time went on, I would get out of motorcycle racing and into racing cars. But I thought it would only be an avocation and for just a few years; something I would enjoy doing on weekends while I ran my father's business. From my late teens until I was in my mid-20s, I kept asking myself, "How long will it be until I have to get a real job? When am I going to grow up?" It's funny, but sometimes I still ask myself those questions. I find myself wondering if I'm ever going to get "serious." Truthfully, I don't feel that I've ever worked a day in racing. People tell me that I have and do, but to me it's not work. I love every minute of it.
My dad is a self-made man from a small suburb of West Newton, Pa. He pulled himself up by his boot straps. He's my ultimate hero. He started in the asphalt business and had a company called Westmoreland Paving. Then he sold that business and acquired a company called Davidson Gravel, a concrete business that supplied gravel to the asphalt people. It was a pretty big operation in the area within a 100-mile radius of Pittsburgh. So I guess I got my business acumen from him, which was valuable. My dad still comes with me to races and events and is always taking pictures. He's there for me. He's my No. 1 advisor. Now, my mom was just the opposite. I remember one time, I must have been five or six years old; we were in Italy and she got a speeding ticket. It was great! At home, she had a 1966 Pontiac Grand Prix, and I got my share of speeding tickets in that car, trust me. So my mom's the one who taught me how to drive fast.
Anyway, by my first car race, I'd probably been in 25 or 30 motorcycle races, so I'd been racing something or other semi-regularly for quite some time. Still thinking it was only going to be a weekend thing, I moved up quickly through the smaller, beginner classes in car racing. In my first year, I was regional champion. The next year, I finished third in the nation. The year after that, I finished second. These were in the amateur classes. Then, in 1981, I made the step into a professional series of races called "SuperVee," and did that for about a year. Next, I had an opportunity to race Indy cars, and I made the most of that. Imagine this: I graduated from college and qualified for the Indianapolis 500, all in a 10-day period. For the first time—and I wasn't necessarily going to do it—I could see a path to a possible career in racing.
Even then, I was still working for my dad during the week. But on weekends, I was always racing. When I qualified for the Indy 500, I was one of only 100 people alive at that time who had qualified for the event, which was pretty cool. So I could see opportunities for me as a driver, if I wanted to explore them. And I was fortunate enough to be able to step off the family business path for a few years to follow my dream.
For the next five years, I drove for a bunch of great teams and met a lot of great people. I drove for STP, then for A.J. Foyt, who was a racing legend at the time. I drove Mario Andretti's car in the Indy 500—and all of this was taking place far from Western Pennsylvania. But to this day, I remember something Mario once said to me. He said, "It's great to do all of these things all over the world, kid, but it doesn't mean anything until they know about it at home." That turned out to be true. You see, it wasn't that I left Pittsburgh, made good and then came home. The fact is, I live here. I never left. I didn't want to leave. And I'm still here, and I still feel connected.
Back then, I thought that I was going to drive only for a short while. I made a five-year commitment in my own mind to driving, which started around 1981. Into the third year of that, I had to make another multiple-year commitment to hold on to the great people who were working with me. (Nobody wants to work for someone who only plans to drive for another year or so.) But then I had the big crash in 1984 at the Michigan 500. And it was a BIG crash. Look it up on YouTube. It's pretty crazy. When I look at that video, however, it doesn't bother me at all because I don't remember a thing about it. I was having a good day. I had a really good car. All I remember is that it was very rough coming off the turn and I just lost it, basically. And that was it. I wasn't able to drive for maybe six months and, while I was away from driving, I had an opportunity to look at racing from a different angle. For some time, I was being pulled into the racing business, and I was enjoying it. So I thought, maybe I could do both: the driving and the business! I made up my mind to give it a shot for a couple of years. Then, being the lucky guy I am, I was able to buy a racing team from a man who was going out of business. And here I am.
In essence, what happens in racing is that you just get tired of breaking bones. At a certain point, you ask yourself, "What am I going to do when I turn 30?" When you're really young, you think you're bulletproof. But a couple of my friends died racing, a couple of others got hurt badly, and a couple more are still limping around even today. Sure, I had a bad crash. So what? I consider myself very lucky—and I'd rather be lucky than good. I'm still here and I'm fine.
At first, the business side was challenging for me. For how long would I be satisfied watching other people drive my cars? It took me at least a year to get comfortable with it. That was near the end of 1987, looking toward the 1988 season. After a couple of years, I got lucky again. In 1990, I met representatives from Target, my main sponsor, and I've been with them ever since. They were a growing business and they supported me well. They would come to me and ask, "What do we need to do better?" I would tell them and they would pretty much do it. You couldn't ask for a better sponsor than that. I remember speaking with a guy from Target one day and he said to me, "Chip, we're only 400 stores right now. If we ever get to 800 stores, this will work for us." They're at 1,700 stores now. No one knew who they were when I first met them. I wish I could say that it was brilliance on my part, but it was timing. And timing is everything.
As a team, we had our biggest year in 2010. Our cars won Daytona and the Indy 500. That made me the first owner to win both races in the same year. Then in July, we won the Brickyard 400, which made us the first team to win the "Triple Crown" of American auto racing. Today, we have close to 300 employees: 190 in Charlotte, N.C., and 100 or so in Indianapolis. Things are good.
So what do we do now? Try to get bigger, while trying to get better. In our sport, if you're able, you have to spend a lot of money on engineering. And if you can amortize that over more cars, you get more efficient. But at the end of the day, you have to have good people. You can't grow with just anyone. You have to have strong professionals who really want to grow with you.
People always ask me what the next step is. Well, I think the next step is the race this weekend. Joe Montana, the great quarterback, told me once that when people think about his career, they see the 50-yard strikes he threw to Dwight Clark and Jerry Rice. They don't remember the five- and 10-yard passes he completed, of which there were thousands. That was his whole game. So I kind of prefer to focus my eyes 10 yards downfield. Every once in a while, you may get a chance to throw a bomb pass, but making it is really a succession of 10-yard completions. The way I figure, if I work hard and stay focused, maybe I can put off having to get a real job—indefinitely.