Cassotis, Suresh, Nolan, Poole, Zimmerman, Moerdyk
Professionals new to Pittsburgh
Poole photo courtesy of Phipps Conservatory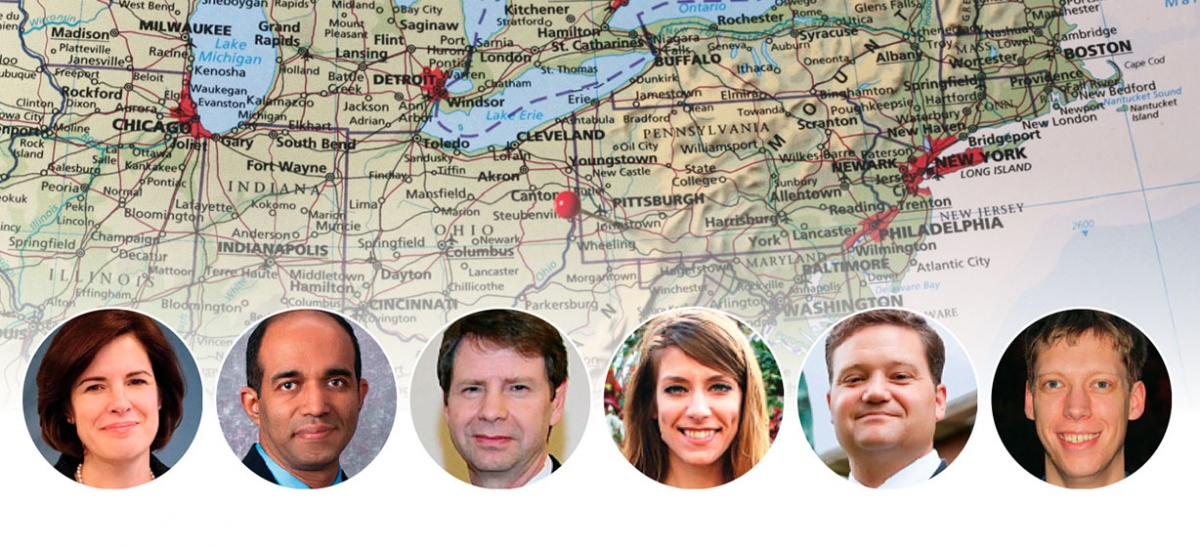 February 21, 2015
Christina Cassotis is the chief executive officer of the Allegheny County Airport Authority. She comes to Pittsburgh from York, Maine, where she was managing officer of consultant ICF International's airport services practice; in her 16 years with the firm, she held a variety of posts. She began her career in transportation with the Massachusetts Port Authority, which operates Logan Airport. A native of Londonderry, N.H., Cassotis has an undergraduate degree from the University of Massachusetts and an MBA from the Massachusetts Institute of Technology's Sloan School of Management. She is living Downtown.

Dr. Srinivasan Suresh is the chief medical information officer at Children's Hospital of Pittsburgh of UPMC. He comes to Pittsburgh from Detroit where he worked for 21 years at Children's Hospital of Michigan in a variety of posts, including chief medical information officer, associate director of the pediatric residency program, medical director of the emergency department and vice chief of finance and strategy for the pediatric practice plan. He received his medical degree from the University of Madras in India and completed his pediatric residency and pediatric emergency fellowship at Children's Hospital of Michigan. He also has an MBA from the University of Michigan. Dr. Suresh lives in Franklin Park.
Donald Nolan is president and CEO of Kennametal. Nolan comes to Latrobe from Glendale, Calif., where he was president of Avery Dennison Corporation's $4.5 billion materials group. Previously, he has worked at Valspar Corp., Loctite Corp. and Ashland Chemical Company. A native of Royal Oak, Mich., Nolan has an undergraduate degree in materials & metallurgical engineering from the University of Michigan, a master's in mechanical engineering from Rensselaer Polytechnic Institute, and an MBA from the University of Michigan.
Mary Kathryn Poole is the Let's Move Pittsburgh director of programming and operations. She comes to Pittsburgh from her native New Orleans, where she managed public health policy research and advocacy at the Tulane Prevention Research Center, focusing on strategies to decrease obesity. Modeled after First Lady Michelle Obama's campaign, Let's Move Pittsburgh was launched in 2010 to address childhood obesity and is part of Phipps Conservatory. Poole has an undergraduate psychology degree from Davidson College and a master's in public health from Tulane University. She is living in Bloomfield with her husband, Blake.
Justin Zimmerman is headmaster of The Linsly School, the independent 5-12 college prep boarding and day school in Wheeling, W.Va. He comes to Wheeling from Western Reserve Academy in Hudson, Ohio, where he held a variety of posts during his eight years there, including dean of student life and director of studies. Zimmerman has an undergraduate degree from the University of Wisconsin-Stevens Point and an M.S. in secondary education from Indiana University. He will live on Linsly's campus with his wife, Aimee, and their two children.
Jonathan Moerdyk is an assistant professor of chemistry at Seton Hill University and one of Forbes Magazine's "30 Under 30 in Science" for his research involving developing organic compounds that imitate reactive properties of metals. A native of Paris, Mich., he has an undergraduate degree from Hope College, where he was named a Goldwater Scholar, and a Ph.D. from the University of Texas. Moerdyk lauds Seton Hill as a place where he can continue his research, while also being an institution that has its main focus on students.