Captivating collections
A shared passion fills a city loft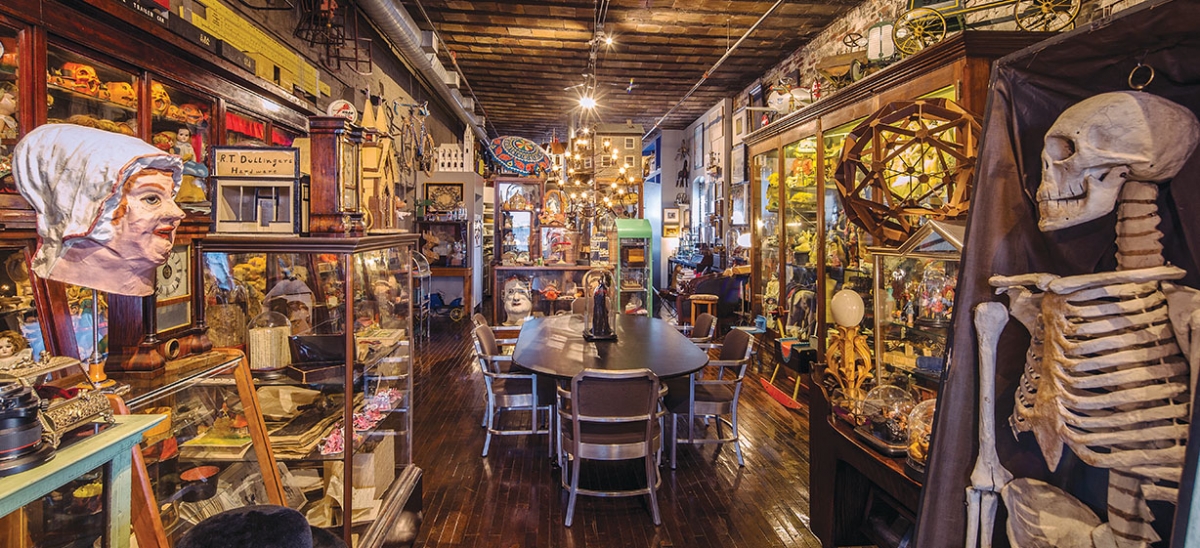 May 21, 2014
There's a luminescent quality to the face, with its pale, translucent skin and eyes lost in thought and in time. Made of wax and preserved for a century, the doll sits on a shelf surrounded by hundreds of others. Each has a story that began somewhere but continued when Barbara Luderowski found it and added it to her vast collection.

---
---
"Some people write diaries or know what they did a year ago, but in a sense this is my diary," she says. "Every piece has a transaction story. You remember where you got it, why you got it."
Adds Michael Olijnyk, Barbara's partner in crime: "It's not just the object, it's the stuff that's around the object. When you got it, was it a deal? And you clearly remember the things you didn't get. They're etched in your mind."
At a glance, it seems few things have ever escaped from Barbara and Michael. The North Side loft they share is an avalanche of the rare and remarkable, the eccentric and exquisite, the historic and the humorous. Many objects are museum quality and collected in such depth they could command an important exhibition. Others could only be loved by a mother, whether it's a gorilla head, a pair of clown shoes or a life-size skeleton.
Even more amazing is that this treasure trove sits on the top floor of the Mattress Factory, the museum of contemporary art Barbara founded in 1977 and which she and Michael co-direct. Both like contemporary art, which the room-size installations in the museum reflect. On some level, it may be an antidote to their home—perhaps one space is a wife, and one a mistress.
"In a sense, the Mattress Factory museum is kind of the opposite of the way we live," says Michael. "People don't expect to see what they see when they come upstairs. They are shocked. They read us by what they see below."
When Barbara bought the former Stearns and Foster mattress factory in 1975, it was a derelict building not fit for human habitation. Not one to be daunted by obstacles, she envisioned the space as a place where artists like herself could congregate and have studios. The first floor housed a food co-op, which is how Barbara and Michael met. "I came to dinner at the food co-op and was that nightmare dinner guest who didn't go home," he jokes.
It was 1978, and Michael was a student at Carnegie Mellon in need of studio space. As the museum began to transition into a more structured enterprise, he was offered a job in the gallery. Meanwhile, Barbara continued to live in rustic splendor on the fifth floor, as she had from the beginning.
"There were no bathrooms in the building when we started out," she remembers. "I put a toilet in there, and I had rolling carts they used to move the mattresses around. I would take 50-gallon drums to the basement on the carts and fill them with water to take upstairs—it was basically a city outhouse!"
Barbara had been collecting for years, but Michael discovered that he also had "the genetic disorder," as Barbara puts it, once he had a place to house his finds. Since the partners own the top two floors of the building, which are a separate entity from the museum, they decided to expand upstairs in 1989. The condo is basically two long spaces separated by a brick wall, with rooms created either by the arrangement of furniture or by strategic walls that provide privacy for bath and bedrooms.
The more public areas, including the entrance, are dominated by Michael's collections. An impressive array of Russel Wright aluminum objects greets visitors who arrive via elevator. A carefully edited assortment of furniture ranging from the 1930s through mid-century modern fills what could loosely be termed his side of the loft, though Michael and Barbara co-mingle their collections as needed—seating, for example—or to create convivial juxtapositions. Many other collections accessorize the space—clocks, early appliances, lamps, pottery, rugs and works by many well-known artists, including Ann Hamilton and composer John Cage.
Barbara's side is less restrained and more intimate. The kitchen is here, carved into the collections that line the walls in massive mahogany cases. "One of my passions is boxes, which are essentially smaller empty spaces. I love filling boxes."
On top of them are more collections, mostly from the late 1800s to the 1920s, with anything else that has caught Barbara's eye thrown in simply because she likes it. There are dolls—both manufactured and handmade—doll houses, mechanical and antique toys, teddy bears, natural curiosities, paintings, more furniture and a practically endless assortment of peculiarities. She doesn't collect names nor is she driven by the need to complete a collection or find some elusive item. Ask her what she likes about the dolls and she doesn't hesitate: "The expressions on their faces."
How do they manage to combine their collections so seamlessly? "If you put your hands together, that's the way it works," says Barbara. "I'm very territorial but there's open ground for overlapping."
Adds Michael: "We both love empty space with a few beautiful objects in it. This was pretty much empty with one or two pieces of art in it," he says, smiling at the irony of his words. "What's interesting is we love the same things. Even though we're buying from different eras, the look of it, the feel of it, is always something we each really love."
He admits that, while his collections appear to be more tightly curated, it's only because he has much more stored on the floor below.
"You can put 200 dolls together, but you can't put 40 chairs together. Most of the stuff I collect is functional. I just can't put them all in here. The fifth floor is kind of like Warhol knowing he has the stuff."
The loft is filled with design, including items from some of the most notable designers of the 20th century, but it's not "designed" in the ordinary sense of the word. "Every piece is something we love and chose," Barbara says. "Nothing matches anything. It matches us, but not each other. I think living spaces should include who you are, what you enjoy spending your life with, embracing yourself in a way."
While Michael routinely awakens at 4 a.m., Barbara is a night owl—except when they're going to the flea market at 5:30 a.m. to greet the trucks as they unload. "That's the only thing that would get me up that early—about the only thing!" she laughs. And even then "you see people coming away with bags in their arms and you just know it was something you absolutely had to have!"
Michael confesses to being unable to pass a thrift shop, but the things Barbara collects are much older and harder to find. They shop all over the world, hitting flea markets, auctions, second-hand stores, estate and house sales; and they have friends who scout for them as well.
"You look all the time," Barbara says. "And there's always this urge to sell some things, but the inertia is too great. I sit at the end of the room and have a cup of coffee, and I love it. I visit the pieces. I walk by and open the cabinets and look at them. It's always fun to show them to someone who is interested. Curiosity is the kind of response I look for. Not, 'Isn't this gorgeous and wonderful?' but 'What the hell is this?'"
"I always wonder what it's like to see it through someone else's eyes," Michael agrees. "It is kind of a sensory overload, and every object is spectacular. We're two artists who have curated a space, making a piece of artwork out of where we live." "It's also a test for us," laughs Barbara. "There are people who walk in and say nothing. It's like they're walking into a little shop of horrors, and they ignore it. They can't say anything, so they're off our list!"