Cahouet, Romero, Needleman, Maher, Donahue, Katz, Robinson
Noting the passing of prominent Pittsburghers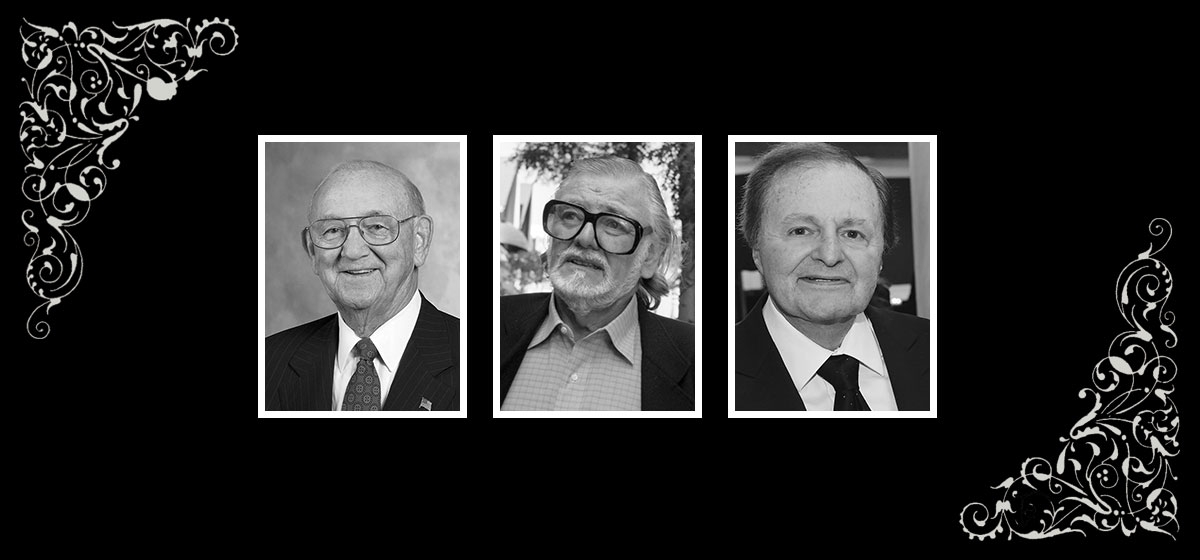 August 20, 2017
Frank Cahouet, 85: Cahouet rescued Mellon Bank from the brink of failure in the 1980s and restored the fabled Pittsburgh institution to strength. The first outsider to lead the bank when he arrived in 1987, he inherited bad loans and excessive expenses that led to a loss of nearly $1 billion that year. Cahouet aggressively cut expenses, including nearly 3,000 layoffs. His purchases of The Boston Co. and Dreyfus Corp. ultimately repositioned Mellon to become one of the country's most profitable financial companies. After his 1998 retirement, he expanded his Pittsburgh community efforts, serving on the boards of Carnegie Mellon University, the University of Pittsburgh, the Pittsburgh Regional Alliance and many others.

George Romero, 77
With 1968's "Night of the Living Dead," which he co-wrote, directed and filmed in Pittsburgh, Romero created a worldwide legacy—the zombie movie—that became so massive that he could never escape its gravity. The ultimate low-budget cult classic, it made him a cult figure, bringing acclaim and a string of similar movies for the next 49 years. The native New Yorker graduated from Carnegie Mellon University and spent most of his working life in Pittsburgh.
Dr. Herbert L. Needleman, 89
Dr. Needleman was a pediatrician and psychiatrist who pioneered research into the effects of lead on children. Though he often came under attack from industry groups, his groundbreaking work at the University of Pittsburgh showed that even low levels of lead exposure led to lower IQs among exposed children and hastened the removal of lead from a variety of products including paints and gasoline.
Paul Maher, 91
He was the 10th archabbot of the St. Vincent Archabbey, the oldest Benedictine Monastery in the U.S. and largest in the Western Hemisphere. He completed secondary school at Saint Vincent Preparatory School in 1943, was a tail gunner on a B-24 bomber in the Army Air Corps during World War II, flying 21 missions over Germany and Austria. He returned to St. Vincent College, where he graduated in 1950, and later earned a Ph.D. in philosophy before returning to teach at St. Vincent, ultimately becoming its chancellor.
John F. "Jack" Donahue, 92
A man of devout Catholic faith, Jack Donahue made two remarkable contributions to Pittsburgh. The more obvious is Federated Investors, which he founded with Central Catholic classmates Richard Fisher and the late Thomas Donnelly. The firm created money market funds, offered investors new alternatives and became a financial giant, managing more than $360 billion and employing nearly 1,500 people, mainly in Pittsburgh. The less obvious is the family he and his wife of 70 years, Rhodora, nurtured—13 children, 84 grandchildren, and 109 great-grandchildren— to make widespread contributions to their community. And in that regard, the Donahue clan has played a leading role in supporting a wide range of causes in the region.
Marshall Katz, 77
The heir of Papercraft Corp., Katz was a benefactor of the arts in Pittsburgh, and a world-renowned collector of Palissy ware. His father, Joseph Katz, started the company that made gift wrap and a variety of consumer products, and Marshall ran the company in the 1980s before retiring and focusing on the arts. He was a board member of the Pittsburgh Cultural Trust, Carnegie Museum of Art, Pittsburgh Symphony, Andy Warhol Museum and Pittsburgh Opera, and, with his sister Andrea McCutcheon, donated $1 million to create Downtown's Agnes Katz Plaza, named for their mother and noted for its eyeball benches. His 19th century Palissy ceramics collection is among the world's best, and he was a world authority on it, authoring three books.
Donald Robinson, 91
A man of broad talents and accomplishments, Robinson used his experience in the family's retail tobacco and candy business to become president of White Cross Stores, which later merged with Revco. Beyond business success, he was a man who loved photography and community service. He travelled to every continent and 60 countries, blending his love of taking pictures with helping international charities around the globe. His photography is internationally renowned and his community work included numerous civic and arts boards in Pittsburgh but especially support of a wide array of Jewish organizations.