Black Tie & Tailpipes Gala Kicks Off Grand Prix
July 6, 2018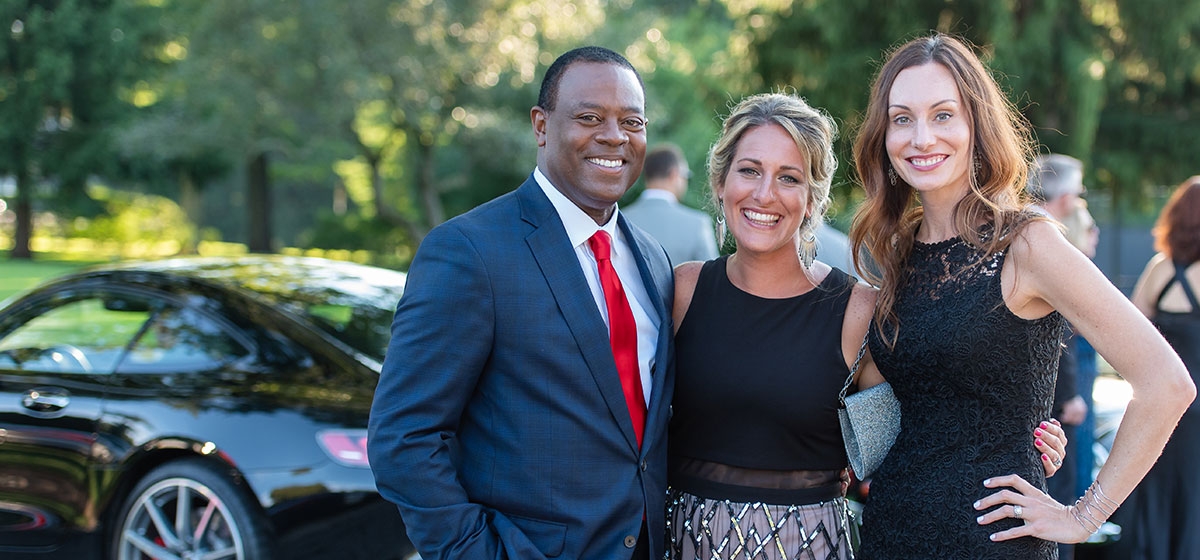 July 9, 2018
The Pittsburgh Vintage Grand Prix Black Tie & Tailpipes Gala on Friday, July 6 at Fox Chapel Golf Club kicked off a week of Grand Prix events, culminating on Sunday, July 15 with the races in Schenely Park. This year was another sell out for the gala as more than 300 people attended. The Fox Chapel Golf Club grounds were transformed into an exquisite car show as the guests displayed their finest automobiles.
---
---
In addition to enjoying cocktails and hors d'oeurves while viewing vintage and rare automobiles, guests also bid on auction baskets and participated in a live auction. The all-expenses trip to the Indy 500 as Bobby Rahal's guest donated by Bobby Rahal Automotive Group was certainly a highlight. As bidding was tight, it was doubled and raised $23,000 for the charities. More than $100,000 was raised throughout the evening. The Pittsburgh Vintage Grand Prix has raised more than $5 million to date.
As guests dined on filet and sea bass, the committee raised funds by lighting the centerpieces for the "Light the Night auction." The evening ended with desserts and dancing to one of Pittsburgh's hottest bands, No Bad Juju. This formal event was a must for any auto enthusiast who enjoys fine cars, dining, dancing and great company all for the benefit of The Autism Society and Allegheny Valley School.
The Pittsburgh Vintage Grand Prix started in 1983 to raise funds for individuals in the Pittsburgh region living with autism and those with intellectual and developmental disabilities. Notable attendees included Dan and Michele DelBianco, Andrew Stockey, Dan and Rob Taylor, Lorrain and John Putzier, and Toni and Jake Zoller. Chairs included Maggie and John Schmotzer, Alice Brannigan, Bart and Kim Buckley, Megan Schmotzer De Paul, Missy Schmotzer Harmon, Lisa Hrynda, April Mosites, Molly Schmotzer, Peggy Snavely, and Brenda Tenison. Photography by Marsha Green.