Barbara Luderowski, The Mattress Factory
A life's recounting in the subject's own words
Photo by Renee Rosensteel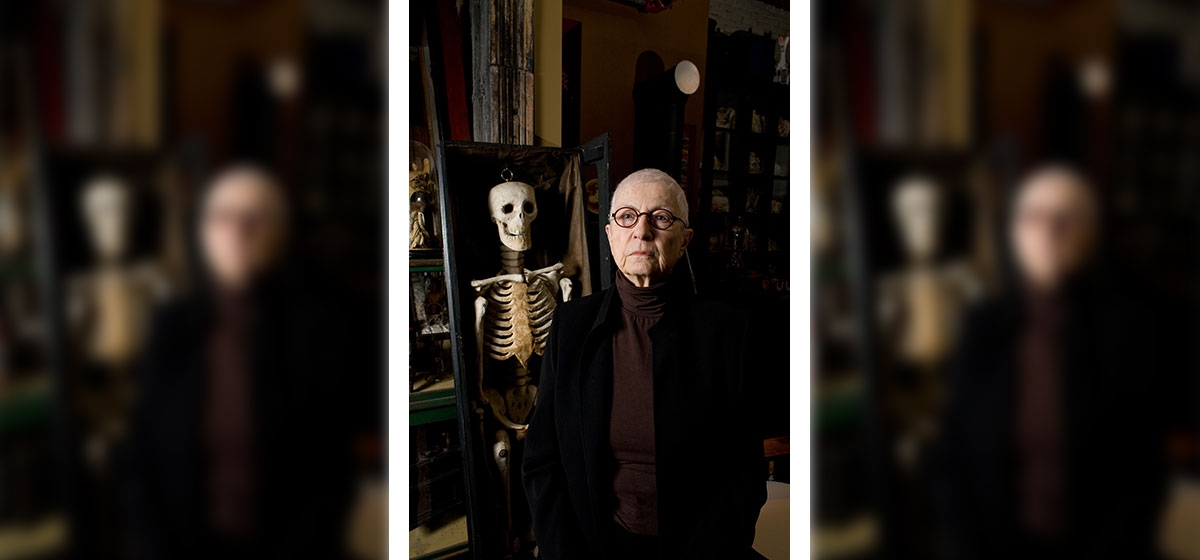 May 20, 2009
I arrived in Pittsburgh about the same time that Columbus arrived in America. Actually, it was in 1972, or thereabouts. I was driving through, hustling my work, and stopped at Pittsburgh History & Landmarks to try to interest them in a garden I wanted to design for them.

That didn't work out. But they gave me a tour of the North Side, and it was like seeing someone across the room at a cocktail party and saying, "That's for me." So I went home to Birmingham, Mich., put my house up for sale, and bought a house here.
I had family who lived north of Pittsburgh, in Gibsonia: one was Janet deCoux, a sculptor; the other was Eliza Miller (both now deceased). I stopped by to see them on my way to New York, which is how this whole thing happened. Janet and Eliza looked at houses that were available, and then I came and looked at them. There was one on Monterey Street, which is the first house I re-did. I designed and, in some cases, did the carpentry and laid some of the floors, along with a bunch of Carnegie-Mellon architecture students.
But understand, this house was a condemned house and I, at the time, had a 10-year-old daughter. Pieces of the floor were missing. You had to tippy-toe your way through. The only light was either your flashlight or light peeping through some of the knot-holes. But I don't walk into houses and see the crap. I see what I want to make out of them. My daughter, however, took one look at what was going to be her bedroom and burst into tears.
I went to the Cranbrook Academy of Art in my younger years and ended up marrying the design instructor there, whose name I bear. My daughter went to the Rhode Island School of Design and now does redesigning and architecture. But unlike me, she's managed to get herself out of the hands-on part of the business. She hires contractors and supervises her jobs and is really having a ball. So I guess we kind of ended up in the same place, although we do things a little differently. We get along wonderfully now.
I love real estate, building and designing architectural projects, which I continue to do. But I am continually running out of money for it. Back in the '70s, I decided to rent out my precious Monterey Street house (to Ben Shaktman, the first director of the Pittsburgh Public Theater) and purchased a two-story warehouse up the street, on Sampsonia Way. The lower part of it was my studio space, and the upper part I lived in. Then one day, on the route between my first house on Monterey and my Sampsonia house (which I sold years later), a building came up for sale, which was the old Sterns & Foster building; you know, the mattress company.
I tried to put together a consortium of people to buy the building, but that didn't work out. I made an offer—a ridiculous offer—and I never heard from them. Then I heard through the grapevine that the company was going to give the building to Pittsburgh History & Landmarks for a tax write-off. So I called History & Landmarks and said, "Look, I'm in the middle of trying to negotiate with this company for this building. Although I haven't heard from them, I made them an offer. Please stay out of my way." And they did. But this was all premised on the fact that I would sell my house on Monterey Street. I had a signed agreement, but then that defaulted. As a result, I couldn't go through on my end. So I called History & Landmarks and said, "If you accept the building from them, I'll buy it from you." They said "Fine." And that's the way it happened. Pittsburgh History & Landmarks was the conduit.
The intention I had at the time, as best I can reconstruct it, was to create my own environment. When I first moved to Pittsburgh, the city was incredibly conservative. (It's still conservative, but not quite as bad.) In those days, there was a place called the King Pitcher Gallery on Craig Street, which was handling my work. There, I met artists at various meetings and openings. But I really wanted a place with some real vitality, where there was intellectual exchange, a mishmash of various disciplines with energetic conversation, and I couldn't find that anywhere. So I set about trying to create that.
By then, I had a studio in that old Sterns & Foster building and I lived there, too. It was unbelievably dilapidated, and it had no heat. A few of us started a food co-op, cooking food, vegetarian style, five days a week. People could come and pay a nickel and eat their meals. It was an interesting time. We would have exhibits upstairs: some self-exhibits; some from friends; and some from CMU instructors and graduate students. After a while, we had this gallery going, and it kind of got to the point where I had to either piss or get off the pot. So we started the nonprofit Mattress Factory in 1977, I think it was.
The Mattress Factory is a museum of contemporary art that presents art you can really get into—room-sized environments, created by in-residence artists. And one of the most interesting things about the place is its horizontal management. I get some of the credit, but, basically, it's a place where the staff is not staff. They're co-workers. We all work together. We throw stuff out on the table and think and talk about it. Everybody's idea is welcome. So now, here we are in 2009, and people ask me, "What was your vision?" Truthfully, I had no vision. (Many "visionaries" just dream up a rationale for what they did after somebody asks them that puzzling question.) I wanted an intellectual community. When I look back on it, I'd say that was my desire: a community—eating, drinking and doing the work. And it's worked out in a far better way than I could ever have thought. We now have artists streaming through here regularly with whom we build relationships that last longer than the initial artistic experience.
Another awesome thing about the Mattress Factory is the fact that there isn't any of that institutional nonsense. We are institutionalized, unfortunately, in a sense because we've been in business for more than 30 years. And maintaining the non-institutional side of it is a constant challenge. But my hope is that the things we bring in kick ass. I have an understanding board of directors who like what we do in terms of the community and our relationship to Pittsburgh. They may not always understand the art. I don't require that. But I do require that they leave me alone in terms of making the decisions about the art. None of the managerial, day-to-day decisions are made by the board. I won't permit it.
Sure, we get corporate, foundation and government funding—some local, some national and some international—but not all at the same time. It's always a hit-or-miss thing. This year, all funds are way down. The same is true for our endowment. When it's down, our ability to draw money is limited. Many funders today are not accepting new applications, and that's not going to be a one-year thing. Yeah, I lose a little sleep over it, but what the hell? I lose sleep over it every year. You have good years and bad years. If you lose money, just be energetic, pare down to the minimum—but don't give up any of your projects. I say, live for the future and don't duck. Hit it head on.
Recently, I was talking with the director of the Yale Art Gallery, and he asked, "What are you going to do, given the way things are right now?" I don't have a back-up theory. I only have one that takes me into the future. Be aware of the situation, but press on, regardless. Develop as many new leads as you can. Talk inter-organizationally about ways to save, or to bring people in, or to create new exhibits. I'm not laying anybody off. Either the ship goes down, or it stays afloat. But there isn't anybody here I can really do without. I think it's bad for the spirit of things to start chipping away at what's basically already bare-bones as it is.
What a lot of people don't understand is that we're probably known nationally and internationally more than we're known locally. There are still local people who say, "Mattress Factory? We don't need any mattresses right now." In fact, when we first started, we used to get telephone inquiries on a daily basis and could tell by the tone of voice and the way callers were preparing to speak that they were looking for twins or doubles, kings or queens. We would just stop them and say, "You have the wrong organization."
This is an aberration for me, talking about the past this much. I talk mostly about what's now—and the future. It takes a lot of time and energy to talk about the past. It's much more interesting for me to talk about what you want to do, what you like to do, and where you'd like to go than it is to talk about where you've been. I face forward and go forward.