Sklarsky, Hacker, Longhi, Bier, Stephan, Ivanko, Roman, Webster
Professionals new to Pittsburgh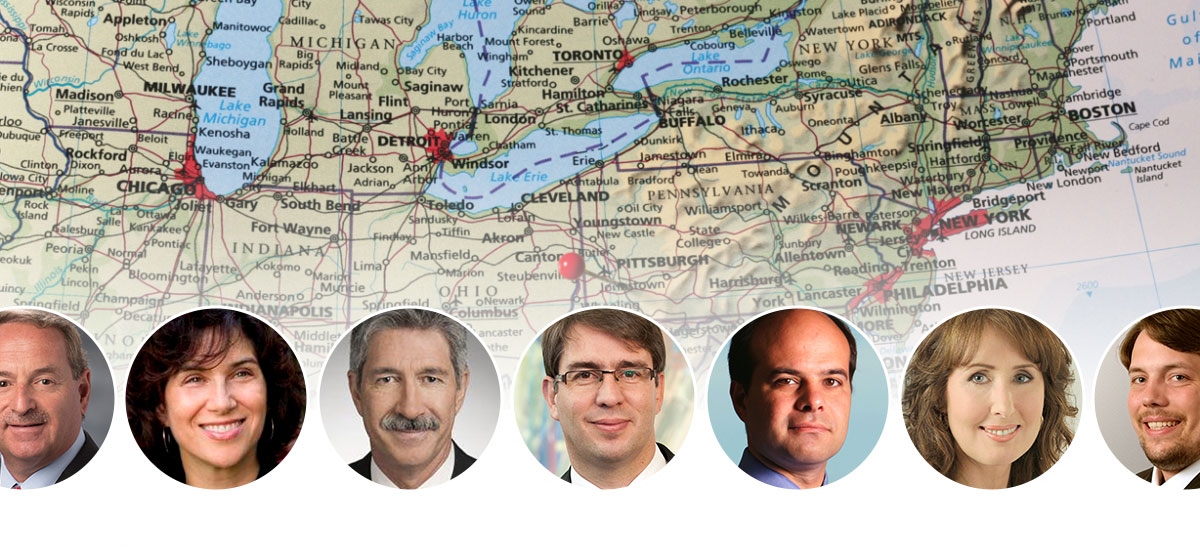 November 21, 2013
Frank S. Sklarsky is executive vice president and chief financial officer at PPG Industries. A native of Buffalo, Sklarsky comes to Pittsburgh from Princeton, N.J., where he held the same position with Tyco International Ltd. Previously, he was executive vice president and chief financial officer at both Eastman Kodak Co. and ConAgra Foods, Inc. after spending 20 years with Chrysler. A certified public accountant, Sklarsky has a bachelor's degree in accounting from Rochester Institute of Technology, where he now is a trustee, and an MBA from Harvard Business School. Sklarsky is on the board at Harman International Industries.

Dr. Karen Hacker is director of the Allegheny County Health Department. She comes to Pittsburgh from Boston, where she was a Harvard Medical School associate professor and executive director at the Institute for Community Health, a public health research organization within the Cambridge Health Alliance. A native of Evanston, Ill., Dr. Hacker received an undergraduate degree from Yale University and a medical degree from Northwestern University Medical School. She did her residency at Boston City Hospital. She is living in Highland Park.
Mario Longhiis president and CEO of U.S. Steel. Before coming to Pittsburgh, Longhi spent six years at Gerdau Ameristeel Corp., serving first as president from 2005 through 2006 and then additionally in the role of chief executive officer from 2006 until 2011. Previously, he spent 23 years at Alcoa Inc., which he joined in 1982 as a construction superintendent for the company's Alumar Refinery in his native Brazil. He has a bachelor's degree in metallurgical engineering from the Instituto Mauá de Tecnologica in São Paulo, Brazil.
Berry Bier is the chief financial officer of Bayer Corp. He comes to Pittsburgh from Leverkusen, Germany, where he was head of taxes at Bayer AG, a role he is continuing. A native of Lissingen (now Gerolstein), Germany, Bier began his professional career at Price Waterhouse, then joining Bayer as tax manager for North and Latin America, Australia and New Zealand. He became head of international taxes in 2002 and head of global taxes in 2005. Bier was involved in all major group reorganizations and merger and acquisition transactions. Bier has a degree in business administration from the University of Cologne.
Dietrich Stephan chairs the Department of Human Genetics at Pitt's Graduate School of Public Health and is associate director of the Institute for Personalized Medicine, where he will lead efforts in population genetics. He is well known for "translating" his research on the causes of human diseases into diagnostic tests that can identify diseases early and are used routinely worldwide to help physicians and patients make better decisions. His therapeutic programs have led to the first human trials for a number of effective therapies, including drugs for amyotrophic lateral sclerosis (Lou Gehrig's disease), and pediatric and adult cancers. He returns to his native Pittsburgh from San Francisco, where he was founder, president and chief executive officer of Silicon Valley Biosystems. He has an undergraduate degree from Carnegie Mellon University and a Ph.D. in human genetics from the University of Pittsburgh. He and his wife, Elizabeth, will live with their daughter in Shadyside.
Barbara Ivanko is president and CEO of Family Hospice and Palliative Care, which serves 3,800 patients annually in nine counties. Ivanko comes to Pittsburgh from Florida, where she was most recently chief operating officer for Spectrum Health, Inc., the parent organization of the Hospice of Palm Beach County, Fla., where she also served as COO. A social worker by background, she has more than 20 years of experience in the hospice and healthcare industry. A native of Queens, N.Y., she has a bachelor's degree in psychology and master's in social work from the State University of New York at Stony Brook. Ivanko and her husband, Ed, live in Mt. Lebanon.
Gregg Roman is director of the Community Relations Council of the Jewish Federation of Greater Pittsburgh. A native of Philadelphia, Roman comes to Pittsburgh from Israel, where he was director of development and communications for the Global Research in International Affairs (GLORIA) Center in Herzliya. He also served as a Middle East analyst and on-air personality for Al Jazeera English. Roman has broad experience working in Israeli politics and government as a foreign affairs and domestic political advisor. He has done extensive work in Israel advocacy training and Jewish education. He lives in Squirrel Hill with his wife, Anat, and their daughter.
Keith Webster is the dean of libraries at Carnegie Mellon University. A native of Aberdeen, Scotland, he comes to Pittsburgh from Hoboken, N.J., where he was vice president at John Wiley & Sons, Publishers. Previously he was dean of libraries at the University of Queensland, Brisbane, Australia. He has an undergraduate degree in computer science and library science from Loughborough University, a master's in library management from the University of Wales, and further coursework in higher education policy from the University of London and in international economics from the University of Queensland. Webster will be living in Shadyside with his wife, Dr. Berenika Webster, who will be joining the University of Pittsburgh, and their daughter.