Gallagher, Fernandes, Barron, Finger, Suzik, Wilmer, Carey
Professionals new to Pittsburgh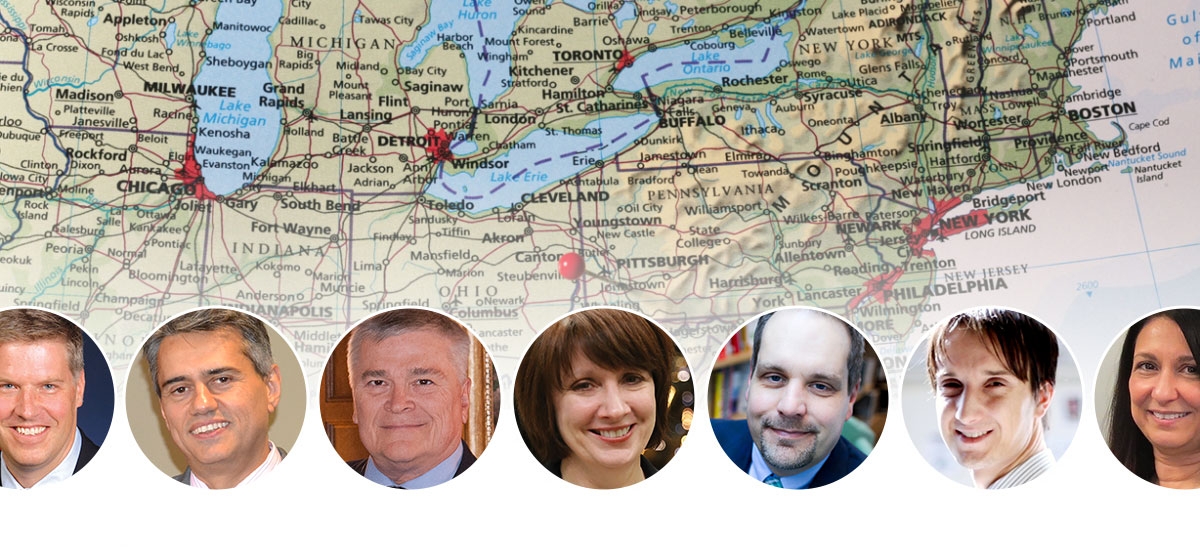 May 21, 2014
Patrick D. Gallagher will become the 18th chancellor of the University of Pittsburgh on Aug. 1. A native of Albuquerque, N.M., he comes to Pittsburgh from the greater Washington, D.C., area, where he has been serving as acting deputy secretary of the U.S. Department of Commerce and director of the National Institute of Standards and Technology (NIST). Prior to being appointed by President Barack Obama to his Commerce post in 2013 and being named director of NIST in 2009, Gallagher served in a number of capacities at NIST, including deputy director, director of the NIST Center for Neutron Research, and a NIST agency representative at the National Science and Technology Council. He received a master's degree and Ph.D. in physics from Pitt, and he earned his bachelor's degree in physics and philosophy from Benedictine College in Atchison, Kan. He and his wife, Karen, have three sons. The Gallaghers will live in Oakland.

Richard Fernandes is the executive director of the Fred Rogers Center for Early Learning and Children's Media at Saint Vincent College. Fernandes comes to Latrobe from Hong Kong, where he was executive director, general entertainment content for Turner International Asia Pacific Limited. He is a 30-year veteran of children's television, with 11 Emmy nominations for series for PBS, Disney Channel and Nickelodeon. He won an Emmy for directing Disney Channel's "Bear in the Big Blue House." Fernandes lives in Squirrel Hill with his wife, Erica.
Eric J. Barron is president of Penn State University. He comes to State College from Tallahassee, Fla., where he has been president of Florida State University since early 2010. A native of Lafayette, Ind., Barron has an undergraduate degree in geology from Florida State and a master's and Ph.D. in oceanography from the University of Miami. Barron is very familiar with Penn State having served as director of the Earth System Science Center from 1986 to 2002, director of the EMS Environment Institute from 1998 to 2002, and dean of the College of Earth and Mineral Sciences from 2002 to 2006. He has also worked at the National Center for Atmospheric Research in Boulder, Colo., the University of Miami and the University of Texas at Austin. Barron will live in State College with his wife, Molly.
On July 1, Mary C. Finger will become president of Seton Hill University. She comes to Greensburg from Milwaukee, where she was vice president for planning and institutional advancement at Mount Mary University. Previously she was director of development for the Robert R. McCormick School of Engineering and Applied Science at Northwestern University in Evanston, Ill.; acting executive director of the University of Wisconsin-Milwaukee Foundation; and director of annual fund and alumni relations at Cardinal Stritch University in Milwaukee. She has an undergraduate degree from Marquette University, a master's from Mount Mary College, and a Ph.D. in higher education management from the University of Pennsylvania. A native of Chicago, Finger has an adult daughter who lives and works in Spain with her husband and two children.
Jeff Suzik is the director of the University of Pittsburgh's Fanny Edel Falk Elementary School. He comes to Pittsburgh from St. Paul, Minn., where he was head of school at Mounds Park Academy. Suzik is a native of Ironwood, in Michigan's Upper Peninsula. He is a Phi Beta Kappa graduate in history and English from Gustavus Adolphus College in St. Peter, Minn., and has a master's and Ph.D. in history from Carnegie Mellon University. He previously taught history at Shady Side Academy and in the summer program at the Phillips Academy Summer Session in Andover, Mass. Suzik was assistant head of school at Mary Institute & St. Louis Country Day School in St. Louis. He expects to live in the East End.
In the fall, Christopher Wilmer will become an assistant professor in the department of chemical and petroleum engineering at the University of Pittsburgh's Swanson School of Engineering. He comes to Pittsburgh from Evanston, Ill., where he earned his Ph.D. in chemical and biological engineering at Northwestern University. A top energy and environment researcher, Wilmer was named by Forbes magazine as one of the top "30 Under 30 in Energy" in December. A native of Canada, Wilmer has a bachelor's degree in applied science from the University of Toronto.
Tama M. Carey is executive vice president for Service Integration at Presbyterian SeniorCare. A native of New Kensington, Carey returns to Pittsburgh after working in central and eastern Pennsylvania as regional vice president at Diakon Lutheran Social Ministries, where she was responsible for supporting 10 senior living communities in eastern Pennsylvania and Maryland. She will oversee the Presbyterian SeniorCare portfolio of home and community-based programs, including Longwood at Oakmont, as well as lead the integration of services. Carey, who has a nursing degree from the University of Pittsburgh, is living in Plum.