Gibbons, Waite, Hansen, Ashburner, Benedict, Humar, Kiehn
Professionals new to Pittsburgh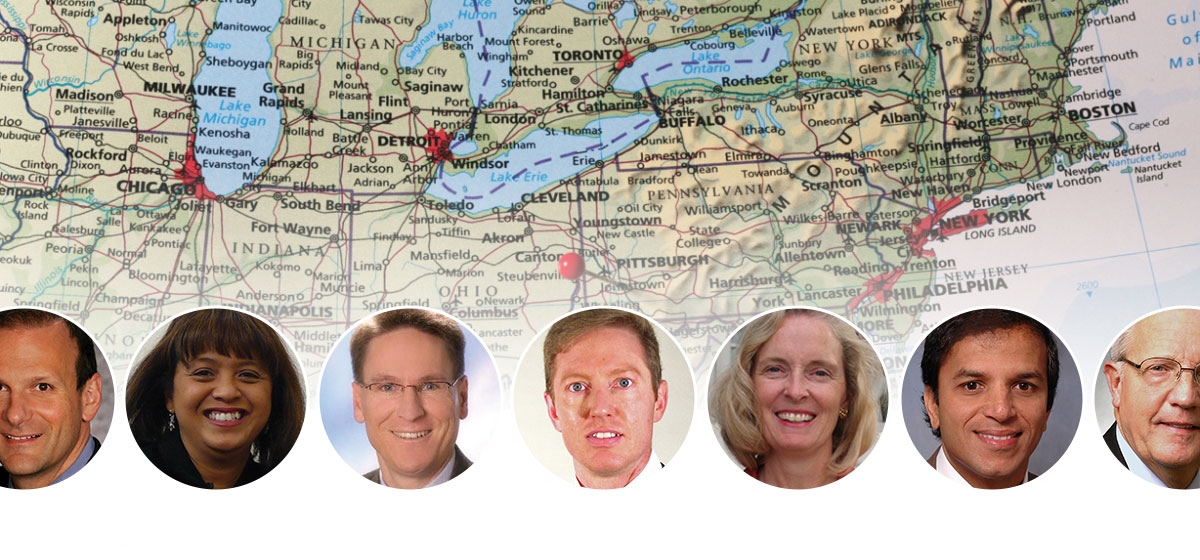 February 20, 2009
David P. Gibbons will become the president of UPMC Northwest, in Seneca, Venango County. He comes to western Pennsylvania from Voorhees, N.J., where he was vice president of operations for the Kennedy Health System's three hospitals.Before joining Kennedy in 1997, he was director of managed care for the Visiting Nurses Association of Greater Philadelphia; regional director of operations, marketing and finance for Oncology Services Inc.; and held several clinical posts with U.S. Healthcare in Blue Bell, Pa. He has an associate degree in nursing and a bachelor's degree in business administration from Clarion University, and a master's degree in health administration from Saint Joseph's University in Philadelphia. Gibbons is a native of Venango County and will be living there.

Zauyah Waite is vice president of student affairs at Chatham University. A native of Malaysia, she was most recently associate vice president of student affairs and dean of students at the University of Toledo. She started her career at the University of Missouri, Kansas City (UMKC) as student services coordinator before ultimately being promoted to director of the student life office. She earned a B.A. and education diploma from the University of Malaysia before coming to the U.S. to earn a master's degree in reading education and a Ph.D. in urban leadership and policy studies in education from UMKC. She and her husband Jim, who is director of alumni relations at the Katz Graduate School of Business, live in Squirrel Hill with their three school-aged children.
Mark Hansen heads the Lower School at Sewickley Academy. A native of Los Angeles, Hansen comes to the Academy from Berlin Brandenburg International School in Germany, where he was elementary principal for seven years. Previously, he taught or was an administrator for 17 years in Tokyo, Rotterdam, and Vilnius, Lithuania. He has a bachelor's degree in elementary education from the University of Northern Iowa and a master's degree in elementary administration from California State University, Northridge. Hansen and his wife, Debra, live in Sewickley with their three school-aged children, each of whom was born in a different country.
Edmund Ashburner has joined the Pittsburgh office of Ciber Inc. and the Bank of New York Mellon to help the newly merged bank expand its Pittsburgh technology facilities. A native of Mt. Lebanon, Ashburner was most recently in San Francisco, where he was a technology and business consultant. He has also consulted in Denver and Los Angeles, helping global companies with technology. From 1986 to 1991, he was an officer in the U.S. Navy's nuclear submarine program. Ashburner has an undergraduate degree in physics and a master's degree in nuclear engineering from the Massachusetts Institute of Technology. He is living in the Mexican War Streets with his partner, Michael, an architectural engineer.
A. Randol (Randie) Benedict is the head of school at the Ellis School. She comes to Pittsburgh from Owings Mills, Md. where she served 19 years as the director of admission and financial aid at Garrison Forest School. During her time there, enrollment at the all-girls K-12 boarding and day school increased from 480 to 700 students. She has also worked in admissions at Georgetown University and the Cincinnati Country Day School. She has an undergraduate degree in sociology and anthropology from Denison University and a master's in education from Johns Hopkins University. She and her husband, Benjamin Benedict, have two children, ages 19 and 16.
Dr. Abhinav Humar is the clinical director of the Thomas E. Starzl Transplantation Institute and chief of the division of transplantation in the department of surgery at UPMC. He will oversee all clinical and clinical research activities of one of the world's most active transplant programs. He comes to Pittsburgh from Minneapolis, where he was medical director of the Liver and Living Donor Programs at the Transplant Center of the University of Minnesota Medical Center and professor of surgery in the Division of Transplantation Surgery at the University of Minnesota School of Medicine. Dr. Humar studied biology and received his medical degree from the University of Ottawa. He completed his general surgical residency at the University of Ottawa in 1995 and later a surgical fellowship in transplantation at the University of Minnesota. He joined the faculty at the University of Ottawa School of Medicine in 1998.
David Kiehn is chief financial officer of the West Penn Allegheny Health System. He comes to Pittsburgh from Seattle, Wash., where he was associate director of finance and operations with the Swedish Medical Center/Ballard Campus. Previously, Kiehn was vice president of financial operations for Stanford Hospital and Clinics in Palo Alto, Calif., senior vice president for finance and technology at Evergreen Healthcare in Kirkland, Wash., and chief financial officer at The University of Washington Medical Center. He is also a certified public accountant and former partner with Ernst & Young LLP.