Anne is All About Cookies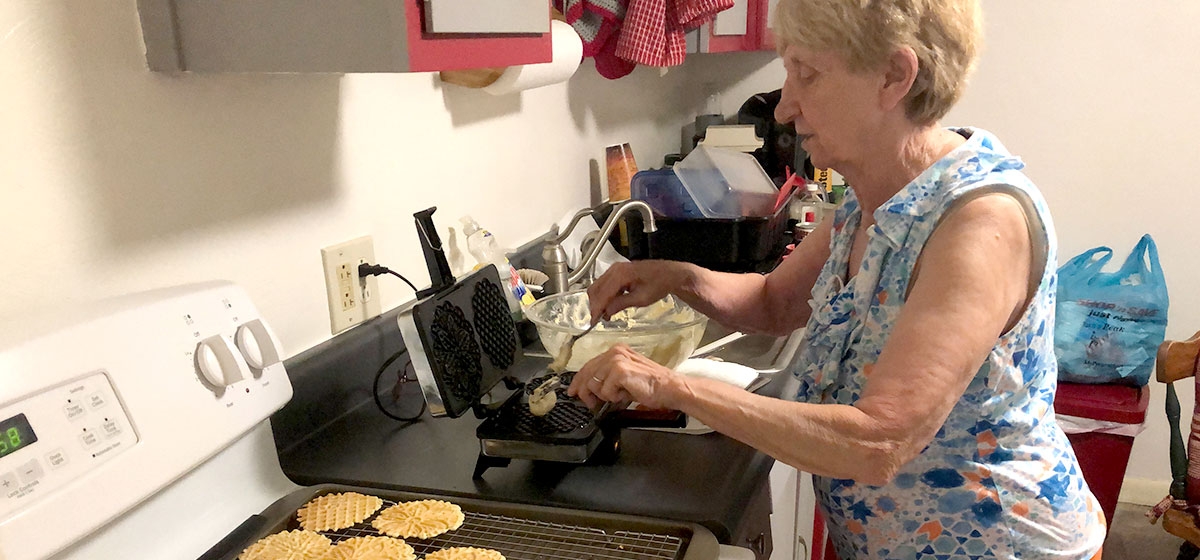 September 17, 2019
Anne is going to bake some pizzelles, but you get the house tour first.

"Bedroom, bathroom, living room, kitchen," she says, passing by framed photos on the walls: pictures of her on her wedding day to George, 59 years ago, and their son, Ray, during every year of school.
Anne and George live in Ray's house in an apartment downstairs. "Ray is really good to us. He's got a good heart, you know? I'm 80 and George is 85. We do what we want when we want. Sun, rain, snow… you can never get us in the morning. We like to get breakfast every day and we always like to go to some kind of store afterwards. Want to see my copy of the recipe?"
She pulls out a piece of paper that is very worn and yellowed and being held together by scotch tape. "I printed that out, oh, 25, 30 years ago. This is the one I use. All them years."
Anne likes to get everything ready when she's baking. There's the flour and the baking powder and the measuring cups and spoons, all arranged on the counter.
"Are you hungry?" she says, opening the refrigerator. "I made food. I have a thing about food."
The food that Anne made is more like a three-course meal. Pasta salad, bite size wraps filled with cheese and olives, and deviled eggs that are perfect and delicious.
"Okay, I have to do this in the sink because I'm so short," she says, placing the mixing bowl inside. "I'm five foot… maybe. I think I'm goin' down a few inches, though. You know that happens, right? What'd I do with my mixer?"
The mixer is silver, shiny and hand-held, and beats the sugar and the eggs. "Just cream them for a few minutes," she says as the batter gets thick. "We'll add the butter next. Where'd I put my little spoon?"
She puts the mixer down and picks up the anise. "I'm real crazy with my anise, okay? The recipe calls for two teaspoons. I use close to four. Want to taste it?" she says, pouring some into the spoon before picking up the mixer again.
"Now, this has to sit for 15 minutes," she says, pointing the batter. When the 15 minutes are up, she will use two silver spoons to place a dollop of batter into each mold of the pizzelle maker. "One and a half minutes for each," she says, setting the timer that will go off—Beep! Beep! Beep!—every 90 seconds, for the next 30 minutes. "That's why these take forever."
Being in the kitchen is just… Anne. "Well," she says. "It wasn't always that way. I was a terrible cook when George and I first got married. And I can cook anything now but steak. It never turns out right."
Anne is always making food for people. Cooking, baking. For friends, family. During good times, sad times. She baked 12 dozen cookies for a friend's wake. "I don't like to buy flowers. You can't eat flowers."
And she baked 10,000 cookies for Ray's wedding. "Oh gawd, at the time I worked, and so every night, I'd come home and bake one recipe. And I made them all in this little, 24-inch wide oven that I had at the time. I couldn't tell ya what all I made. Everything, I guess. I stored them in my freezer, the neighbor's freezer…"
The timer goes off again. Beep! Beep! Beep! She opens the pizzelle maker and uses a fork to flip each cookie out onto a baking sheet. She picks up her spoons, puts a dollop of batter in each mold, shuts the lid and sets the timer again.
"But you know what? Out of all the cookies I make," she says, reaching into the cupboard for a package of Lorna Doones, "I love these the most."