Andy Russell, Businessman and Former Steeler
A life's recounting in the subject's own words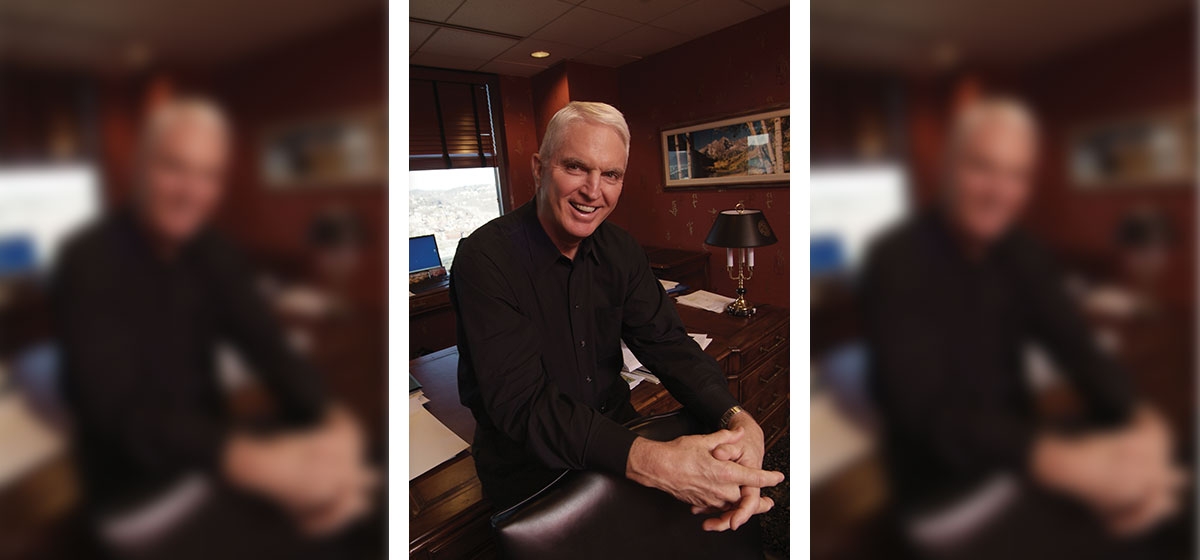 February 20, 2006
I grew up with a father who had come over on the boat from Scotland. We moved around a lot. My parents convinced me that every move presented an opportunity to meet new and different people.

By the time I entered college in 1959, my father was running Monsanto in Europe.I got a B.S. in economics from the University of Missouri in '63 while playing college football. But my father made me promise that I would not play professional football. For him, to have a son playing a game for a living would have been an embarrassment.
At the time, there were only 12 teams in the NFL. If you were a decent college player, you got questionnaires from them. "Are you interested in playing pro football?" I always wrote "no." But one team never sent me a questionnaire—the Pittsburgh Steelers.
The pro football draft was in December back then. I was getting ready to play in the Blue Bonnet Bowl for Missouri. One day, I went to workout and someone said, "Congratulations, Russell. You were drafted." "I couldn't have been drafted," I said. "I went to R.O.T.C. I have my commission." "No, you were drafted by the NFL."
The Steelers said, "We want you, and we'll give you a signing bonus. If you don't make the team, you get to keep it." I didn't have any money. My father didn't want to send me any. They kept on: "Why don't you play pro ball? It's perfect. You graduate in June. You can report to camp in July." So I went ahead and signed in '63 for a $12,000 salary and a $3,000 signing bonus. That was the richest I've ever felt in my life. I was able to play a game I loved — for money.
After my rookie season, I served in the military in Germany in '64 and '65. When I got back, I convinced my parents it would be smart to continue playing pro ball. I wanted an M.B.A. and I would use football to pay for it. My dad thought that was a good idea.
I resumed my career with the Steelers in '66, and went to graduate school in the off-seasons, getting my M.B.A. in finance in '67. In '68, I formed my own company to syndicate investment vehicles. In the first year, I made more money than the Steelers were paying me. My wife said, "Why don't you quit playing football?" I said, "This isn't about money. This is a passion."
In the '70s, when I had my little company, I quickly learned that it was going to be more than an off-season job. I went to meetings before practice with the Steelers. After practice, I'd go to dinner meetings and frequently wouldn't get home until midnight. I never intended to use football as a way to open doors. So I made phone calls to investors and leave messages that "Charles Russell" called. (Andrew is my middle name.)
One day, I read about Tony O'Reilly, who was chairman and president of Heinz. I thought, "What a great prospect." So I called his office for 20 days straight. I got to know his secretary, but always as Charles Russell. Finally I said, "Do you know that Mr. O'Reilly and I have something in common?" She said, "What could that possibly be?" "We're both athletes." (He was a rugby player from Ireland.) He bought one of my deals. After that, I switched back to Andy and forgot about not using football to open doors.
We went into training camp in '75 as Super Bowl Champions, used to having local media around. One morning, I noticed a dozen or so Japanese people looking on. I was shocked. We'd gone international! After practice, I grabbed Ray Mansfield, my best Steelers buddy, and said, "Let's go and say hello to those people."
Like me, Ray loved to travel. He asked, "Are you thinking what I'm thinking?" "Yeah," I said, recognizing a great opportunity to make international business contacts. "Do you think we could get these people to arrange for us to go to Japan?"
It turned out that they represented Touchdown Magazine in Tokyo and were sponsored by Sony. I asked them, "Could you come to our meeting room after lunch?" "We would love to do that," they said. So later, Ray and I made a presentation, which essentially was, "We'll come to Japan and do whatever you want us to do. We'll do interviews. We'll make speeches. We'll give clinics for your children. We'll sign autographs. And you don't have to pay us a fee. All you have to do is pay our expenses." They said, "We accept!" Ray and I walked out of there thinking, "Man, this is a small world" — and we were determined to see as much of it as possible.
We retired with two Super Bowl rings each after the '76 season. We knew that we had to replace football with something physical, so we went up to do this 160-mile canoe course in the Boundary Waters Canoe Area of Minnesota and the Quetico Provincial Park of Ontario. The starting point was a ranger cabin on a lake. The ranger told us, "When the Boy Scouts do this, it takes two or three weeks." "We're doing it non-stop," we said. It took Ray and I 63 hours and 47 minutes. We were so proud that we had done something so hard. Then I got into mountain climbing.
Between '82 and 2004, I climbed all 54 peaks in Colorado of 14,000 feet or more. It's called the "Fourteener Grand Slam." They're terrific workouts. On my last peak, I didn't want to finish. I thought, "What am I going to do next?" Since then, I've learned that there are plenty of climbing challenges left in Colorado: the Thirteeners—600 of them!
In football and in business, I have been blessed with great teammates who showed me what could happen if you think big and work hard. I was also inspired by great coaches and business mentors.
When Chuck Noll took over the Steelers in '69, we weren't a good team. We worried about having a loser mentality. But having watched our game films, Chuck told us not to worry about that. He said, "You're good people. You're going to be good citizens. Unfortunately, you can't run fast enough or jump high enough, and I'm going to have to replace most of you."